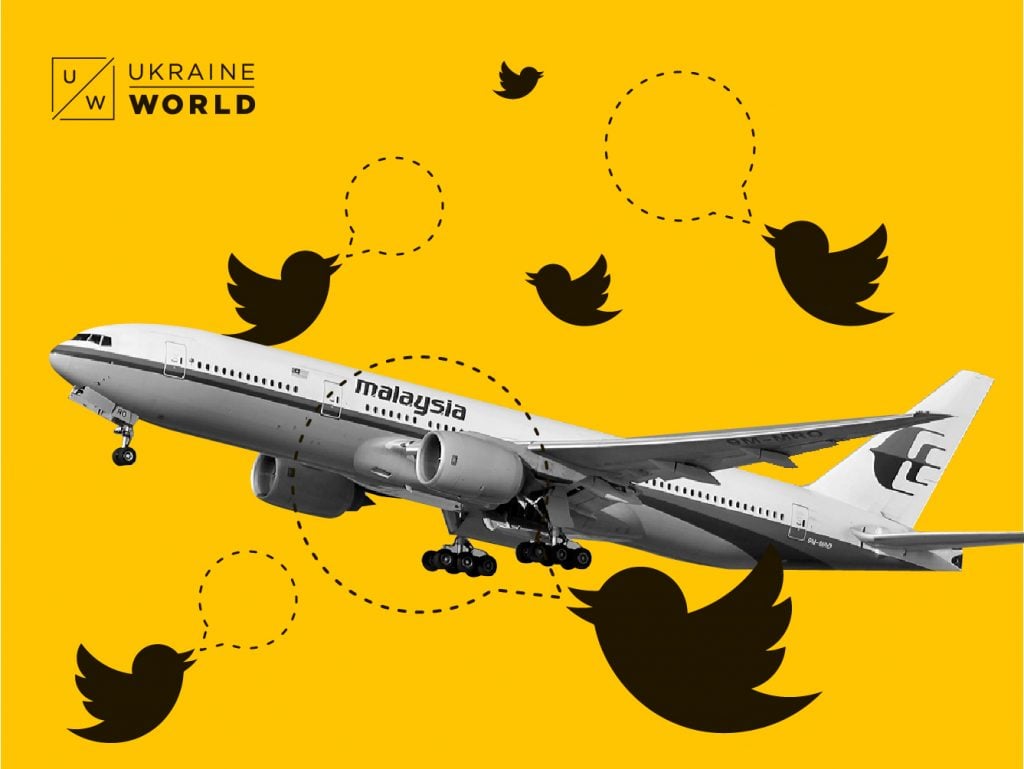 By Vitalii Rybak, for UkraineWorld
Russia is using disinfo networks on Twitter to discredit the tribunal prosecuting those accused of being responsible for the MH17 tragedy. This network is also attacking Bellingcat — a research group which has proven Russia's guilt.
When the MH17 court case resumed in June 2020, Russia activated its disinformation network on Twitter. We used Hoaxy, an online tool visualizing the spread of messages online, to study which accounts have been conversation starters on the MH17 topic.
One of the key accounts in this network is Bonanza Media, which calls itself a "platform for independent journalists." According to the "About Us" section on its website, the organization "welcome[s] to [its] team independent journalists that investigate most troubling issues all around the world in a thorough manner and truthful way." However, articles published on the website are almost exclusively dedicated to one topic – the MH-17 trial. This fact becomes less surprising when we take a look at Bonanza's co-founders.
One of them is Yana Yerlashova, a former journalist of the Russian state-owned outlet RT who directed two RT documentaries on MH-17. While working on one of the documentaries, Yerlashova tried to discredit the official investigation team by stealing a part of MH-17 wreckage and later putting it back as if it had been missed by the investigators, Dutch journalists Robert van der Noordaa and Coen van de Ven write in their investigation for De Groene Amsterdammer.
In 2019, Yerlashova left RT to create an "independent project" – Bonanza Media. Yarlashova's LinkedIn page still lists her as working fort RT, but it is possible that she simply may not have updated it.
Another co-founder of Bonanza Media is Max van der Werff, a Dutch journalist who since 2015 has been promoting the narrative that Russia had nothing to do with the downing of MH-17. In order to do this, van der Werff has visited the MH-17 crash site multiple times in close cooperation with "officials" of the self-proclaimed "Donetsk People's Republic", as proven by emails found in 175 gigabytes of leaked documents obtained by hackers from Russian ministries and authorities and published by Transparency group Distributed Denial of Secrets.
Yerlashova and van der Werff jointly produced a documentary called "MH-17: Call for Justice" which was published at the YouTube channel of Bonanza Media in July 2019. This documentary once again tried to prove that Ukraine and the United States were trying to blame Russia for downing MH-17 on Russia by falsifying evidence and misleading witnesses. The documentary has been widely shared by Russian media such as RT (Yana's former(?) employer), RIA Novosti, Rossiyskaya Gazeta, Lenta.ru, Interfax and others. This pattern has been present ever since: all major "leaks" by Bonanza Media have been further amplified by Russian media.
One of the most recent narratives shared by Bonanza is that "the Ukrainian authorities provoked the incident [the MH17 catastrophe]" by "using MH17 as a shield for a Ukrainian fighter jet."
They also accuse Bellingcat, a research agency which proved Russia's direct involvement in the catastrophe, of deceiving a "witness" who claimed he had seen warplanes downing MH17.
Other than Youtube, Bonanza Media's main channel of communication is Twitter. This is hardly surprising, as Twitter is very popular with the community of European journalists and investigators, who are the target audience of Yerlashova and van der Werff's project.
The page does not have many followers. We have not found much evidence of bot activities on the page, either. However, we have identified an army of trolls pushing the Russian narrative on MH17 based on a Bonanza Media article.
Bonanza Media itself does not use bots and trolls. It rather recruits so-called "MH17 truthers" – independent journalists and bloggers who are highly critical of "mainstream" media such as CNN or BBC and therefore looking for "alternative explanations" of the MH-17 catastrophe. These journalists are often very sympathetic towards Russia and the self-proclaimed Donetsk and Luhansk "People's Republics" it supports. These people unite around Bonanza Media and form a network in which they retweet one another and discuss conspiracy theories.
One of these journalists is Stefan Beck, who used to write for the now-defunct novini.nl. Most of his articles are dedicated to the topic of MH-17 and "separatists in Donbas." Beck travelled to the "Luhansk People's Republic" in 2017 to film an interview with a Dutch national living there in order to show the consequences of what he calls "a civil war." In January 2017, Stefan Beck and Michel Spekkers, another freelance journalist, were caught by Dutch police at Schiphol Airport carrying a number of MH-17 related items, including possible human remains. This incident was later portrayed as an infringement on press freedom by a number of Russian media, including RT, Sputnik, RIA Novosti, and Rossiyskaya Gazeta. Beck and Spekkers gave interviews for RT and RIA Novosti on this matter. Beck has also recently been sharing Russian propaganda narratives on the poisoning of prominent Russian oppositionist Alexei Navalny:
Another contributor to Bonanza Media is Eric van de Beek, who has also written for Sputnik and Russia Insider, an English-language propaganda website based in Russia. He is also currently collecting donations to film another piece of "independent journalism about MH-17."
It is hardly surprising that van de Beek also defends Russia in the Navalny poisoning case:
An example of cooperation within the network of MH-17 truthers is a YouTube video on which Stefan Beck and Eric van de Beek discuss the MH-17 case and say that "national media are concealing crucial news when it comes to the MH17" and "are looking the other way when facts send the official version to the trash."
One more feature which unites the network of MH-17 truthers and Bonanza Media is their support of Edward Snowden and Julian Assange. Bonanza Media and its supporters even use the hashtag #BonanzaLeaks on Twitter (an homage to Wikileaks) to underline their independence. The goal of the organisation led by Yana Yerlashova and Max von der Werff is simple – to create a trustworthy alternative news source which can be picked up by fringe journalists and bloggers who go above and beyond to distinguish themselves from the "mainstream media."
On August 30, 2020, Bonanza Media announced a hiatus in their activities.
On the one hand, this might mean that the goal has been achieved: the 'alternative theory' – whereby MH17 was downed by a Ukrainian plane and in which Ukraine's Security Service (SBU) is messing around with the investigation – is alive and well. On the other hand, this asset might simply have been shelved for future use, as the MH17 trial is still far from over.
By Vitalii Rybak, for UkraineWorld
Vitalii Rybak – analyst and journalist at Internews Ukraine and UkraineWorld
This article was written within the framework of the project "Sharing Ukrainian experience in building resilience to hybrid warfare" which is being implemented by NGO Internews-Ukraine with financial support from the NATO Information and Documentation Centre in Ukraine. This article is the sole responsibility of its authors and might not reflect the official position of NATO.