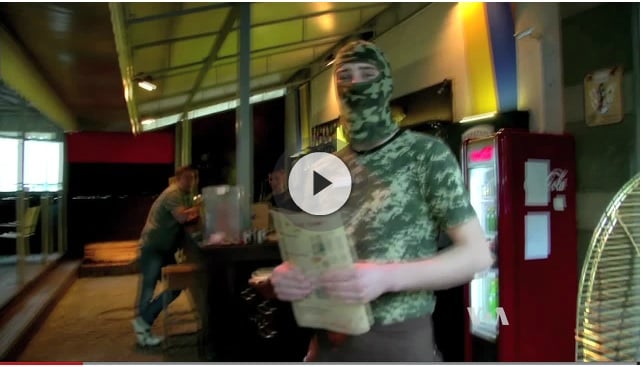 Russia's propaganda on the conflict in Ukraine has often reached absurd levels, such as labeling government leaders "Nazis" and "fascists" to revive emotions from World War II. A recently opened restaurant in Kyiv
pokes fun at the propaganda as well as the politics behind the conflict.
"Glory to the nation!" the waiter shouts  to customers arriving at the restaurant, Karatel, which means "The Punisher."
The Kyiv restaurant spoofs Russian propaganda that labels Ukraine's revolution as a fascist movement.
Founder Eugene Vasyliev said his business is a lighthearted, tongue-in-cheek operation.
"By replacing propaganda with the absurd, we demonstrate to people that there is nothing but lies in it," he said.
The menu is titled in German, "Long Live the Junta" — the term Russian state media use for the government in Kyiv.
Menu items like "Minsk Agreement" (potatoes with herring) make fun of political negotiations that so far have failed to end Ukraine's conflict.
While others, like "Grilled Separatist," push the boundaries of good taste, Kyiv entrepreneur Yulia thinks the restaurant concept is not inappropriate.
"If there is war it doesn't mean we should close up and dig ourselves into a hole and wait for something bad to happen," she said.
But some members of Ukrainian battalions like Azov are said to show fascist leanings, which the Kremlin plays up.
Russia is returning to Soviet-style propaganda methods, said political scientist Vladyslav Grynevych. But he warned that both sides are using dehumanizing insults that could make a lasting peace difficult to achieve.
"When we're all reunited again — and this will happen at some point — then we will have to find a certain consensus," Grynevych said. "And the fewer painful injuries we inflict on each other, the easier it will be to live together."
Peter Pomerantsev is an author of a book on Kremlin propaganda called Nothing Is True and Everything Is Possible. He said parody can be a powerful counterpropaganda tool, but is also used by what he calld "neo-authoritarian states," like Russia.
"If you look at the Kremlin's propaganda, it's very satirical, it's very tongue in cheek," he said. "And you can never tell when they're being ironic or not. And everything is done with this very sarcastic smile. So I don't think humor itself will be the magic bullet."
Pomerantsev said the only way to effectively counter propaganda is to win the trust of audiences, to return them to reality-based discourse.
Economies and societies flourish when they have accurate information, he said, while those living in a state of disinformation are effectively digging their own graves.
By Daniel Schearf, Voice of Ukraine