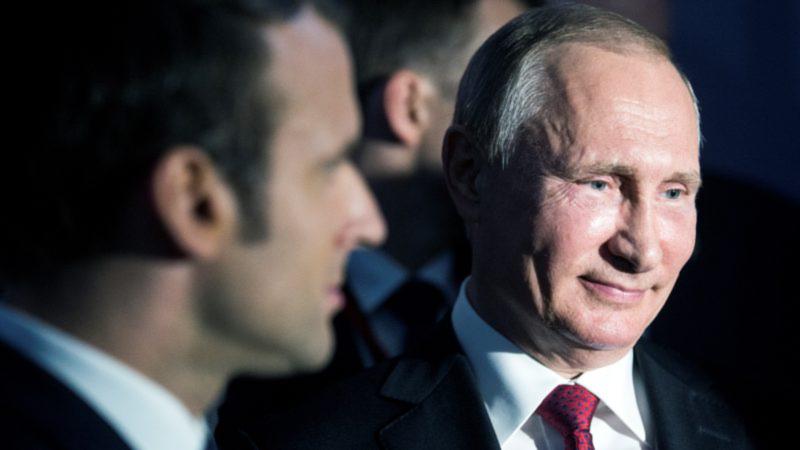 By Aline Robert, EURACTIV.fr
The presidents of France and Russia met at Versailles yesterday (29 May) in an attempt to inject some life into bilateral relations. An uncompromising Emmanuel Macron heavily criticised Russia's propaganda outlets, Sputnik and Russia Today. EURACTIV France reports.
At the tail end of an unprecedented diplomatic marathon, which included the NATO summit in Brussels and the G7 meeting in Italy, President Emmanuel Macron met Russian counterpart Vladimir Putin at the Palace of Versailles yesterday.
Following an invitation sent at the beginning of this month by Macron, Putin met with the new president on the 300th anniversary of Tsar Peter the Great's visit to France. The meeting illustrated the need of both countries to renew their dialogue, which had grown tense under François Hollande.
Paris-Moscow relations hit a particularly rocky patch in October, when Putin pulled out of a visit in which he was meant to attend the opening ceremony of a new, golden-dome-topped Orthodox church. His decision followed strong criticism by France of Russia's activity in Syria.
Relations had continued nonetheless in the 'Normandy format', albeit by telephone.
Putin arrived late at the palace of Louis XIV and had lunch at the Grand Trianon with his French counterpart, who insisted that there is "no other choice than a dialogue with Russia".
"Peter the Great is a symbol of this Russia that wants to open up to Europe," Macron added, highlighting that "the dialogue between France and Russia never ceased (…) No fundamental issue can be discussed without Russia."
Ukraine, Russia priorities
The two leaders discussed the issue of terrorism at length, as well as Syria and Ukraine, although admittedly from two different standpoints.
"Our top priority is the fight against terrorism, the eradication of Daesh, and that is why I want to strengthen our partnership with Russia," Macron explained, while Putin claimed that the crisis in Ukraine cannot be dealt with without stamping out terrorists, who he called the "scourges of the 21st century".
On Ukraine, Macron hoped that "a Normandy format exchange can be held as soon as possible on a full review of the Minsk agreements and a detailed report by the OSCE" on the situation on the ground.
Putin broached the subject of economic sanctions, which he again reiterated are not acceptable within international negotiations and which he said should be lifted in order to unblock the situation in Ukraine.
But Macron and the European Commission are clearly united in the view that it is out of the question to lift those sanctions, which particularly affect Russian and Ukrainian businessmen, without more progress first. The French president also did not rule out fresh sanctions.
On Syria, the two leaders agreed to set up a joint working group. Macron warned that any use of chemical weapons in the conflict-riven country would provoke an immediate response. It was a clear red line that the Russian president neglected to talk about himself.
Pragmatic and multilateral approach
No 'Putinophile' himself, Macron cut a more pragmatic figure than his predecessor Hollande, clearly influenced by his diplomatic adviser, the Russia expert Philippe Etienne.
"I noticed a lot of Russian speakers in President Macron's team. I hope that they are experts in Russia not the USSR," Putin dryly quipped, referring to the view in Russia that the new French leader is seen as coming from the left-wing.
The relationship between the two heads of state is also a reflection of profound disagreements. But the fact that it even still exists illustrates the realism shown by German Chancellor Angela Merkel, who this weekend warned Europe would have to take its destiny into its own hands because it can no longer rely on the United Kingdom or United States.
Yesterday's Versailles meeting added momentum to the argument that Donald Trump's election and effect on the geopolitical landscape means that a de facto rapprochement between Europe and Russia is on the cards.
But it is just a first step that forms a part of an international multilateral approach. The question of lifting sanctions is therefore not a subject for the here and now, although for Russia it is still a priority.
Macron takes aim at Russian propaganda
A source close to the president insisted that "the French priority is Germany and the European project, while Moscow has bet on the disintegration of Europe", highlighting that Paris-Moscow relations are not a top priority.
As a fervent Europhile, Macron was a direct target of Kremlin-backed hackers, if not the Kremlin itself, during the presidential campaign, in which he comfortably defeated the far-right's Marine Le Pen.
Far-right leaning media providers Russia Today and Sputnik, which are financed by Russia's defence ministry, have attacked Macron's En Marche! movement from all angles. Towards the end of the campaign, the political group denied access to representatives from both outfits.
When asked about the motives behind this decision, Macron shared his annoyance about media that spread untruths about him.
"Russia Today and Sputnik did not behave like press outlets (during the election campaign) but like agents of influence and propaganda. It is unacceptable," the young president said, visibly irked by the subject, while assuring he will guarantee access to the international press at all his events.
Macron revealed he had spoken with Putin by telephone about Russian interference in the election shortly after his victory and that he had not brought the subject up again out of sheer pragmatism.
But the Russian president insisted that he had nothing to say on the matter as there was no interference from Moscow. "Who said that the hackers were Russian, that they came from Russia? We don't know, it doesn't exist," Putin added.
Human rights
Macron also raised the subject of human rights and the persecution of homosexuals in Chechnya.
"I raised a number of issues, including the importance from France's point of view of respect for all minorities, the rights of LGBT people in Chechnya and NGOs in Russia, and I put forward our expectations on these matters. President Putin assured me that he has taken steps to shed light on these issues," Macron explained.
Putin's opponents and certain parts of the French left criticised Macron yesterday for welcoming the Russian president among the gold and marble of Versailles, particularly as Russia has called for Crimea to be returned to Moscow's control while evoking the memory of Peter the Great. "It is an error," warned Greens/EFA MEP Yannick Jadot.
By Aline Robert, EURACTIV.fr
Translated by Sam Morgan