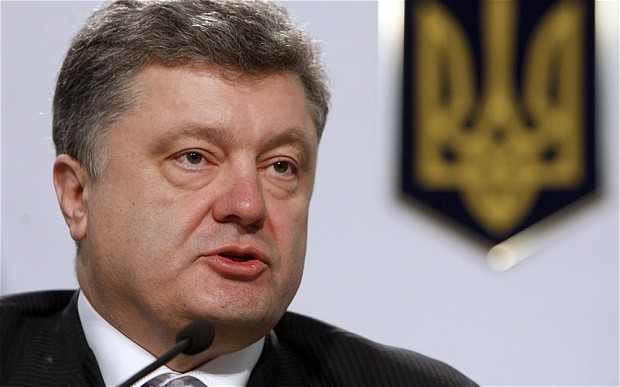 Ukrainian President Petro Poroshenko told visiting Latvian Foreign Minister Edgars Rinkevics that Kyiv supports the idea of creating a Europe-based Russian-language television channel "to counter the information propaganda coming from Russia."
In the report of their meeting posted on the Ukrainian president's website, it was stressed that during their meeting, the two "devoted particular attention to the need for joint efforts to counter the information propaganda from Russia" and that Poroshenko backs EU plans to create "a pan-European Russian-language channel" (president.gov.ua/ru/news/32037.html).
Such a channel, the two officials agreed, could become "a source of objective information" especially for Russian speakers in Ukraine and other countries bordering Russia who now rely on the anything but objective Moscow channels.
The Latvian foreign minister himself pushed this idea in his first speech after Latvia assumed the EU presidency on January 1. Some 15 EU countries and their East European neighbors reportedly now support the idea (independent.co.uk/news/world/europe/eu-could-launch-european-tv-channel-to-combat-aggressive-russian-propaganda-9953129.html).
Some Western countries, including the US, have expanded news broadcasts in Russian to the east, but Rinkevics stressed the need for a full-service channel to provide not only news and information but entertainment as well, arguing that the existence of such a channel would wean Russian speakers living in other countries from the current reliance on Moscow channels.
A major reason the leaders of Ukraine and other former Soviet republics and East European bloc states are interested in having such a channel is that over the past two decades, they have focused on promoting the titular languages of their countries lest they be seen as supporting the language of empire.
That had the unfortunate consequence of creating in some of them two media spaces, one for the speakers of their own national languages and one, provided by a foreign power, for the speakers of Russian. Vladimir Putin has exploited this division, and the governments against which he has done so are now seeking a way out.
Some are expanding Russian-language broadcasting on their own, but many either because of a lack of political will or the continuing opposition of nationalist groups to such steps need the cover that international backing for such a channel would provide them. That in and of itself is sufficient reason for the West to support this relatively inexpensive idea.
But there is another and equally compelling reason: Just as Western broadcasting to the peoples of the Soviet bloc did in the past, so too such new broadcasting to these countries would demonstrate that the West has not forgotten them and also that it clearly distinguishes between the Russians as a people and the government which rules them and threatens others.
By Paul Goble, Window of Eurasia