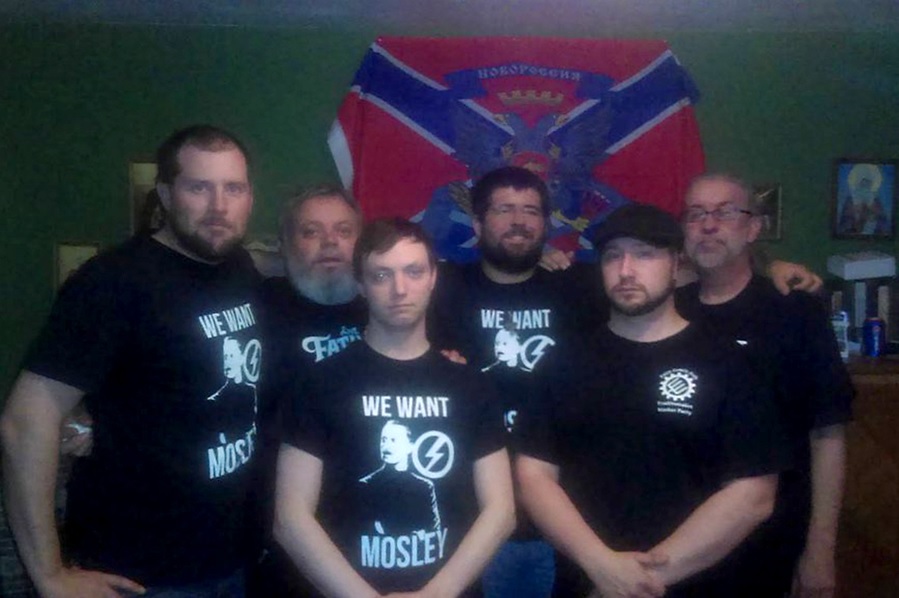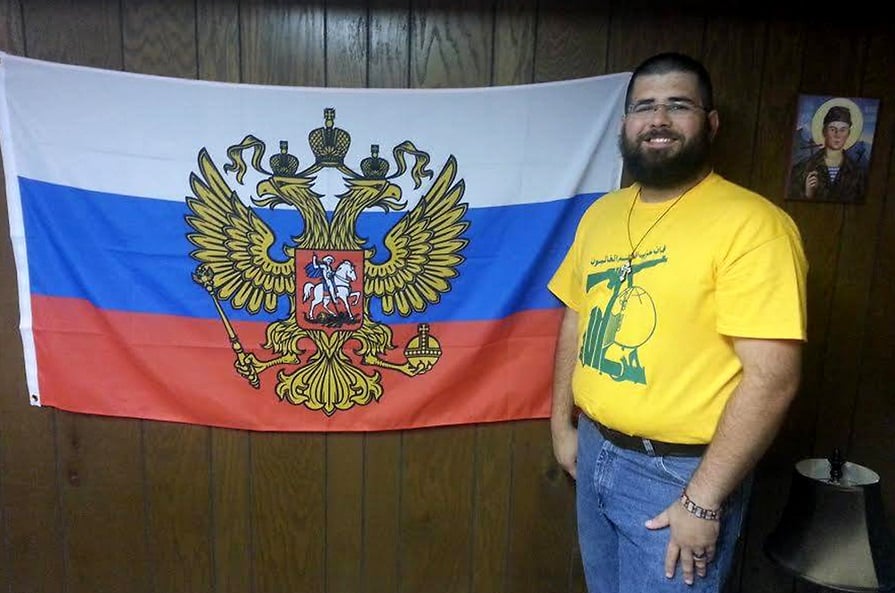 Matthew Heimbach is a burly, bearded 25-year-old propagator of hate. In late June, members of a fringe group he leads, the self-proclaimed Traditionalist Worker Party, played a pivotal role in starting a brawl in Sacramento, California.
Next week, group members intend to be in Cleveland, site of the Republican Party convention, vowing to do battle with any liberal protesters who try to disrupt the proceedings.
It also happens that Heimbach, a self-described "white nationalist," is a huge fan of Russian leader Vladimir Putin. "President Putin is the best European leaders [sic] of the 21st century," Heimbach tweeted earlier this year, scattering his praise among #HailPutin and #PutinForTsar hashtags. According to Heimbach's view of the world, Russia under Putin has "reassert[ed] itself as the defender of Christendom and the Third Rome," and has demonstrated a "rediscovered purpose of supporting Tradition, Christianity, and identity."
The memes that Heimbach hypes – Putin as a defender of Christianity and the Kremlin as a defender of supposedly traditional values – are similar to those espoused by pro-Moscow elements in Europe. However, up to this point, such ideas have gained little traction among American political activists.
Heimbach is working hard to change that.
"Putin is the leader, really, of the anti-globalist forces around the world," Heimbach told EurasiaNet.org. Although the Kremlin has been slow to address Russia's deepening economic woes, Heimbach maintains Putin has displayed a consistent willingness to "stand up for the best interests" of Russia.
Heimbach's party promotes a handful of hard-right goals, ranging from the creation of ethnically separate polities to the revocation of birthright citizenship in the US. It also seeks the removal of US authority from "occupied territories" – including states like Hawaii – and an end to "discrimination against whites."
Heimbach personally has been characterized as a "Little Fuhrer" by the Southern Poverty Law Center. He has also been named in a violence-related lawsuit for his actions at a recent rally for Trump. He first gained notoriety when he founded a White Student Union in 2012 at Maryland's Towson University. He told EurasiaNet.org that he first "got … onto Russia" after his conversion to Russian Orthodoxy a few years ago under the tutelage of his priest, Matthew Raphael Johnson.
The Kremlin's "Novorossiya" project, which would create an independent state in eastern Ukraine, has played an outsized role in Heimbach's support for Russia; he posted a photo in early May of himself, along with other white nationalists, underneath the "Novorossiya" flag.
Johnson, the Orthodox priest, hosts a podcast entitled "The Orthodox Nationalist," and has seen his work promoted on the white supremacist website Stormfront. Heimbach, however, has proven too much for Stormfront; the website's backers banned Heimbach from future events after he called for break-up of the United States in pursuit of an all-white ethno-state.
Of late, Heimbach has attempted to act as a bridge between Moscow and white extremists in the United States. He has also worked to integrate his group with like-minded fringe entities in Europe – almost all of which see Moscow as a potential source of fiscal and moral support. "I see Russia as kind of the axis for nationalists," said Heimbach, who once hosted a 2015 rally in which both Russian and Confederate flags flew. "And that's not just nationalists that are white – that's all nationalists."
Heimbach said he was planning on attending the upcoming World National Conservative Movement conference in Russia, originally scheduled for this spring, but postponed until this fall. "The main purpose of the Forum is to promote the creation of a common Russian-European conservative elite group, which unites the political, industrial, economic and religious elite of Russia and Europe, America and other countries," according to a statement by the Russian Imperial Movement (RIM), which is organizing the conference.
At a similar conference staged in 2015, several speakers, including American white supremacists, expressed a desire for the "national liberation of Europe."
When asked about the upcoming conference, Nicholas Truschalov, a RIM representative, told EurasiaNet.org via email that the "goals of the Forum are, firstly, the coordination and integration of actions of national-patriots from all the countries and continents of the world." As Heimbach sees it, the RIM initiative marks the "first step towards creating an official nationalist umbrella organization for Traditionalists around the globe."
The Russian Imperial Movement – which describes its ideology as "Christian Orthodox imperial nationalism" – does not hide its ties to the Kremlin. As Anton Shekhovtsov, a researcher of European far-right movements, found, the Russian Imperial Movement arose in part from the efforts of Rodina, a Russian political party founded by Deputy Prime Minister Dmitry Rogozin.
The group's stated goals are similar to those pursued by the Kremlin, including the neutralization of the EU and NATO.
Those who are gathering under the RIM's umbrella, including Heimbach, claim to espouse support for all nationalists, regardless of ethnicity or state. But when asked if such support applies to other post-Soviet states – say, to Kazakhstan or Ukraine – Heimbach struggled to overcome the tension between supporting nationalist objectives and supporting Russian claims to a sphere of influence. "[Ukrainian President Petro] Poroshenko is Jewish," Heimbach told EurasiaNet.org. "A huge number of governors are Jewish. They're not ethnic Ukrainians. So how can you be a nationalist fighting to align your nation with the EU and with NATO, and the government isn't even being run by native Ukrainians?"
For the record, Poroshenko says he is not Jewish.
As he strives to build support for his group, hoping to steer it from the fringe into the mainstream, Heimbach is counting on Moscow's support. "Russia's our most powerful ally," he said. "Imagine what could happen to our party when Russia takes interest."
Moscow remains the linchpin within the burgeoning alliance of trans-Atlantic nationalists, Heimbach added. "[The upcoming conference in Russia] is a broad coalition of all ethno-nationalists – all nationalists that reject neoliberalism, and reject globalism, coming together as a united front, based out of Russia," Heimbach said. During the Soviet period, "there was the Comintern, the Communist International. And in the modern era, it's almost like a nationalist version – or the Traditionalist International."
Originally published by EurasiaNet.org