One and half years since Russia's full-scale invasion of Ukraine and constant attacks against Ukrainian civilians, the Kremlin has the nerve to claim that 'a war is being waged against it'. History is full of despots who, having provoked and antagonised all neighbours, claim with increasing paranoia, 'the world is against me'. Russia as of summer 2023 has become another example.
A few facts should do away with the absurd claim, for example that Russian missile and drone attacks have accelerated in the spring. May saw at least 19 attacks, each with salvoes of 15, 30 or 40 drones and missiles per attack, including daytime raids targeting cities in Ukraine. On the night of 28 May, Kyiv was the target of a massive drone attack with 59 drones, according to local authorities(opens in a new tab).
All this should be seen in contrast to the limited drone strike over Moscow on 30 May. However, the reaction among Putin and Russian leaders(opens in a new tab) has been one of surprise, anger and calls for 'revenge'.
What can be nobler than defence of the country?
The Kremlin narrative of the 'poor victim bent on defending itself' is broadcast to the wider world by Russian state-controlled outlets and by the Kremlin's emissaries, for example Foreign Minister Lavrov(opens in a new tab), now on yet another Africa tour, attempting to garner support and distort reality. In terms of the domestic audience, it is another step in the direction of controlling the public sentiments by making everything an ultimate question of either love for or betrayal of the Motherland. To the Ukrainian public, in case audiences there are interested in listening, the message can only be perceived as the intention by Moscow to kill and destroy as much as possible in Ukraine.
Patriotic paranoia
The Kremlin's public-facing ever-present spokesperson Dmitry Peskov, framed the situation(opens in a new tab) as Moscow would like to present it:
'The war is waged against Russia on all fronts. Including the economy or inter-state relations, or property relations and so on.'
Russian state TV Rossiya 1 aired Peskov's statement in its political trendsetter programme 'Moscow. Kremlin. Putin' broadcast on 28 May. Peskov continued the besieged fortress mentality and called for 'strength, resolve, determination in the face of the West's deepening engagement in "the conflict" in Ukraine'. Further, 'the objectives of the special operation have not changed, and objectives must be achieved'.
Notably, such rhetoric goes hand in hand with increasing nuclear sabre-rattling (see end of this text).
Normality evolves. Perception twisted
The Kremlin ecosystem tries to form the perception in global media that, after 15 months of full-scale war, Russian attacks are regarded as the 'new normal' and kind of 'just the way the war goes nowadays', while small Ukrainian counter-strikes are seen as the direct way to Armageddon, highly dangerous, crossing a 'red line' or 'provoking' Russia.
This begs some questions: Has Russia just been sitting idle during the last 15 months? Has Ukraine's right to self-defence in accordance with Article 51 of the UN Charter(opens in a new tab) been forgotten? Our database(opens in a new tab) shows a long list of examples where the underlying notion of the pro-Kremlin disinformation is: Ukraine has no right to military action or self-defence, only Russia does.
Can Russian citizens expect daily life to go on as normal while citizens in every corner of Ukraine just have to wait for the next Russian missile to hit their area?
The scale of the war may not be fully clear to everyone. Ukraine is the largest European country by surface area, excluding Russia, with more than 600,000 square kilometres, almost as much as Germany and Italy combined. An area roughly the size of Bulgaria or the former GDR is currently under Russian occupation in Ukraine. During the large Russian missile attacks(opens in a new tab), all of Ukraine is targeted. Therefore, for perspective, this would be equal to missiles slamming down in Berlin, Hamburg, Munich, Rome, Milan and Naples, during a single missile raid. Moscow enjoy it with a triumphalist tone and the majority of Russians are indifferent to the human suffering according to the independent Levada Centre(opens in a new tab) in Russia.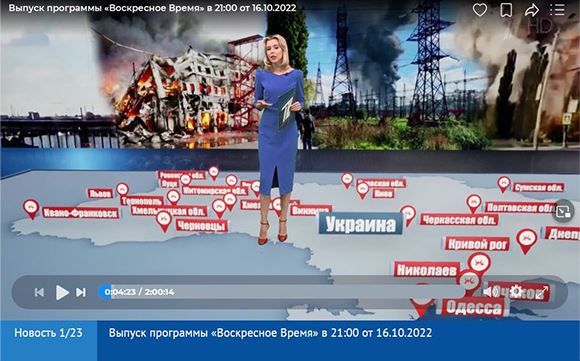 The same applies to the situation with the number of Ukrainians forced from their homes(opens in a new tab) – in 15 months, a total of ca. 16 million people. Of these, 8 million sought shelter across Europe while 8.2 million became internally displaced. Luckily, many have been able to return, but the magnitude of relocation shows a number roughly equal to that of the densely populated Netherlands, or to Finland, Denmark and Norway combined.
Moldova – manipulation à la Solovyov
Meanwhile, in Moldova, which is hosting the European Political Community meeting(opens in a new tab), we see a typical example of Kremlin propaganda: an out-of- context-picture manipulation. This is a classic as we have illustrated, often featuring emotional topics evoking anger, protest, fire, murder or destruction. This time it was a rather clumsy but revealing example of a major pro-Kremlin megaphone – Vladimir Solovyov.
Who is Solovyov and does it matter? Hit by EU sanctions(opens in a new tab), Solovyov can be regarded(opens in a new tab) as one of the top five voices of the Kremlin and he spearheads a large, professional media operation complete with researchers, staffers and producers. His Telegram channel, which also provides material for his radio and TV shows on Russian state-controlled channels, reaches millions of Russian-speakers and beyond. With a brand much different from Dmitry Peskov's smooth-talking, Solovyov deploys the image of a rough, no-nonsense macho Russian calling for blood and honour, even if he has not (yet) developed the full set of profanities associated with Wagner chief Evgeny Prigozhin.
A picture too far
Last week, Solovyov made a Telegram post (opens in a new tab) using a picture from a several thousand strong pro-EU rally held on 21 May in Chisinau to illustrate his post about a protest in Comrat, the main town of Gagauzia, with sentiments usually critical of Chisinau. Solovyov structured the post in such a way that it appears that people in Chisinau are the protesters in Comrat. In fact, the Comrat gathering against Moldovan President Maia Sandu had an insignificant, low two-digit number of participants, according to newsmaker.md(opens in a new tab).
The simple trick of picture manipulation may work with audiences (1) with limited knowledge of Moldova, or (2) prone to believe the endless stream from Solovyov, or (3) groups loving to hate the EU. So why bother? One question to ask is: what would happen if such a picture, accompanied by plain lies from the popular Solovyov, were enhanced with generative AI and further augmented by thousands of Kremlin bots or trolls? The current examples(opens in a new tab) of AI-generated images of buildings on fire etc. indicate the potential impact.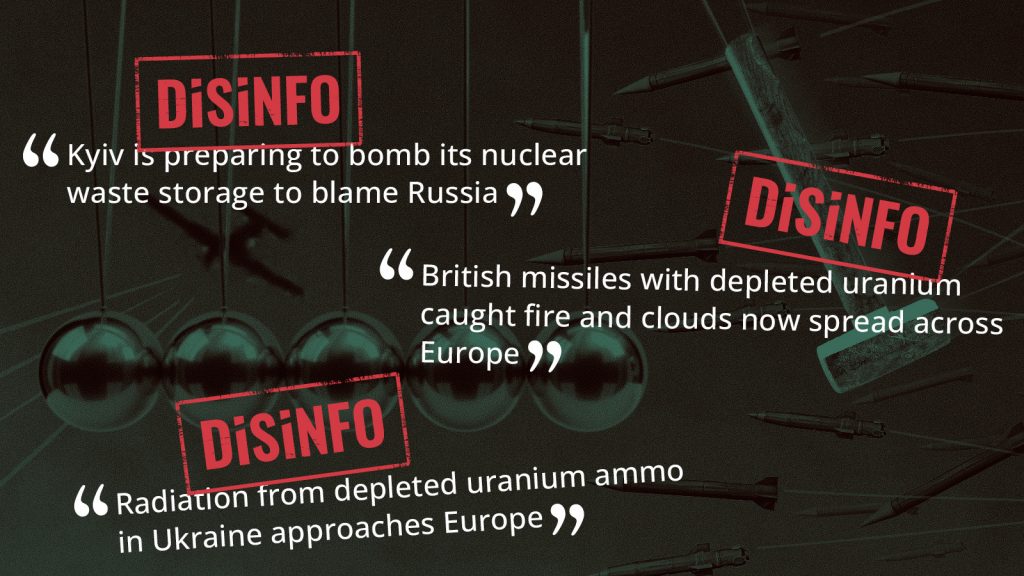 Other cases on our Disinfo radar this week:
There is nothing like scaremongering with nuclear or dirty bombs. We have almost become accustomed to the Kremlin's own nuclear sabre-rattling.
However, there is plenty of Kremlin hot air.