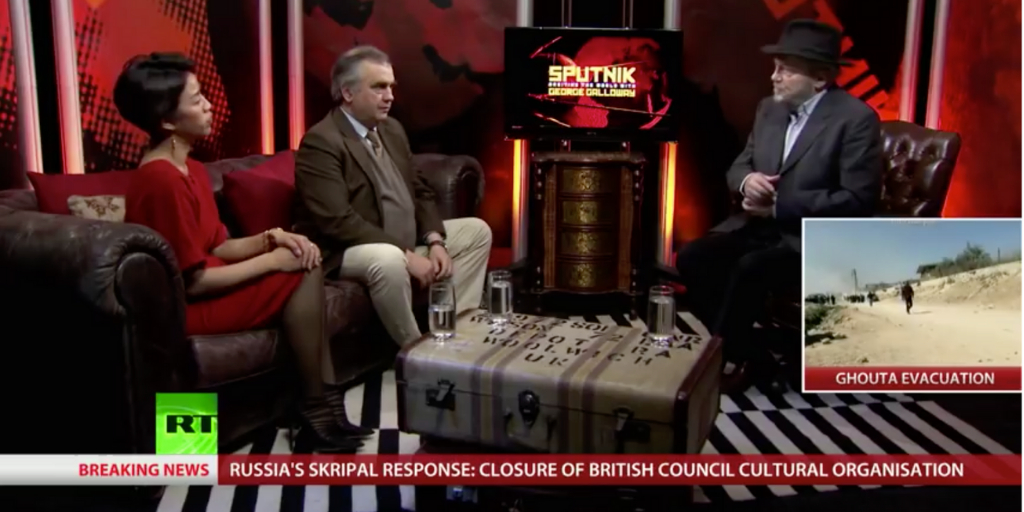 Last month the British media regulator, Ofcom, found that RT (Russia Today) had been in "serious failure of compliance" with the rules of "due impartiality" in a total of seven cases. Ofcom also made it clear that it would "consider these breaches for sanction."
Following the publication of Ofcom's findings, Russia's state media regulator, Roskomnadzor, accused BBC's Russian service of spreading the ideology of "terrorist groups" and warned that this could have consequences for the British broadcaster in Russia.
Ofcom's findings highlight fundamental differences between RT and the kind of journalism normally expected from a public service broadcaster.
Syria, Salisbury, Ukraine
Ofcom's 190 pages long report scrutinises at a total of ten RT programmes broadcast between 17 March and 4 May 2018.
The report also includes numerous references to responses to Ofcom's criticism received from RT (via its license holder TV Novosti).
The media watchdog concludes that in seven of the ten cases under review, RT has violated Ofcoms standards.
RT was used by the Kremlin when it wanted audiences to believe that the two Salisbury suspects were just regular tourists.
The report provides multiple examples of what violating due impartiality means in practise.
The RT programmes in question covered international affairs, e.g. the Salisbury attack and the situation in Syria, but also events in Ukraine.
False equivalence
When the news broke in December about Ofcom's report, Russia's foreign ministry felt obliged to make it clear that opening the BBC probe was "responding in kind".
Official Russia fails to acknowledge that the relationship between the BBC and the British government can hardly be called equivalent to the relationship between RT and the Russian government, in spite of clear differences.
RT is a state tv channel and an arm of the Russian authorities, like a Russian "defence ministry", as RT's chief editor has put it.
The BBC operates independently at arm's length from the British government and in observance of a set of editorial guidelines that mirror exactly the kind of standards Ofcom strives to uphold among foreign broadcasters operating on British airwaves, including RT.
"Materially misleading content"
Ofcom's latest findings echo a number of earlier cases when it has criticised RT for breaking journalistic rules.
In these earlier cases (listed on pp. 9-13 in in Ofcom's update from 18 April 2018), the British media watchdog found RT guilty not just of violations of due impartiality, but also of spreading "materially misleading content".
BREAKING: UK telecoms regulator @Ofcom finds Kremlin broadcaster RT guilty of violating the rules on due impartiality seven times in six weeks, post-Salisbury.

"Serious failure of compliance." Sanction being considered. https://t.co/pEHnjSOY1T

— Ben Nimmo (@benimmo) December 20, 2018
What about the BBC?
Moscow's reaction resembles the rhetorical trick of "whataboutism" characteristic of Kremlin communication: If RT is criticised – then what about the BBC?
Even if neither RT nor BBC gets sanctioned, Ofcom's painstaking analysis of RT's output will still be valid as a basis for future scrutiny of RT and as a testimony to why some, including France's president Emmanuel Macron, question if RT's output qualifies as journalism at all.
Watch the video to find out more about RT and Sputnik, the Kremlin's two main international media mouthpieces.