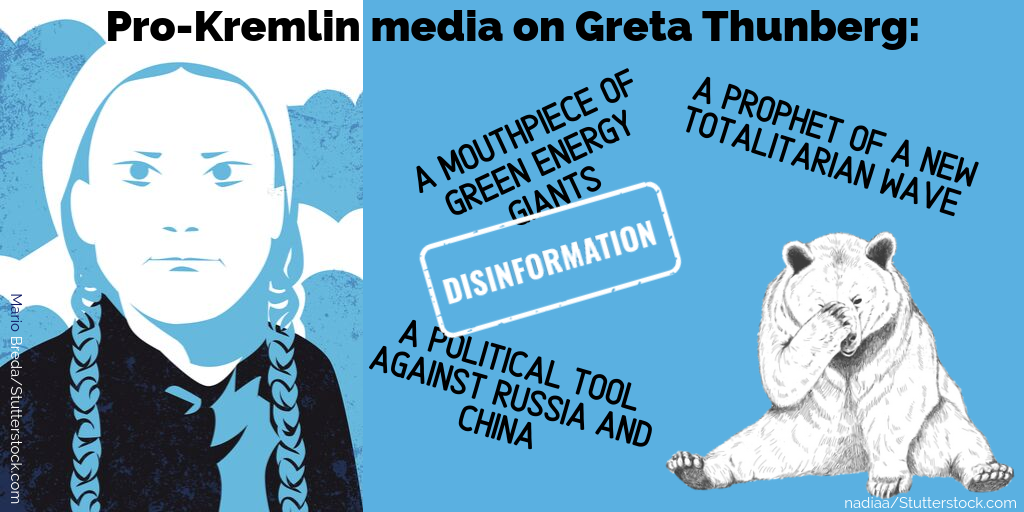 "A sick girl who is as stupid as she is naïve" and "the prophet of a new totalitarian wave": This is how Russian state-controlled TV reacted to Greta Thunberg and her speech at the UN the past week.
Admittedly, Russian TV was not alone in being upset by the climate activist. But what distinguished the pro-Kremlin media from the rest of indignant (and misogynist) choir was its dedication to find a grand conspiracy behind Greta Thunberg and her activism. She is, according to various pro-Kremlin outlets, a tool of global, unelected, pop-ecofascist bureaucracy, a mouthpiece for lobbyists of green energy giants, a political tool against Russia and China, and a victim of child abuse.
Greta Thunberg is a trigger for the pro-Kremlin disinformers not only because she refuses to bow down to the stereotypes of what a 16 year-old girl should say or do (although chauvinism and disinformation are two peas in a pod). Greta is a target because she is the face of a global grassroots movement – a genuine popular protest, the possibility of which the pro-Kremlin media simply cannot accept. Doing that would expose just how viciously Russian citizens are denied the right to peaceful protest.
China calling
Unable to live with the notion of genuine grassroots protests globally or locally, the pro-Kremlin media keeps spinning the broken record of "the Americans did it" when it covers Hong Kong. This week the pro-Kremlin outlets smelled blood, suggesting not only that the protests are US-funded, but that America needs casualties in Hong Kong to impose sanctions against China.
Curiously, a Chinese tabloid linked to the Communist party had some very similar thoughts about the events in Hong Kong claiming that foreign forces planned Hong Kong violence. Another outlet tied to the party referred to the protests as a "US colour revolution", and old darling of the pro-Kremlin disinformation. This is a worrying example how same disinformation narratives can be exploited by different actors regardless of their political goals.
Hong Kong has also brought us the first discovery of a Chinese state-backed disinformation network on Twitter, Facebook and Youtube. This particular operation was rather clumsy, using fake accounts that previously had posted porn or spam. It seems that the Chinese trolls have not (yet) reached the insidious sophistication of St. Petersburg troll factory. Nevertheless, the goal of their operation was disturbingly similar – to stifle a genuine online conversation.
Ukraine connection
Never shy of attacking Ukraine, the pro-Kremlin media seized the opportunity this week, as Ukraine landed in the centre of the American politics. A possible impeachment is a complicated subject matter and as such a powerful trigger for disinformation.
The pro-Kremlin outlets tried to capitalise on the increasing global media attention to Ukraine, claiming that it was Ukraine which interfered in US presidential election in 2016. They have also renewed attacks on Kurt Volker (now a former US special envoy to Ukraine), by accusing him of torpedoing the implementation of Minsk Agreements for personal gain. Blaming the others is a primitive but effective tactic to distract domestic audiences from Russia's own responsibility – and failure – to uphold the Minsk Agreements.
Triggering a disinfo nerve
The European Parliament resolution on the importance of European remembrance for the future of Europe has touched a disinfo nerve. For two consecutive weeks the pro-Kremlin media keeps attacking the European Parliament, most recently by claiming that it falsifies history and represents the Third Reich. In the meantime, the resolution, which condemned "all manifestations and propagation of totalitarian ideologies, such as Nazism and Stalinism, in the EU" is labelled as criminal, and an ideological weapon against Russia.
***
For the pro-Kremlin disinformation outlets, a protest movement can never be anything but an instrument of US, European or Evil forces; unless they are controlled by Moscow. Protests, set up and controlled by the Kremlin, are just and fair. Historical facts are relevant only if they support the Kremlin's narratives. And evidence is only evidence if it is doctored to clear the Russian Armed Forces' guilt of shooting down flight MH17.