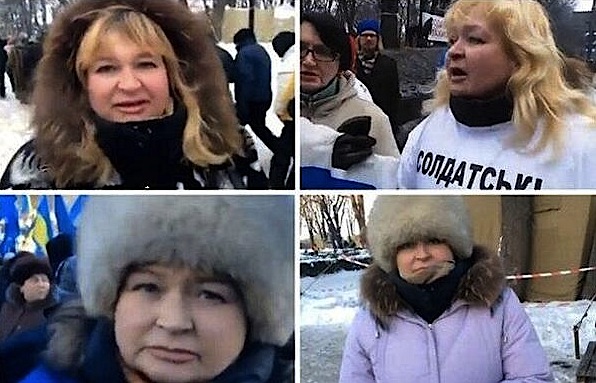 On 27 May 2016 Petro Poroshenko signed a decree banning 17 Russian journalists from entering Ukraine till the end of 2017, accusing them of "stirring hatred."
Following scandals around Ukraine banning dozens of foreign journalists in August 2015, as well as a recent controversy when the Myrotvorets website published personal contacts of thousands of journalists, the most recent decision also sparked outrage and discussions.
For instance, on 1 June Human Rights Watch condemned Ukraine for "targeting journalists" and "encouraging censorship."  Ukrainian authorities should immediately drop a ban on 17 Russian journalists and protect media freedom, Human Rights Watch said. The Committee to Protect Journalists was also "alarmed" and urged Ukraine's government to rescind the ban and "resist the urge to fight propaganda with censorship."
However harsh "censorship" and "war on journalism," as The New York Times has recently put it, sounds, one should question whether whatever those outlets are doing can be defined as journalism. As Russian defense minister Sergei Shoigu recently asserted, Russian media is "but another arm of the armed forces."
The legal definition of what constitutes journalism and what should be considered not reporting but propaganda is still absent. Here we provide examples of the reports that the media personalities in the list made on Ukraine and let our readers decide how Ukraine should defend its national security at the time when Russia is waging a war in Donbas.
The list of 17 names includes key media personalities from the largest Russian outlets. The disinformation produced by all those outlets has been debunked on multiple occasions in the
EU Stratcom's Disinformation Review
reports, in Ukrainian
StopFake
publications, and has been exposed as fakes by bloggers. We gathered examples of how all those medias report on Ukraine to illustrate why Ukraine banned their management.
Konstantin Ernst, Director General at Pervyi Kanal; Irada Zeynalova, anchor at Pervyi Kanal
On 25 October 2014, Pervyi Kanal aired a story under title "Horrible footage from Donbas that Ukrainian TV doesn't air were shown in Kyiv." The news anchor informed that a hacking group showed photographs of Donbas civilians in mass graves on advertisement screens via a special hacking operation. But in fact, 1995 photos from Groznyi, Chechnya were used in the show.
False allegations against the Ukrainian army, who are portrayed as perpetrating mass atrocities against Donbas civilians is one of the favorite tactics of Russian propaganda. It aims to lower the combat morale of the Ukrainian army, which is defending their country from a Russian hybrid invasion.
Pavel Gusev, owner and editor of Moskovskiy Komsomolets
In fact, the incident was entirely fabricated by the outlet. Firstly, Denis Golodyuk from the 95th aeromobile brigade has all limbs. Secondly, the ball was presented by "Dynamo Kyiv" football club as a symbol and hope for his speedy recovery.
Attacks on Ukraine's head of state are another favorite tactic of Russian propaganda outlets. As Andrei Illarionov, former adviser to Russian President Vladimir Putin
noted
, bringing down Petro Poroshenko is one of the primary goals of the Kremlin for the present period.
Vigen Akopyan, chief editor of REGNUM information agency
Andrey Surkov, chief editor of Novorus.info
Novorus.info website serves as the "Central information agency of Novorossiya" which declares "help in establishing economical, political, and cultural links between Russia and Southern-Eastern part of Ukraine." On the main page, the website uses the Georgian Ribbon and a map of Ukraine's southern and eastern regions, including Russia-occupied Crimea and Donbas. Some of the sections of the website are: "News of Novorossiya", "Russkiy Mir", "Eurasian Union". A regular "statement of the official representative of the national militia of "Luhansk People's Republic" is published every day.
The "Novorossiya" project was Russia's original plan for taking over Ukraine after the Euromaidan revolution. However, pro-Russian protests in most of the regions were mostly unsuccessful, and the project resulted in the so-called "Luhansk and Donetsk People's Republics" ("LNR" and "DNR") which are battling the Ukrainian army with the help of Russia's military personnel and armor.
Vadim Gorshenin, owner of the Pravda.ru media holding
On 7 April 2016, Pravda.ru wrote that "Poroshenko gives away Kherson to be torn to pieces by the Turks," alleging that a Crimean Tatar autonomy is to be created on the territory of the southern Ukrainian Kherson Oblast, where a number of Crimean Tatars is residing after fleeing from the occupation and illegal annexation of Crimea. In fact, the document pravda.ru refers is fake. It was never been published by Ukraine's Presidential Administration and contains such gross errors as an outdated version of Emblem of Ukraine, as well as provisions that break articles 85 and 133 of Ukraine's Constitution.
Inciting inter-ethnic hatred is a long-tested strategy of propaganda to stimulate unrest and destabilization.
Aleksandr Potapov, former chief editor of LifeNews and Izvestiya; 16. Ashot Gabrelyanov, former executive director at News Media and CEO at LifeNews
On 22 July 2015, LifeNews reported about American weapons found in destroyed Luhansk Airport. As proof, a video from LNR Today YouTube channel was used. Stinger missiles from the video were marked with spelling mistakes: Tracking Rainer instead of Tracking Trainer, Re Usable instead of Reusable or Re-usable, Date Louded instead of Date Loaded. According to blogger Anton Logvinov, who writes about computer games, the inscription was forged based on the model of FIM-92 Stinger from the computer game Battlefield 3.
Alleged US involvement in the Euromaidan revolution and the following war in Donbas is another prominent topic of Russian propaganda, which aims to show off the public uprising as foreign meddling.