The Russian "First Channel" on March 13th, 2014 showed an episode of the "defenders" of Crimea, representing local self-defense, Cossacks, and Berkut. Armed men blocked the Perekopsky Isthmus to prevent certain "militants from the Maydan" to infiltrate and seize power in the Crimea peninsula before the referendum.
https://www.youtube.com/watch?v=Ugs1iifuwMs
The episode tells a story about some people who are trying to import the so called "arsenal" of Maydan: bats, spiky or sharp objects, shooting scopes to Crimea. There was no supporting evidence presented in the story.
Also, a woman from Armjansk says that she enrolled as a volunteer in a field hospital.
Alexander, a member of the "Berkut", says that he barely managed to escape from Kiev, as he was persecuted for dissent.
However, these "defenders" may be bandits who kidnapped and terrorized several Ukrainian activists and journalists during their trip to Crimea in the first half of March.
On March 28, 2014 a public activist from Kyiv, Alexandra Ryazantseva wrote on her Facebook page:
"Guys, attention! Everybody must see it! I have recognised each of them! The woman in white visor and a white robe pulled me by my hair … the first character in khaki balaclava wanted to cut off my hand, Kate's (Catherine Butko – StopFake) ear, our guys were beaten and shots were fired over our heads … Alexander, the young Berkut, beat us with his feet … Kozaki were swearing and took the piss out of us, our guys were beaten ….! That was them! It's so hard! I recognised them all! All of them!"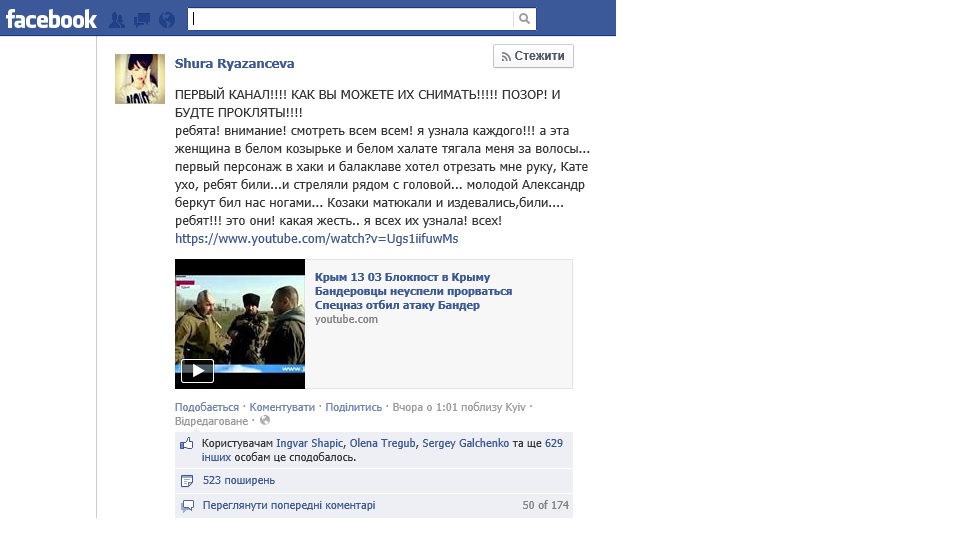 Another of the abducted activists, Elena Maksymenko told StopFake.org, she recognised the " nurse " in the video. "This is an inadequate person. She threatened us and incited others" – said Elena Maksymenko.
On March 9, 2014 on entering Crimea from Kherson region, the activists of Automaydan – Catherine Butko and Alexandra Ryazantseva were detained by some armed men in military uniform without insignia. The militants found a tattoo on the arm of one of the arrested girls. The tattoo said "Heavenly hundred" refering to people killed during the Maydan events. One of the men in the uniform started threatening the girls: "There are one hundred? There will be 102 soon!" After that, the girls who arrived in Crimea by car (white Citroen with Ukrainian (Crimean) number plate AK 4646 CE), were taken to an unknown destination.
The militants also detained a journalist of "Tyzhden" Elena Maksymenko, photographer Oles Kromplyas and activist Eugene Rakhno. They were travelling in a black four wheel drive Jeep Wrangler with the Ukrainian number plate AE 9115 SW.
They all were released on March 11, 2014. Subsequently, Alexandra Ryazantseva told us that during the captivity "self defenders" cut her hair and promised to cut her hand. The militants also pressured detainees physically and psychologically.