A member of Verkhovna Rada Oleh Lyashko published the following post on his Facebook page: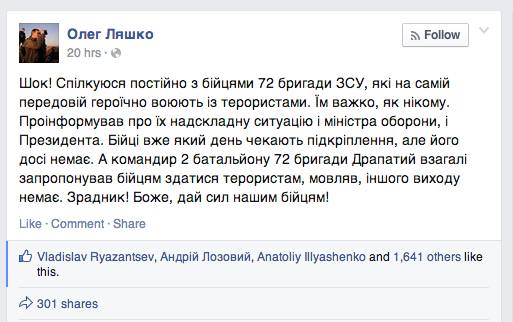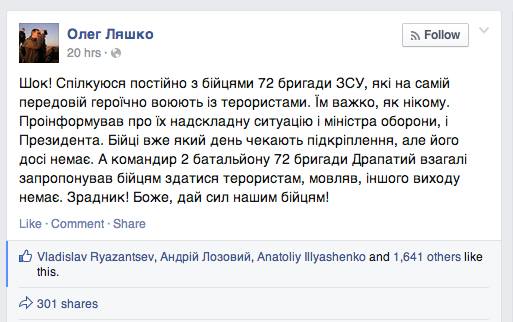 Translation: "Shock! I am always talking to the soldiers of Brigade 72 of the Armed Forces of Ukraine who are fighting heroically on the frontline with the terrorists. They are having hard time like nobody else. I have informed both the Minister of Defense and the President about their extremely difficult situation. The soldiers have been waiting for reinforcement for many days now, but it's not there. And the commander of Brigade 72 Drapatiy at all proposed to the soldiers to succumb to the terrorists since there was no other choice. Traitor! God give power to our soldiers!"
We got in touch with an officr of Brigade 72 of the Armed Forces of Ukraine Victor Demchenko who denied Lyashko's statement. During the telephone conversation Demchenko confirmed the statement made on his social network page, according to which the 2nd battalion chief of Brigade 72 Mihail Drapatiy did not propose to the soldiers to surrender and did not betray them.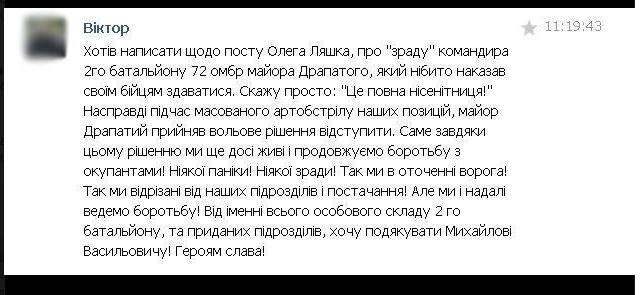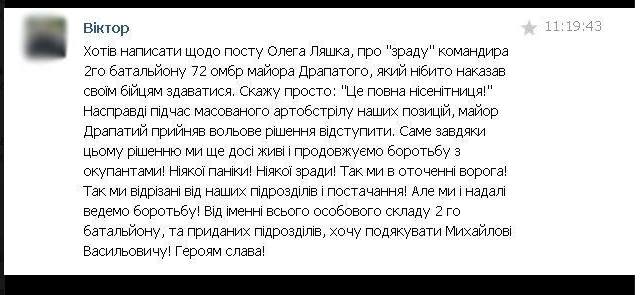 Translation: "I wanted to write about Oleh Lyashko's post, about 'betrayal' of the he 2nd battalion chief of Brigade 72 Mihail Drapatiy who allegedly proposed to the soldiers to surrender. I will put it simply: "This is utter rubbish!" In truth during the massive artillery shelling of our location major Drapatiy made a difficult decision to withdraw. It is due to this decision that we are still alive and continue the struggle against the invaders! No panic! No betrayal! Yes, we are surrounded by the enemy! Yes, we are cut off from our units and our supplies! But we keep on fighting! On behalf of all staff of the 2nd battalion and the attached units let me thank Mihail Vasiliyevych. Glory to the heroes!"