The arrest of Marek W., a man suspected of spying for the Russian Federation showed that despite appearances, we all can feel threatened. Each of us is a potential victim; each can become the target of hostile forces.
Sounds unbelievable? At first glance, certainly. Because what do we, ordinary people, have to do Russian Federal Security Service special operations? We still associate spies more with James Bond than with a nondescript official from a government ministry.
Meanwhile, as the media reported today Marek W. an official at one of Poland's economic ministries detained by the Internal Security Agency (ABW) on suspicion of spying for Russia, was placed under arrest until June 21 by a Warsaw court. Marek W. allegedly supplied the Russian services with information about the Polish government's plans regarding the construction of the Nord Stream 2 gas pipeline.
When the man's identity was leaked, it quickly became apparent that he was extremely active on social media.  I discovered that he and I had at least 25 mutual friends on Facebook. I know all those people personally, among them, a minister, chief editor of a nationwide television channel, journalists and members of Prime Minister's cabinet. There were probably more of them but many, realizing who Marek W. was, quickly ended the Facebook friendship. I know these people because of my work. But why would an anonymous official of the Ministry of Energy have them as friends? One can only guess. And why was this anonymous official interested in relations with local politicians and social activists? It's getting dangerous, isn't it?
The fact that one of Poland's well-known journalists who treats her Facebook profile as public, discovered to her amazement, that she had… 185 mutual friends with the suspected official says a lot about the way Marek W. navigated the internet .
My other friend (also real) realised he had 125 mutual Facebook friendships with the alleged spy.  "I checked people. It was a big operation… He had to be deliberately adding people from so called patriotic circles. The people who are in his friends have no right to appear in circles related to energy or media", he wrote.
What can we conclude from this? The arrested man for unknown reasons (nothing has been proven yet) was building a contact network. One could say there's nothing wrong with this, on social media we often add and accept as friends, people who are friends' friends. Some just do it automatically; others want to be in the loop. Someone is interested in a professional profile, someone else looks for information.
There is no doubt that the arrested man was a specialist in his field. His profile on LinkedIn looks impressive: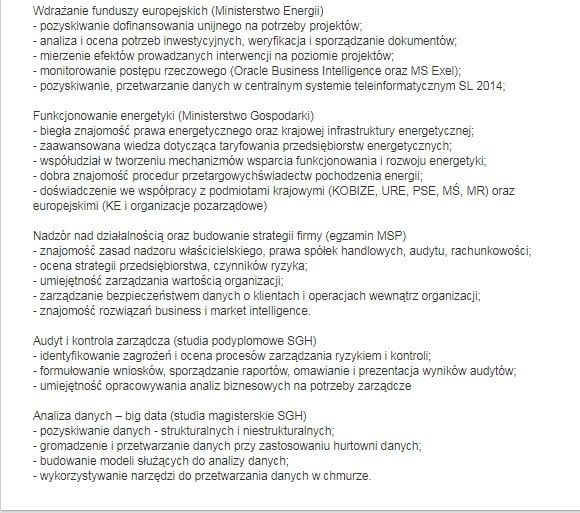 Implementing of European funds (The Ministry of Energy):
Acquiring EU grants for projects
Analyzing and evaluating investment needs, verification and preparation of documents
Measuring effects of implemented interventions on project level
Monitoring of material progress (Oracle Business Intelligence and MS Excel)
Sourcing and processing data in central ICT system SL 2014
The functioning of energy (The Ministry of Economy):
Thorough knowledge of energy law and national energy infrastructure
Advanced knowledge of energy companies' tariffs
Cooperation in formation of support mechanisms for energy functioning and development
Good knowledge of bidding procedures / energy origin certificates
Experience with working with national (KOBIZE, URE, PSE, MŚ, MR) and European (European Commission and NGOs) entities
Supervision over activity and creation of enterprise's strategy (the Ministry of State Treasury exam)
Knowledge of the rules of ownership supervision, company law, audit, accountancy
Evaluation of a company's strategy, risk factors
Ability to manage organizational value
Managing security of customer data and inside operations data
Knowledge of business solutions and market intelligence
Audit and management control (postgraduate studies, Warsaw School of Economics)
Identification of threats and evaluation of risk management and control processes
Formulating conclusions, preparing reports, discussion and presentation of audit results
Knowledge of elaborating business analysis for management purposes
Data analysis – big data (master's studies on Warsaw School of Economics)
Obtaining data – structural and non-structural
Data gathering and processing using data warehouses
Building data analysis models
Using cloud data processing tools
Who wouldn't want to have such a specialist among one's friends? You can count on him to share some interesting information, research results or some amazing news. But what if he asks us for our opinion? Will our warning lights light up?
One doesn't have to be Frederick Forsythe to imagine a situation when such an "expert from the ministry" contacts a newspaper journalist or a local government official and ask them to write a highly paid report about the "preparation of a key investment". He might make reference to the ministry where he works, or perhaps he may not.  Because the two sides have many social media friends in common he would be seen as credible. The fact that the report, instead of ending up in the ministry, will end up, for example, in a grim Moscow building and the Internal Security Agency will knock on the clueless report's author's door is another story.
We know that Marek W. was passing information about the Polish government's plans regarding the Nord Stream 2 gas pipeline to Russian special services officers. Furthermore, he attempted friendly interactions with journalists, and if he was looking for contacts amongst journalists, why wouldn't he do the same elsewhere, seeing the right potential amongst his Facebook friends? Or maybe someone else also worked on his friends list? The scandal involving the company Cambridge Analytica, that profiled Facebook users based on their political preferences shows that such scenarios stopped being the domain of films and fiction long ago. If we add the fact that the alleged agent also worked with big data*, the case becomes somewhat menacing.
It's hard to tell how many friends Marek W. had on Facebook (his page is still active despite the arrest). Maybe a part of those people didn't share anything besides their profile photo. But certainly not all. The presumption of trust on social networks is common. More than once I've seen a primary school acquaintance that I last saw twenty years ago and whom I added to my "distant friends" circle as a courtesy, boast about everything on Facebook – from his car to the underwear he bought for his loved one.
The arrest of Marek W. once again proves there is no place for trust on the web, certainly, not for absolute trust. This doesn't mean we should give up on social networks, like the funder of Tesla, Elon Musk did recently, angry at Facebook for the Cambridge Analytica scandal. It's enough if, instead of friending someone, we just click the follow button. Let's not delude ourselves, we don't need 5000 friends. The faster we collect them, the sooner we lose control of our own security. Because amongst all those friends, there may be those who need more from us than just a like click of their photos from a Saturday night party.
*Big data refers to large volumes of data. Big data is gathered from a wide variety of sources, including social networks, videos, digital images, sensors, and sales transaction records. Big data analytics is the strategy of analysing big data.