Ukraine's anti-communism laws have received much flak in foreign media, but not all of it is well-deserved. The legislation orders the removal of communist symbols such as monuments and street names, and one frequently made criticism is that it may also affect the remembrance of Soviet Army soldiers who fought against Nazi Germany. In fact, the law makes an exception for World War II, and some of the critical reporting is based on unchecked facts, writes BBC.
Two major foreign media outlets recently used the example of a man wrongly described as a "World War II hero" to illustrate controversy generated by Ukraine's anti-communism law. Both the Washington Post and Al-Jazeera said officials' efforts to rid Kiev of a plaque and street name commemorating a man called Oleksandr Anishchenko drew criticism because he had supposedly fought as a hero against Nazi Germany.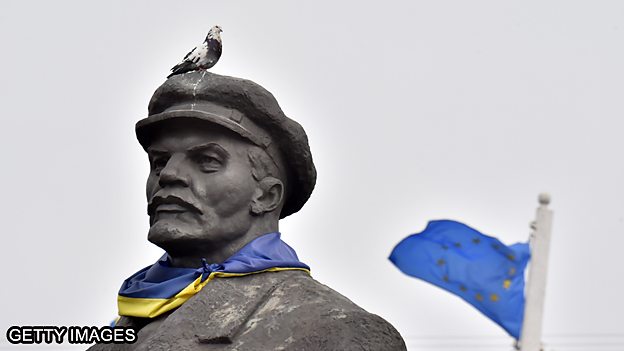 In reality, Anishchenko was a communist worker who fought against the newly-established independent government in Kiev in 1917-18, and was long dead before the war broke out.
"War hero"
On 13 August, The Washington Post website carried a piece about the controversy swirling around Ukraine's anti-communism law. The way it is being applied "has drawn scorn from critics in a divided nation where one person's enemy of the state is another's hero", the article said.
It was pegged to the removal of the plaque honouring Oleksandr Anishchenko. The Washington Post described him as "a Soviet World War II fighter whose exploits were so daring that a small street in central Kiev was renamed after him". According to the article, even the workers removing the plaque had misgivings about what they were doing. "Our grandparents were fighting, and we are destroying," said 58-year-old Petro Karpenko, who was shown wielding a hammer and chisel in the lead picture.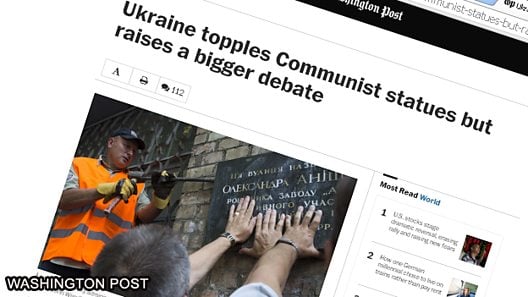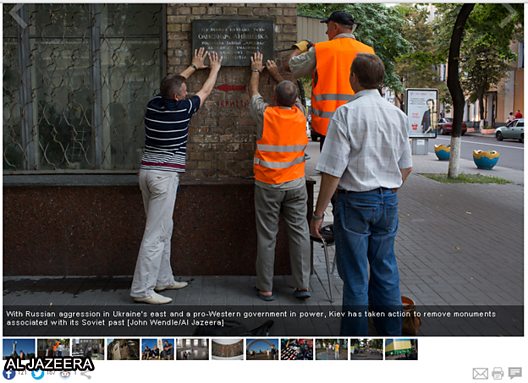 The street where the plaque was installed also used to bear Anishchenko's name, but is now getting its old name back.
Who is Oleksandr Anishchenko?
Crucial parts of the plaque were obscured in the Washington Post's picture, but they were in plain view on Al-Jazeera's website. They showed that Anishchenko was not a World War II hero at all: the plaque described him as "a worker at the Arsenal factory, an active participant in the revolutionary events of 1917-1918".
Further research reveals that he took part in the Bolshevik uprising against the newly-established independent government in Kiev, during which he was killed.
Contacted by BBC Monitoring, the Washington Post said its article was "in error" because it confused Oleksandr Anishchenko with another man of the same name who had fought in World War II. The Post also said the article "needed to be corrected", but it remained unchanged at the time of writing.
In all, more than 100 streets in Kiev are to be renamed under the anti-communism laws, but none of the old names have anything to do with World War II.
"Monuments at risk"
Earlier, Mashable, a popular US-based website, claimed that some of the most iconic World War II monuments in Ukraine were under threat because of the anti-communist law. It used the example of the Motherland monument that towers over Kiev, saying that "it would have to be altered under Ukraine's new law banning Soviet symbols" because it displays a huge Soviet coat of arms.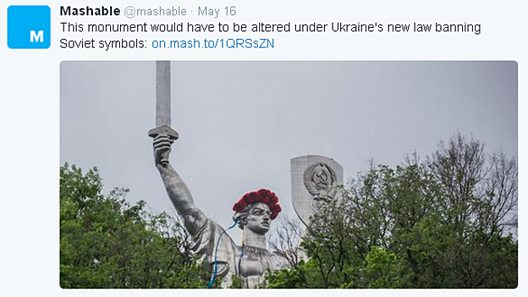 In fact, the law says it does not apply to "monuments related to resistance against Nazi occupiers".
Another point not mentioned in these and many other articles about Ukraine's anti-communism laws is that similar measures have been taken in several other countries including Russia.
For example, the names of many Russian cities reverted to what they were before the 1917 Bolshevik revolution: Leningrad went back to its original name of St Petersburg, and Sverdlovsk once again became Yekaterinburg.
Source: By Vitaliy Shevchenko, BBC.