Citing a Sky News story, Russian media are reporting that aside from sending Ukraine weapons, Great Britain has also "deployed elite military units to Ukraine". RIA Novosti, Lenta.ru, Gazeta.ru, Moskovsky Komsomolets and other pro-Kremlin publications featured similar claims. None of these publications mention that fact that the 30 British troops that arrived in Ukraine are actually there to train Ukrainian servicemen. Russian social media meanwhile is rife with posts claiming that these British servicemen are present in the conflict zone in eastern Ukraine and are thereby "escalating the situation". British military are not heading to Eastern Ukraine at all, but that is a minor detail for the Russian propaganda machine, who are busy using their very presence as an information excuse to discredit all British military aid to Ukraine.
The Sky News story would not have received such wide dissemination in the Russian media had it not focused on the thirty specialist British troops that arrived in Ukraine together with anti-tank systems. Russian propagandists not only turned the story into a piece of sensationalism, but also likened the arrival of the British specialists to an alleged "Ukrainian military offense plan". Russian media treat all Ukrainian joint exercises, training missions involving NATO troops as well as visits of foreign experts, as pretexts to beef up their fake narrative about "NATO fighting in Donbas" and preparing offensive campaigns together with the Ukrainian military.
However, as reported by Sky News, the 30 British servicemen arrived in Ukraine to train Ukrainian armed forces on new anti-tank weapons. When the training is completed, they will return home. Russian media completely ignore these crucial details and instead claim that "these units will be consistently present all over the world and will interact with allies and partners to fight with adversaries wherever they present a threat to Britain and its interests". Russia is attempting to accuse Britain of increasing its military presence in Ukraine with such claims, which fits very well into the Kremlin's narrative about NATO's alleged hostile plans.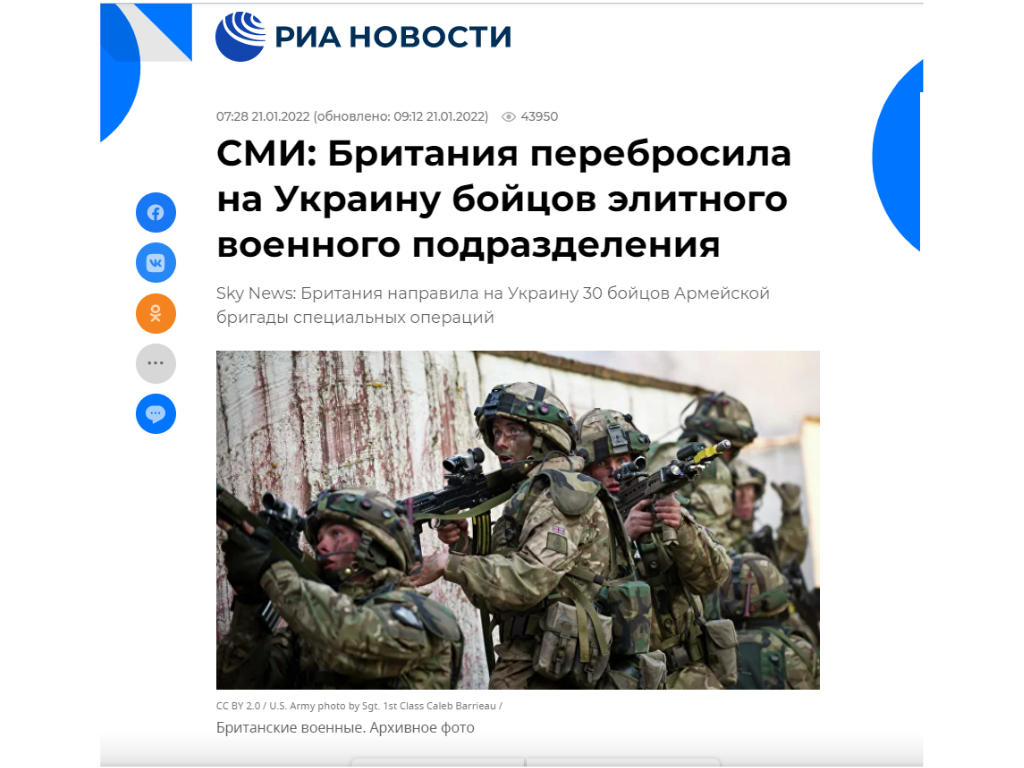 Not only did Russian media accuse Ukraine and Britain of escalating the situation, they also went so far as to claim that the Next Generation Light Anti-Tank Weapons (NLAW) that Britain delivered to Ukraine were at the end of their service life and very close to their expiration date. "Britain is giving Ukraine scrap instead of weapons," announced Tsargrad. "Ukraine complains about expiration date on weapons from Europe," the News.Rambler site declared. Old stuff for recycling. Kyiv is upset, Newsua.ru wrote. Russian military experts vehemently insist that Ukraine is getting poor quality weapons that have not been used for a long time and were about to be written off. Yuriy Krutov, a purported "military expert" for the imperialist site Tsargrad claims that "there is a high probability that the missiles delivered to Ukraine are very close their expiration date". Another "military analyst" Roman Nasonov claims that he has reliable information that the British weapons are indeed obsolete. Nasonov told the RIAFan publication that the weapons Britain delivered to Ukraine "were written off in the 1990s and today it would take three months to learn how to use them."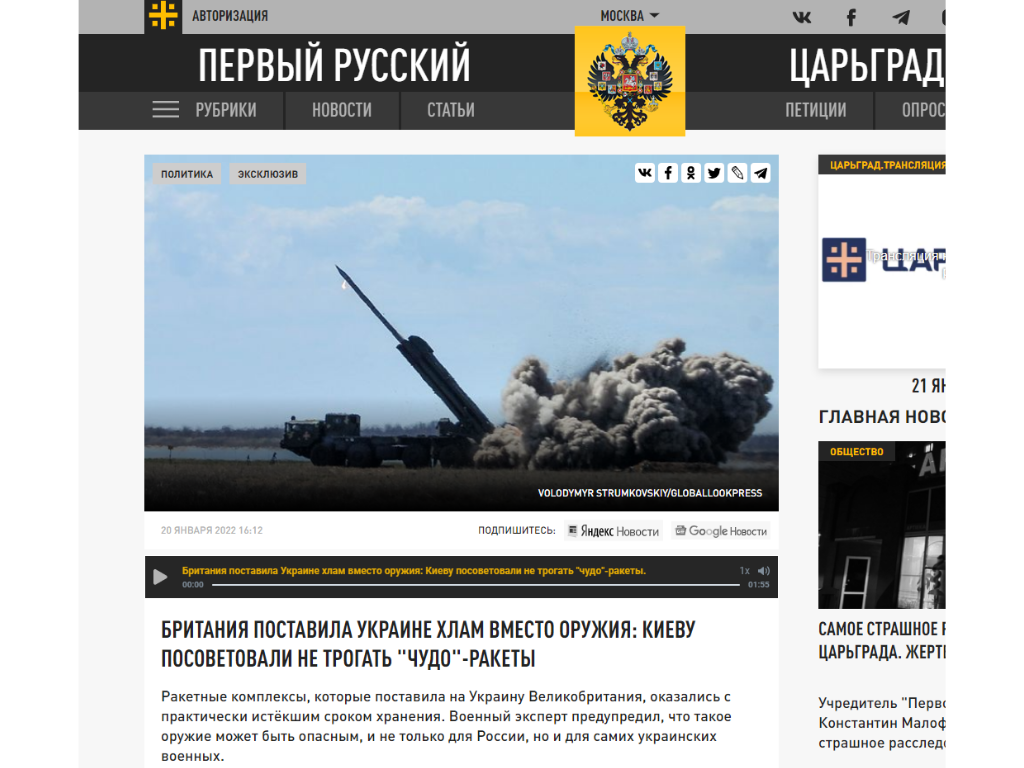 In fact, mass production of NLAW anti-tank guided missiles only began in 2009. The missiles are developed by the Swedish aerospace and defense company Saab Group and manufactured by the British Thales Air Defense. The manufacturer's website states that the service life of this missiles is 20 years. Unfortunately for Russian propagandists, the British missiles delivered to Ukraine will last for at least another 7 years.
Not only Russian experts have "insider" information about NLAW missiles. Anti-Ukrainian propagandist Volodymyr Mulyk was quoted by the pro-Kremlin Politnavigator web site as saying that Britain gave Ukraine the missiles because it did not want to dispose of them on their own territory. Mulyk claims the missiles must be used this year and this reality is pushing Ukraine into a military conflict. Mulyk presents himself as a conflict expert and a reservist lieutenant colonel in the Ukrainian Security Service (SBU), although, according to the SBU, he never served in the agency. Since 2014 Mulyk has been a regular participant on Russian propaganda television channels. Such "experts" are a proven Kremlin disinformation tactic regularly used to discredit the efforts of Ukraine's Western partners to help Kyiv militarily. Manipulations and distortions based on value judgments and unverified "facts" are aimed at spreading Kremlin propaganda "alternative" views.