By Sarah Hurst (@XSovietNews), for StopFake
In the World Football Cup that you probably haven't heard of, which took place in London earlier this month, Karpatalya beat Northern Cyprus in the final. The event was organised by CONIFA, the Confederation of Independent Football Associations, which calls itself the international governing body for non-FIFA associations, and sponsored by Irish bookmaker Paddy Power. It sounds harmless enough, but CONIFA gives a remarkable amount of prominence to separatist regions, and particularly those backed by Russia. "Karpatalya" just happens to be a region of Ukraine with a large population of ethnic Hungarians.
In response to Karpatalya's win, Ukraine's sports minister, Igor Zhdanov, wrote on Facebook: "I call on the Security Service of Ukraine to respond appropriately to such a frank act of sporting separatism. It is necessary to interrogate the players of the team, as well as to analyse in detail the activities of the deputy organiser of Karpatalya for the purpose of encroachment on the territorial integrity of Ukraine and ties with terrorist and separatist groups." The "Donetsk People's Republic" and "Luhansk People's Republic" are also CONIFA members, with the latter being described by the organisation as an "independent state". Russian-controlled Transnistria in Moldova is a member too.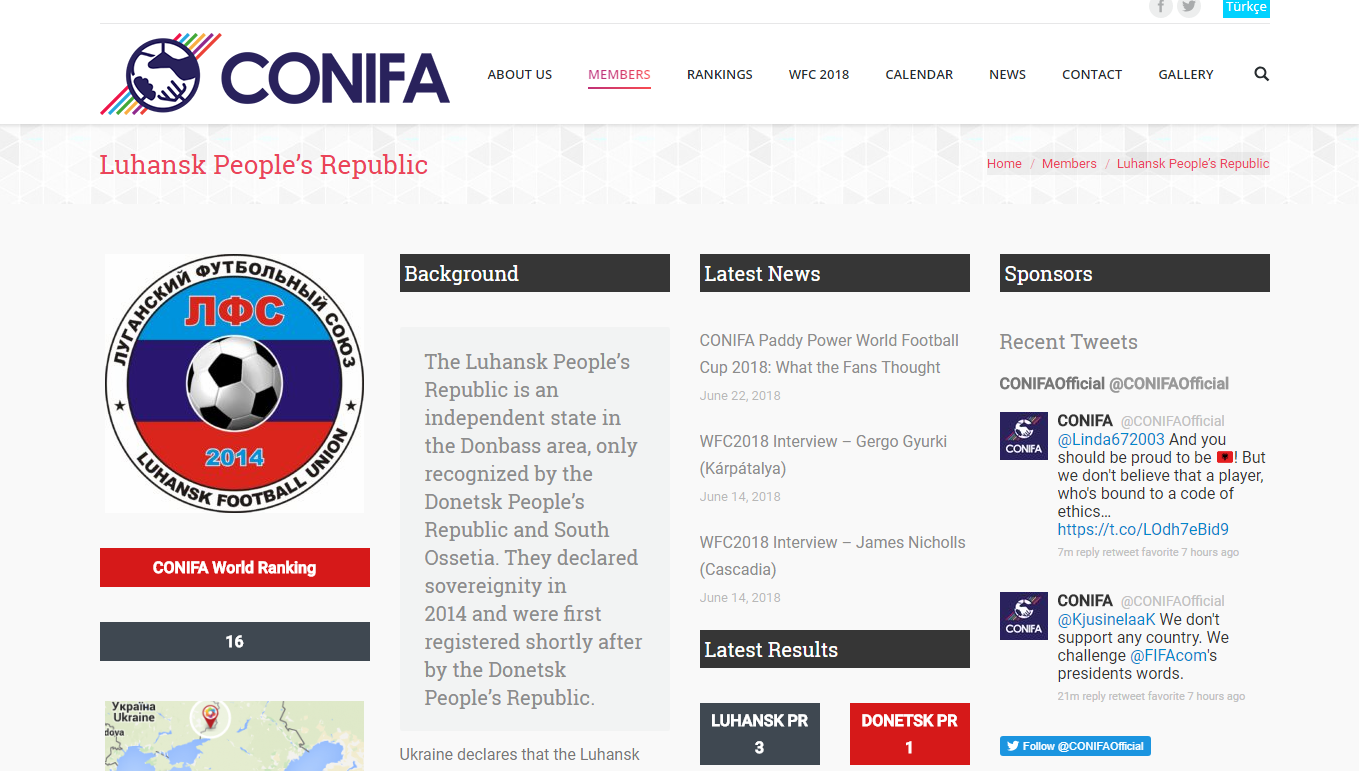 Ukraine's football federation also said that it would disqualify players who represented Karpatalya at the event, although most or all were apparently not from Ukraine. CONIFA responded: "CONIFA wishes to stress that it is a politically-neutral, volunteer-run charity registered in Sweden. CONIFA takes no position on the political status of its member associations. CONIFA wishes to state that, to the best of its knowledge, the players, administrators and officials of the Karpatalya football team have never expressed any separatist sentiments or ambitions." CONIFA General Secretary Sascha Düerkop said the organisation was "alarmed" by the call to interrogate players and considered the proposal to disqualify players "draconian".
Abkhazia activities
CONIFA's claims to be neutral and non-political are hard to believe. Either the organisation is completely oblivious of world events, or it is actively providing a soft power cover for Russia's efforts to encourage separatism. The Egypt team's decision to base themselves in Chechnya for the FIFA World Cup has been harshly criticised, but CONIFA's love affair with Abkhazia, a Russian-controlled region of Georgia, hasn't received as much scrutiny as it deserves.
Most Western countries advise citizens not to travel to Abkhazia, and it is against Georgian law to travel there via Russia. CONIFA held its World Football Cup there two years ago (and Abkhazia won it). One of CONIFA's vice-presidents, Dimitri Pagava, is from Abkhazia and participated in a press conference there hosted by Russian propaganda agency Sputnik ahead of the event. CONIFA's media head, Kieran Pender, writes regularly for various major media outlets about Abkhazia. In October 2017 he wrote an article for Al Jazeera about Syrians building new lives in Abkhazia.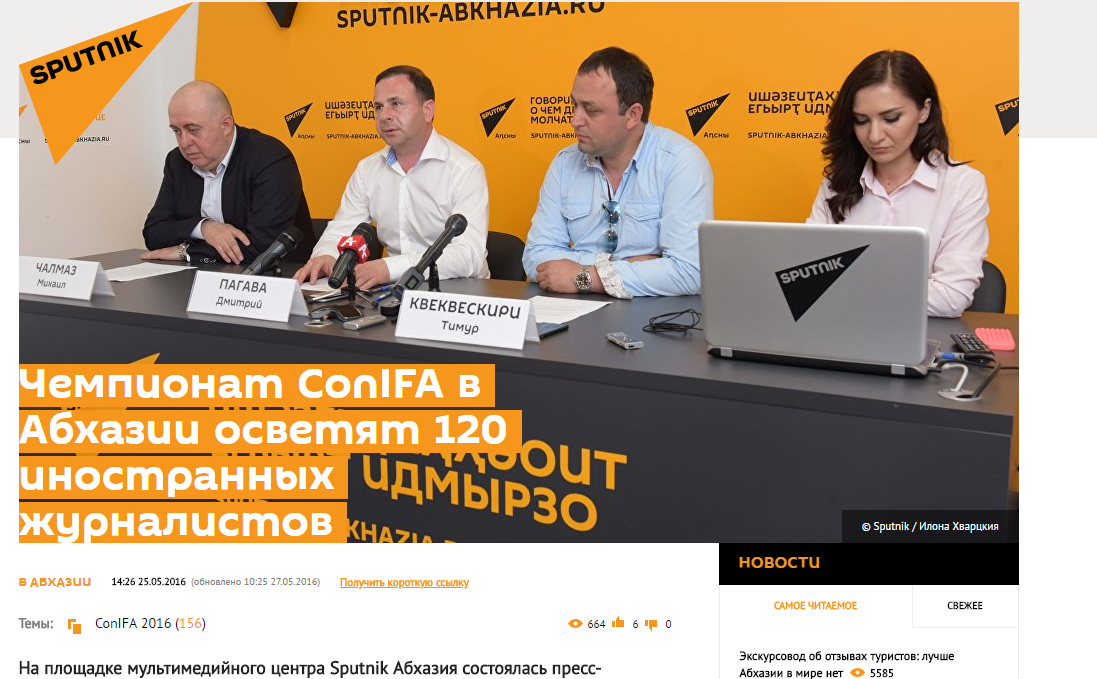 In May this year the UK government issued a statement on the Assad regime's recognition of the "independence" of Abkhazia and South Ossetia, in which Foreign Office Minister Sir Alan Duncan said, "It is utterly unacceptable that the Asad regime has recognised the so-called 'independence' of the breakaway Georgian territories of Abkhazia and South Ossetia. The Russian military intervention in Georgia in 2008 and its subsequent recognition of the breakaway territories of South Ossetia and Abkhazia as so-called 'independent states' was an unacceptable violation of the sovereign rights of Georgia. Russia's actions continue to undermine Georgia's rightful territorial integrity."
During the World Football Cup itself in June 2016 Pender wrote about the event for the Guardian, describing Abkhazia as a breakaway state "near south-west Russia". "With issues of statehood, nationalism, and geopolitics at play, this is no ordinary football tournament," he wrote, despite the fact that CONIFA insists that its tournaments are indeed extremely ordinary sporting events. "While Abkhazia and its secessionist companions may see the World Football Cup as an instrument in the ongoing fight for recognition, on and off the pitch, other participants have less politically-charged motivations," Pender continued.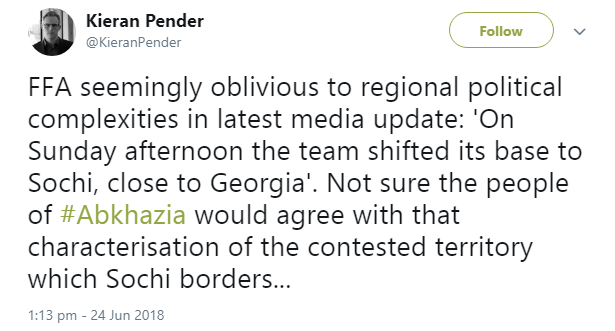 In December 2016 Russia's Sputnik published an article titled "Crimea presents national football team, may host CONIFA World Cup." CONIFA Vice-President Kristof Wenczel, a lawyer from Hungary, was quoted as saying that the organisation wanted to hold the next World Football Cup on the Ukrainian peninsula annexed by Russia in 2014. "Crimea is quietly going out of isolation. If we have the Crimean national team, then believe me it will soon participate at least in all-Russian but also in international tournaments," the Russian-installed head of Crimea, Sergei Aksenov, said, according to Sputnik.
Pender, who describes himself as a legal advisor at the International Bar Association in London as well as a freelance journalist on his LinkedIn profile, isn't listed as a board member on CONIFA's website. But in an interview he gave to a Melbourne radio station on June 5, the presenters described CONIFA as Pender's "brainchild". "I wouldn't want to take credit for it… but I am a member of the organisation," Pender responded modestly.
Offshore accounting
In response to questions from StopFake CONIFA referred us not to Pender, but to General Secretary Sascha Düerkop from Germany, who in 2016 posted a picture of his Russian visa on Facebook to announce that he was travelling to Abkhazia via Sochi. "I can confirm that we never had any contacts to the Kremlin and never received any funding of any government, including the Russian government," Düerkop wrote. "In fact, we never received any funds from any Russia-based organization, company or private donor until today."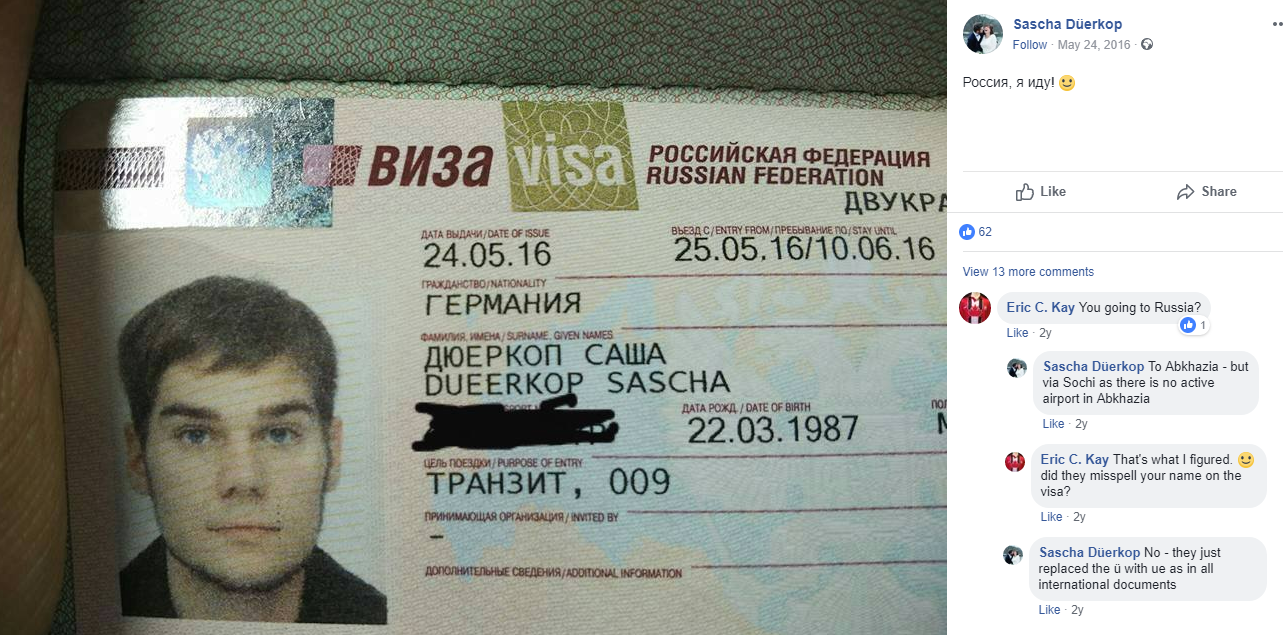 CONIFA publishes financial reports on its website, but there is no information about the activities of its financial arm, CONIFA Properties, which is registered on the Isle of Man, a tax haven. In its budget for 2017 CONIFA planned to receive 15,000 euros in membership fees and a grant of 261,500 euros from CONFIA Properties. In its 2018 budget CONIFA planned to receive 15,000 euros in membership fees, 2,000 euros in sponsorships and 2,500 euros from "PayPal", totalling just 19,500 euros, with expenses of exactly the same amount, despite the fact that 276,500 euros was to be spent the previous year.
Asked if CONIFA could be accused of promoting separatism, Düerkop replied, "CONIFA is not linked to, associated to or having members that are 'seperatist [sic] regions'. Thus, I find your question confusing." On entering Abkhazia without permission from Georgia, he said, "As the Georgian government never rejected or approved our travel plans (but just did not react) we were left with no option, but asking all teams to travel via Sochi, as there was a real risk that Georgia would have stopped a team participating in the tournament."
Enthusiasm for Russia
Britain's Justin Walley is another CONIFA official who has been coaching teams in Riga, Latvia, and since January 2017 has been CONIFA's Africa president. He is also head coach and manager of the Matabeleland CONIFA team from a western region of Zimbabwe that participated in this year's World Football Cup. During the FIFA World Cup Walley has been giving interviews to Russian media, but as an ordinary fan, not a CONIFA official. Somehow he was chosen out of all the thousands of England fans who are currently in Russia.
On June 22 Sputnik published an article titled "English fan invited to stay at Tatarstan following his online posts about Kazan." The article began: "The State Tourism Committee of Russia's Tatarstan Republic invited English fan Justin Walley, who was so impressed by the republic's capital Kazan that he said he wanted to stay there, to meet with the committee head, Sergei Ivanov, the committee said Friday. 'Is there any chance I can stay in Kazan after the World Cup and get a job in the city's tourism department? Please,' Walley posted on Twitter."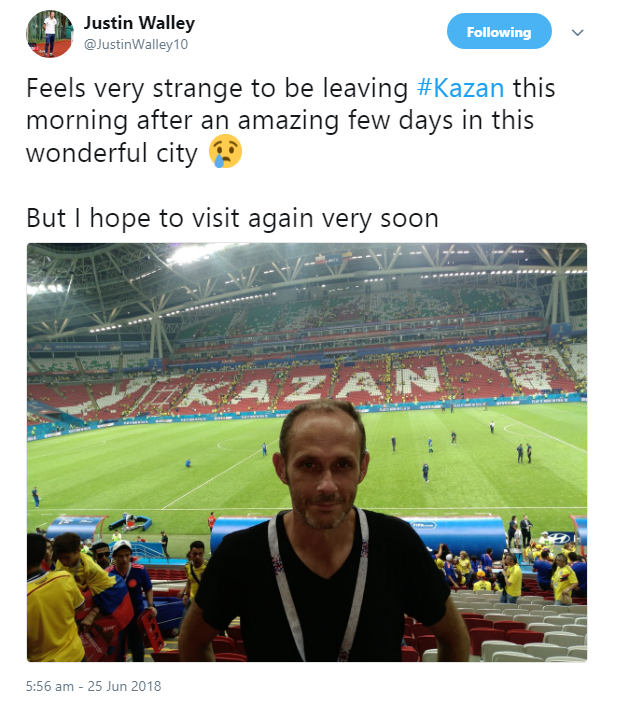 Walley's desire to live in Russia was also reported by TASS and other Russian-language outlets. Walley retweeted the articles. From Kazan (not a venue for England matches), Walley tweeted that he was heading to Tolyatti (not a World Cup host city). "I'm just here on holiday," Walley told StopFake in response to questions about his trip. "I am in Kazan because I had a ticket to Spain v Iran. And because it is an amazing city."
In response to a question about whether Paddy Power had any concerns about the possible promotion of separatism or a Kremlin agenda through its sponsorship of the World Football Cup, the company's head of PR, Lee Price, told Stop Fake: "Our involvement was purely on a football level, and didn't relate to support of any individual CONIFA member's separatist movement (if one existed). Personally, having met the two volunteers who run CONIFA, I have witnessed zero evidence of Kremlin involvement or support."
If CONIFA genuinely wants to be non-political then it needs to make some major changes. It must not hold events illegally in Russian-occupied regions, and it must stop deliberately or inadvertently promoting separatism in Ukraine, Georgia and Moldova by allowing these regions to be members. CONIFA seems confused as to whether it provides an opportunity for ethnic groups to form teams or unrecognised "independent states". There is no space here to look at the potential political conflicts that could be provoked by CONIFA's other members outside the former Soviet region, but that should also be a concern, considering the Kremlin's active support for separatism from Scotland to Catalonia to California. At the moment CONIFA is simply denying that it has any responsibility, and that position is morally untenable.
By Sarah Hurst (@XSovietNews), for StopFake