Alexander Lukashenko, the self-proclaimed president of Belarus, made several controversial statements during an interview with Dmitry Kiselyov, Director General of the Russian state news agency MIA Rossiya Segodnya. Lukashenko threatened to deploy nuclear weapons, the closure of energy transit through Poland, blamed the European Union for the crisis with migrants at the border, and of course he did not forget NATO. For the Russian media the biggest sensation from the interview was Lukashenka's statement about Crimea – that "de facto and de jure Crimea is Russian", and "the issue of Crimea is finally closed." StopFake analyzed how the Russian media reacted to these Lukashenko pronouncements.
Colossal opportunities and benefits for Europe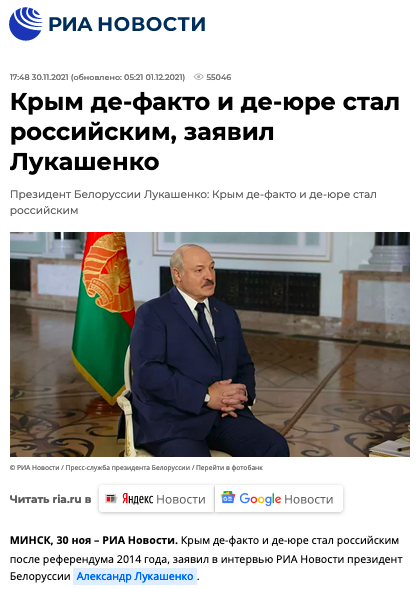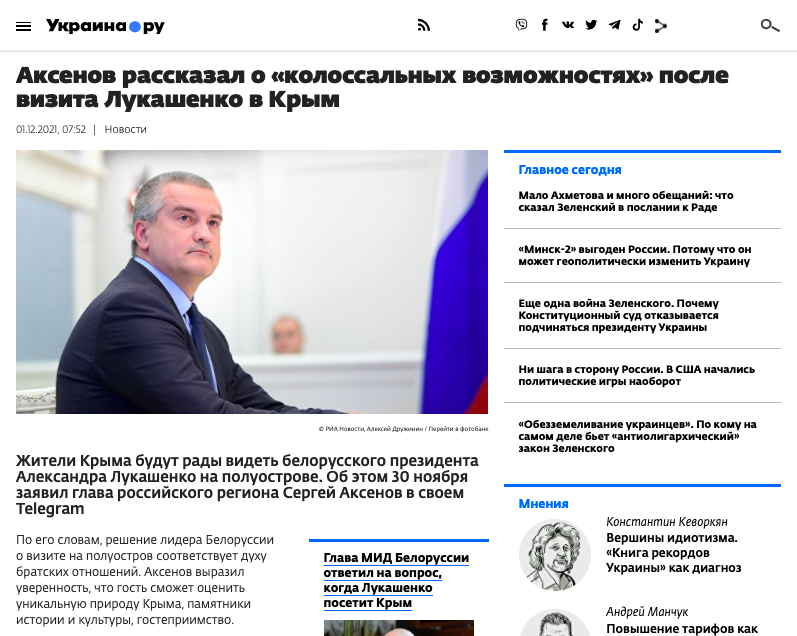 "We all understood that Crimea de-facto is Russian. After the referendum Crimea became Russian de-jure" Lukashenko said during the interview. He also said that he discussed visiting Crimea with Russian President Vladimir Putin and was expecting an invitation from him.
Crimean occupying forces reacted to Lukashenko's pronouncements immediately. The head of Russia's puppet government in Crimea Sergei Aksyonov gleefully wrote on his Telegram social media page that such a visit "will open up colossal opportunities in terms of developing relations between Belarus and Crimea".
Another representative of the occupying Crimean parliament Efim Fiks, said that "this confirms that even foreign politicians are acknowledging the fact that Crimea is part of the Russian Federation," and Lukashenka's visit to Crimea "will benefit not only Russia and Belarus, but also Europe." However, it is unclear exactly what benefit Europe will get from the illegal visit of an illegal Belarusian President to an occupied Ukrainian territory.
Ukraine should not take offense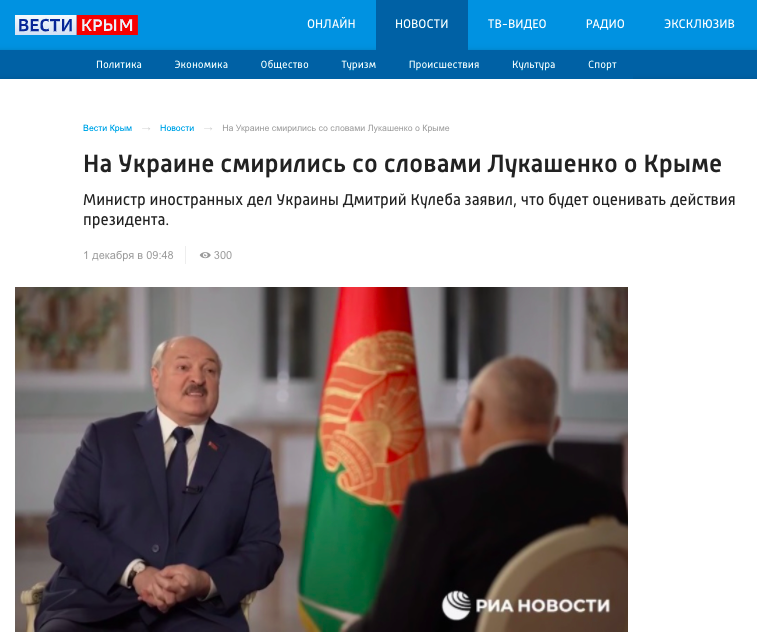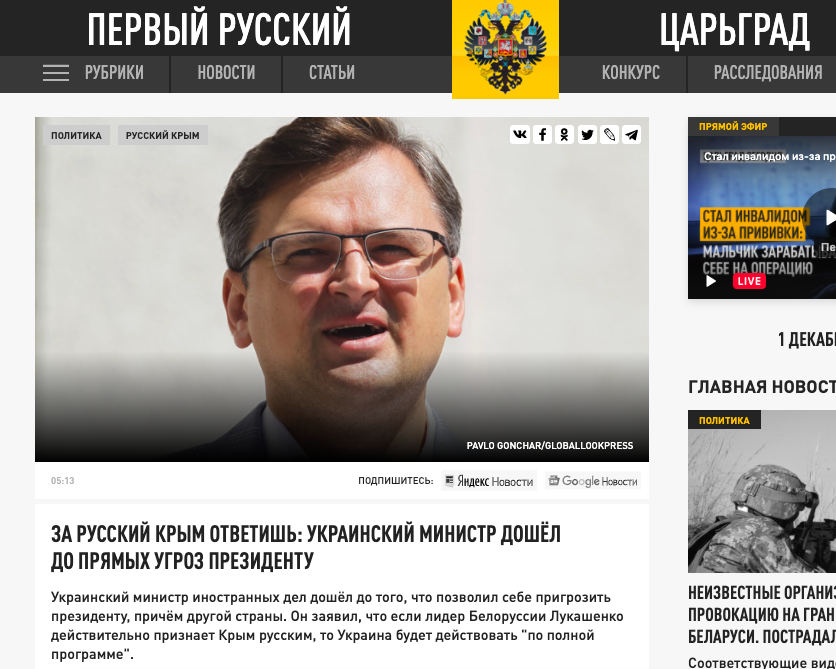 Russian media very quickly collected Ukrainian reactions to the Lukashenko interview and pointed out that Ukraine needs to pay attention to the words of the Belarusian leader. "The Ukrainian side should think carefully before severing ties with Belarus. Because after all, you will have to somehow compensate for this severing" said Russian political analyst Denys Baturin.
RIA Novosti quoted Ekaterina Altanbaeva, a Russian Duma member from Sevastopol who said that we should not be thinking about Lukashenko's statements about Crimea but rather "about our own people and we should not be dragging people into our personal political and mercantile affairs." Russian political analyst Ivan Lizan meanwhile told the Vzglyad newspaper that Kyiv's response to Lukashenko's pronouncements about Crimea "will be paid for by ordinary Ukrainians."
The Vesti Krym site announced that "Ukraine has resigned itself to Lukashenko's words about Crimea" despite the fact that Ukraine's Foreign Minister Dmytro Kuleba stated quite the opposite. The monarchist site Tsargrad meanwhile declared that Kuleba "directly threatened the president of another country" i.e. Lukashenko. Tsargrad also features another Russian talking head, the military expert Boris Rozhyn who asserted that "Kyiv can only threaten with words" and "Ukraine is behaving in a hostile way towards Belarus regardless of Minsk's recognition of Crimea as Russian".
Official recognition announced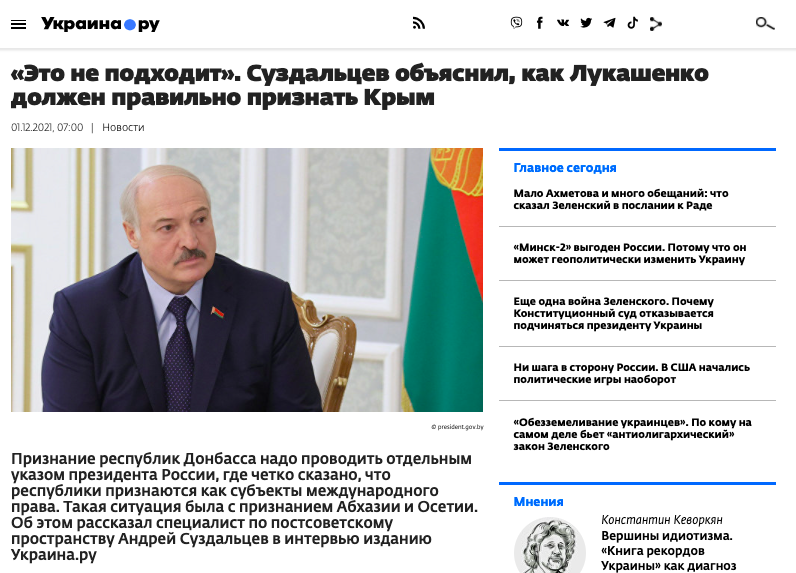 Russian media appear to not have fully decided whether Lukashenko recognized Crimea as Russian. Some have already written that he has in fact recognized Russian dominion over the Ukrainian peninsula, others write that Lukashenko is only preparing to do so. Vesti went the safe route and declared that "Official Minsk is preparing to recognize Crimea as Russian, with a first delegation from Belarus expected December 9".
According to Russian Foreign Minister Sergei Lavrov "Lukashenko has clearly outlined his position as to whom Crimea belongs to" and it is not necessary to take any additional actions for an official position. According to Lavrov's logic, if a country has dealings with Russia, then it automatically recognizes that Crimea is Russian.
"If a country has dealings with us, it must automatically recognize that Russia has its own territory, which is subject to the rule and leadership of the Russian government" Lavrov said.
Moscow doesn't care
A number of Russian experts tried to explain why Lukashenko decided to recognize Crimea as Russian specifically at this time. Until November 2021 Lukashenko did not comment on the illegal occupation of the Crimean peninsula. Russian media write that international recognition of Crimea as Russian is not critical for Moscow. The Russian Federation is waiting for the day when Ukraine recognizes Crimea as Russian, only then international recognition will matter. Moscow just wants proof of Belarus' confederacy, which Lukashenko is ready to demonstrate having lost interest in cooperation with Ukraine and Europe.
"First, the legacy already exists, Vladimir Putin returned Crimea to its native harbor. Period. Second, there will be no global recognition from the West and legal recognition by any individual countries will not result in any political or propaganda benefit" declared Russian State Duma deputy Konstantin Zatulin.
Judging by the chatter among Russian media, there is a propaganda benefit from Lukashenko's statements and the "Crimea is ours" narrative is once again leading agitprop topics.
In February 2014 Russia occupied Crimea, held a referendum at the barrel of a gun on March 16, 2014 on the basis of which Russia claimed and annexed Crimea. Most countries do not recognize the referendum nor Moscow's annexation of the Ukrainian peninsula.