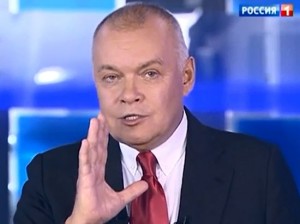 Russian Public Press Complaint Council investigates complaints brought by any member of the public on journalists professional ethics violations.
Council issued a decision # 98 on a complaint brought by Ukrainian Press Ethics  Commission against Dmitriy Kiselev "Weekly News" program aired on TV channel Russian -1 on December 8 th.
Mr Kiselev's Program was called biased propaganda.
StopFake dares to assume that other editions of his program also somewhat deviated from the truth.
The chair of Ukrainian Commission Vladimir Mostovoi specifically pointed out that the complaint against Mt Kiselev focused only on manipulation and distortion of facts and not on value judgments. Specifically, Mr Kiselev's reports on protests in Kiev stand out by tendentiously questionable chosen visuals and commentaries taken out of context and contradict the ethical and honest journalism
The Russian Counsil Decision  made the following ovservations :
– The plot and execution of Kiselev's special " Ukrainian Assembly " focusing on Ukrainian Maidan protests was insulting low quality  bias designed as a propaganda for under informed part of Russian society.
– The plot of " Ukrainian Assembly ", not helping to strengthen confidence and trust among nations , forms a false image of Russian journalism , Russian culture , Russian society in the eyes of the Ukrainian audience ;
– The plot of " Ukrainian Chamber " can be recognized as premeditated propaganda aiming to discredit individuals or group of citizens and provide a ready made judgments and shortcuts instead of facts and opinions.