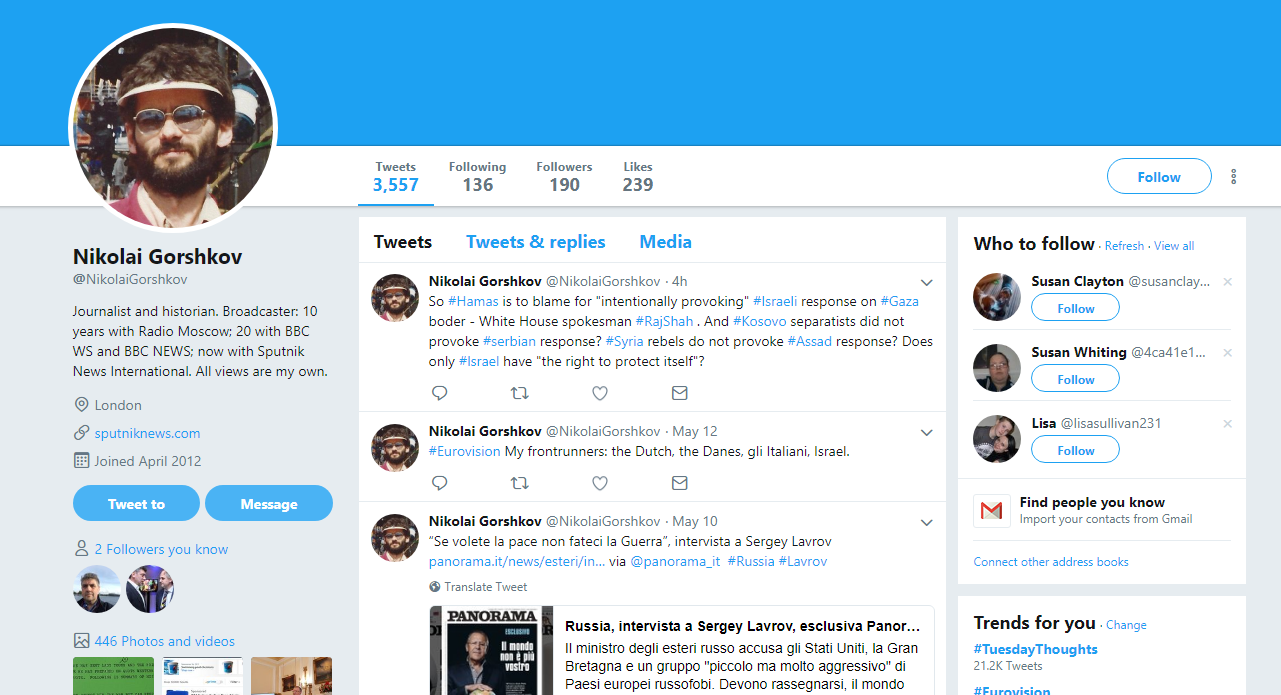 By Sarah Hurst (@XSovietNews), for StopFake
Nikolai Gorshkov started his career as a protocol officer for the State Committee for Science and Technology of the USSR Council of Ministers in Moscow in 1977, according to his LinkedIn bio. In 1981 he became a senior editor and political commentator with Radio Moscow. He first worked for the BBC as a freelance co-producer in 1986, and joined the BBC World Service in London on a permanent basis in 1997. He was a BBC correspondent in Moscow in 2001-04 before joining BBC Monitoring, where he remained in various management roles until his dismissal in June 2013. In December 2014 he became the director and editor of Sputnik in the UK, which is based in Edinburgh. He is a British citizen.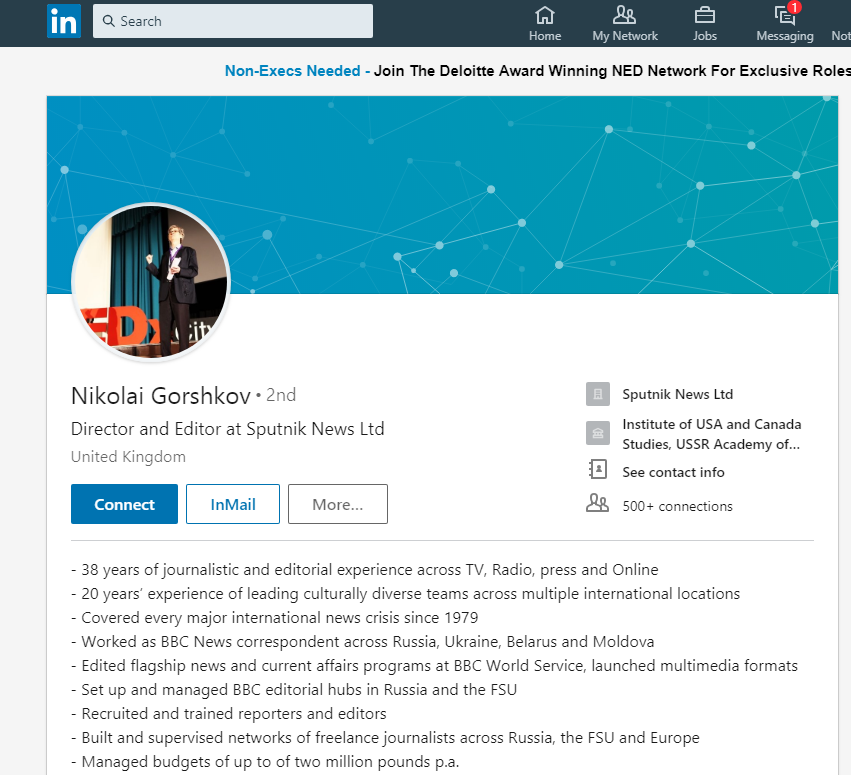 On a day when Ukraine's state security service, the SBU, is reportedly raiding the offices of Russia's state-controlled RIA Novosti Ukraine and RT in Kyiv, calling Russian news outlets an instrument of hybrid war, it's particularly interesting to see how Gorshkov justifies moving from the BBC to Sputnik and producing what most people would consider propaganda for Vladimir Putin. Gorshkov responded to questions from StopFake at length via Twitter DM, repeatedly drawing attention to the highlights of his career at the BBC, including receiving a prestigious Reith Award on behalf of Monitoring teams for coverage of the Russia-Georgian war in 2008.
When Gorshkov first joined Sputnik he was rather coy about his association with the outlet. In February 2015 he gave a TED talk at London's City University, which can be seen on YouTube. His bio for the talk doesn't mention Sputnik, and nor did the talk itself. It was a very vague talk titled "Blinded by Media", and Gorshkov said, "Why are we blinded by information? That's basically what I'm going to be talking about… We want knowledge that involves background, perspective, context." He told the audience to "challenge assumptions". He was sceptical about social media, saying each new platform tends to get replaced quickly by a new one. Gorshkov himself has just 190 followers on Twitter.
Angry at the BBC
Gorshkov today comes over as someone who is extremely angry at the BBC. In February this year he wrote an article for Sputnik called "Foreign meddling into Brexit revealed," which quoted one of Margaret Thatcher's former cabinet ministers, hardline Conservative Lord Tebbit, accusing the BBC of pro-EU bias. Gorshkov brings in his own experiences at the BBC having to answer a quiz about the relationship between the EU and Britain. "To me and some of my colleagues the exercise looked like a massive EU indoctrination campaign," he writes. Gorshkov concludes that Tebbit's comments "put paid" to accusations that Sputnik and RT meddled in the Brexit debate on the pro-Brexit side.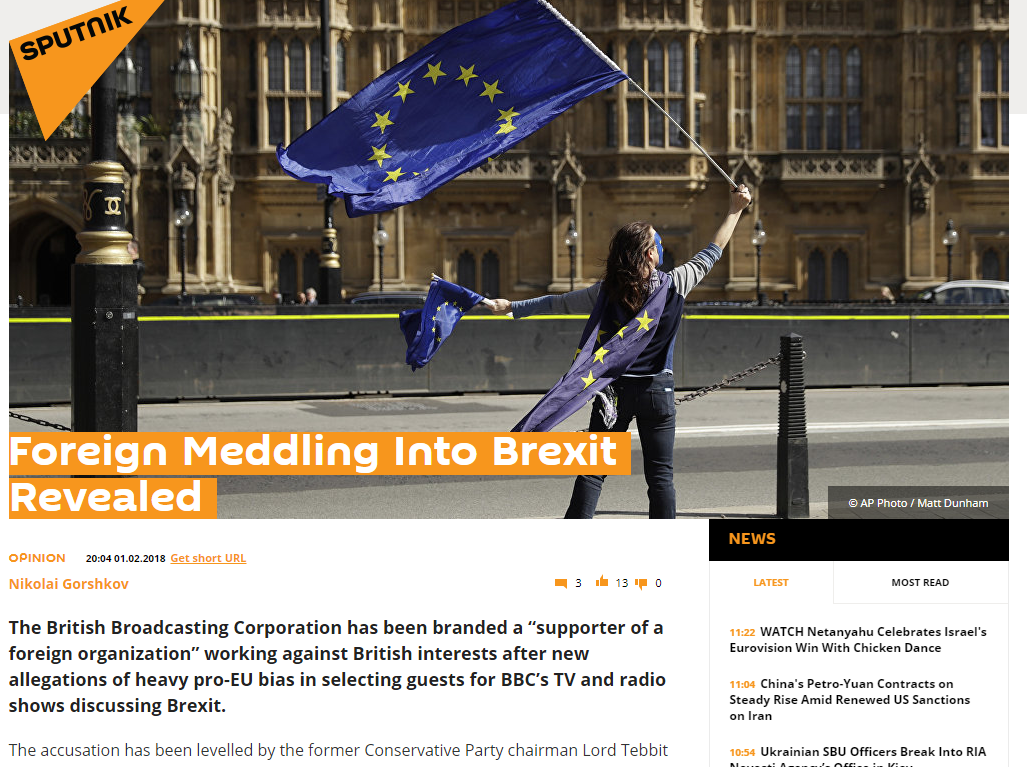 In the Twitter interview Gorshkov says he was dismissed from the BBC "on trumped up charges of underperformance". He then "applied to dozens of jobs in British and European media, to positions that matched my experience and expertise 100%, but didn't get any response," he says. "I have a feeling that I might have been blacklisted by the BBC because I can't think of any other plausible explanation," he adds. In fact it's extremely difficult to get a full-time job in UK media currently, due to the financial difficulties most outlets are experiencing, and social media skills are highly valued. There is no such thing as blacklisting by the BBC that would prevent people from getting jobs elsewhere.
Putin the best leader
As one would expect, Gorshkov has only positive words to say about Putin and deflects from any questions about aggression and atrocities committed by Russia. He insists that the BBC was wrong to ignore his warning in 2009 that Crimea could become a flashpoint, although the annexation of Crimea was a response by Putin to Ukraine's Maidan revolution, not to popular sentiment on the peninsula. Gorshkov says that the annexation "only shows that Crimeans never felt Ukrainian. Since half of my extended family hails from Crimea, my father-in-law being a Tatar, I do not see this as annexation – it was a reunification which my family and friends in Crimea longed for and welcomed." Gorshkov did not mention the repressions against Crimean Tatars and Ukraine supporters that have occurred since the annexation. Do a search on "Balukh" on Sputnik, for example, and you won't find any articles about Volodymyr Balukh, a Crimean farmer who was sentenced last year to three years and seven months in prison ostensibly on charges of possessing weapons, but actually because he flew a Ukrainian flag on his house.
"If you look at all previous rulers of Russia, especially in the last 100 years – you'd have to agree that Putin is the best Russia ever had, probably," Gorshkov continues. "I am old enough (63) to remember how it was before him. Russians never had it so good – hence his approval ratings that are genuine. Moscow's chattering classes do not represent Russia. Never did," he said. The claim that Putin's approval ratings over over 70 or 80 percent are genuine completely ignores the fact that state media drowns Russians in pro-Putin messages while failing to cover the nationwide protests led by Alexei Navalny and frequent jail sentences for and physical attacks on Putin critics.
On Russia's invasion of Georgia, Gorshkov comments, "You should look at Georgian nationalists' aggression against the Abkhaz and Ossetians immediately after the breakup of the SU [Soviet Union] – under the first independent leader Gamsakhurdia who from a human rights activist turned into a hardline nationalist, proclaiming 'Georgia for the Georgians'." Zviad Gamsakhurdia died in 1993. Russia took control of Abkhazia and South Ossetia after the 2008 war, leaving the regions in dire, unrecognised limbo.
Donbass like Northern Ireland?
Similarly, for Gorshkov the Russian invasion of Ukraine was purely benevolent. He makes an irrelevant comparison: "Think Northern Ireland and you'll see a lot of similarities. Except that the Irish were evicted from their own land by British settlers, while Donbas was not an indigenous Ukrainian territory. It was settled by people from all over the Russian Empire and it has a very distinct ethnic, cultural and political identity which Kyiv is violently trying to suppress." In fact, Russian speakers in Donbas lived peacefully until the barely-disguised Russian invasion of 2014, with its gleaming Donetsk Sergei Prokofiev International Airport restored ahead of the 2012 UEFA European Championship. Russia reduced the airport to rubble and slaughtered the Ukrainian troops who were defending it.
Gorshkov also agrees with Putin that sanctions benefit Russia and harm the West more, although the reality is that Russia's economy is struggling enormously, and several large banks have had to be bailed out. "My anecdotal evidence suggests that [sanctions] are a boon to small Russian businesses," Gorshkov says. "Since the big boys have left the SMEs now have breathing space to survive and thrive." Actually, Russia's economy is dominated by state-owned companies. "Russians have learnt the hard way the need to be self-reliant," he continues. "And the British are probably losing out more since the French, the Germans, the Italians et al are making a killing doing business [with] Russia. It's the British dairy farmers who have been shortchanged."
Evidence dismissed
Two of the best-documented atrocities by Russia under Putin are the shooting down of flight MH17 with a Buk missile on July 17, 2014, which killed all 298 passengers and crew, and the murder of Alexander Litvinenko with polonium by Andrei Lugovoi and Dmitri Kovtun in London in November 2006. Lugovoi is now a Russian MP, and he and Kovtun have appeared on Russian TV to comment on the poisoning of Sergei and Yulia Skripal. But Gorshkov dismisses all the evidence about these cases, saying, "I don't know who shot down MH17; I don't know what happened between Litvinenko and the other two… If I were a defector from a secret service I wouldn't want to meet up with ex-colleagues unless I had some tempting business to do."
Gorshkov then lapses into the kind of troll-speak Russia's embassy in the UK is famous for: "The evidence is 'probable' and 'highly likely'. Give me the facts please. For example, how was polonium delivered into the teapot? Poured under the table, the teapot brought in from the outside? The arrival of the suspects at the bar is on CCTV but not the handling of the teapot. Why were they provided with an excessive amount of a highly expensive substance that had to be poured down the drain? A state actor would measure the lethal dose to the milligram. Whoever did this was not a state actor. Too amateurish."
Asked what alternative theory Russia has in response to the British conclusions on Litvinenko's murder, Gorshkov at first couldn't answer. He wasn't aware that Sputnik had reported in March about Litvinenko's father Walter appearing on Russian TV and accusing Litvinenko family friend Alexander Goldfarb of the murder, with no evidence. Goldfarb spoke in London with Litvinenko's widow Marina in January 2016 when the British report blaming Putin was published. Walter Litvinenko originally said that on his deathbed his son told him, "Daddy, Putin has poisoned me," but later he said he regretted accusing the Russian government, and called Alexander a traitor. The story resembles that of Sergei Skripal's niece Viktoria, who has appeared on Russian TV questioning the British version of events. Victims' relatives can hardly be expected to speak openly in Russia.
Informed about Walter Litvinenko's accusation, Gorshkov pointed to Goldfarb's association with Boris Berezovsky, as if this somehow suggested that Goldfarb could have been involved in Litvinenko's murder. Berezovsky himself died in suspicious circumstances at his home in Surrey in 2013, and there have been calls for a renewed investigation into his death and that of other Russian exiles in the UK in the wake of the poisoning of the Skripals and apparent murder of former Aeroflot deputy director Nikolai Glushkov in London shortly afterwards.
The presence and influence of Russia's Sputnik and RT in the UK continues to be a matter for debate about how to balance free speech with efforts to contain the malign actions of a rogue state. Russia clearly sees Scotland as a weak link in the UK, having based Sputnik there and hired former First Minister Alex Salmond as an RT presenter. Salmond, who was leader of the Scottish Nationalist Party for over 20 years, is a proponent of Scottish independence. Yesterday MI5 intelligence agency head Andrew Parker said in Berlin that Russia is the chief protagonist in a campaign aimed at undermining Western democracies. Ukraine has taken radical measures against Russian media. It remains to be seen if others will follow. For now, Nikolai Gorshkov has a busy job.
By Sarah Hurst (@XSovietNews), for StopFake