From time to time German Professor Lorenz Haag gives comments to Russian news agency ITAR-TASS, which are consequently spread by other Russian news agencies.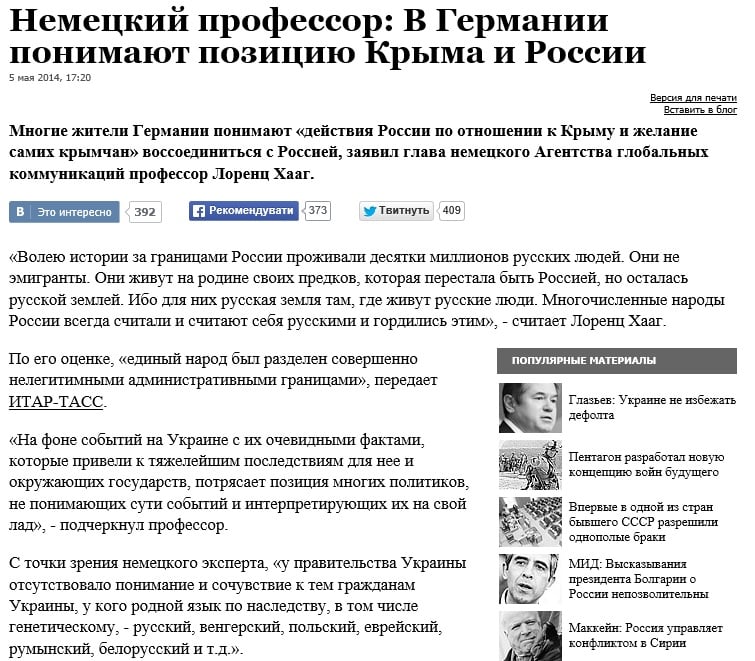 However, Professor is hardly contacted by other journalists except for ITAR-TASS representatives.  Other journalists cannot find him, while in Germany he remains unknown. Yet, Lorenz Haag exists — his pictures are presented by ITAR-TASS and published on other websites.  He indeed lives in Germany.  Questionable are his title and his authority in scientific community. It seems the Professor is specifically "paid" to generate the necessary comments for ITAR-TASS news agency.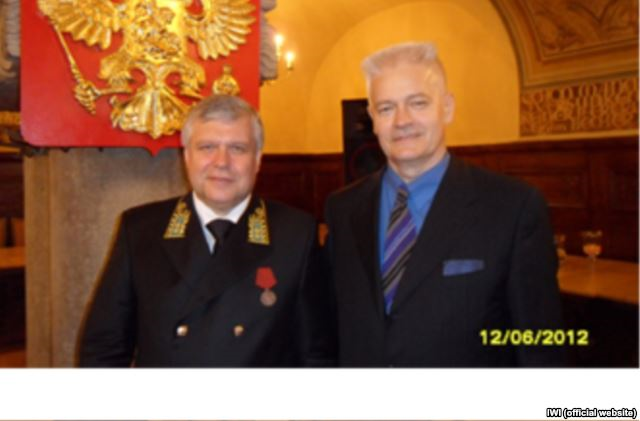 Dmitrii Khmelnitskii, a historian and the author of books about the times of Stalin from Berlin was the first to doubt the existance of Haag on his Facebook page:
"Concerning Putin's agents in Germany. Professor Lorenz Haag, the head of the Agency for Global Communications, exists only in the imagination of ITAR-TASS correspondents who have interviewed him regularly and for many years in the capacity of "German expert". There is no such Professor in Germany. And no such an agency."
Later a blogger with username "Павел Гнилорыбов" analysed the comments of Lorenz Haag in Russian mass media:
"ITAR-TASS went all in and made out the German Professor with his biography and position. Since 2007 for seven years the journalists were "receiving commentaries" from a smiling burgher Lorenz Haag. Yet, there is a trouble: as soon as you start googling this friend of Russia, you can hardly find his name anywhere except on a couple of Russian websites. A soap bubble. A fiction. Seer Samuel answering the questions of the crowd.
In all ITAR-TASS articles Lorenz Haag was listed as the head of the Agency for Global Communications. In other messages he is listed as the head of "South-west Saxony" organisation.  Since 2008 he has been firmly stating his opinions on South Ossetia, missiles in Poland, Gagarin's flight, Operation Overlord, USSR's role in World War 2, perception of the Great Patriotic War in the Baltic states and the annexation of Crimea. Well, he looked like a smart man, if he hadn't been made up.
I tried to find some traces of the scientific work of Professor Haag, since there are no people that are simply Professors, they are usually Professors of some education establishments or retired Professors, yet there are always traces of their scientific or teaching activity. In case of Professor Lorenz Haag, I could find neither his students nor postgrads.  Only his interviews justifying Russian politics. There's also mentioning of him taking part in the delivery of Gagarin's bust to the cosmonautics museums of Chemnitz, where he was listed as the representative of Russian Cosmonautics Federation in Europe, America and Canada.
I called two organisations, the names of which resembled "Agency for Global Communications". One of these turned out to be a PR-agency, employees of which knew nothing about Professor Haag, just like in the other "Agency for Global Communications".
Yet, in Chemnitz there is an institue for economical innovations (Das Institut für Wirtschaftsnache innovation). This website has pictures of Prof. Haag the scientific advisor. So, Lorenz Haag indeed lives in Chemnitz, which was called Karl-Marx-Stadt between 1953 and 1990.
I called using both numbers of the Institute of Economical Innovations. It appeared the numbers do not exist or are unavailable. So, the numbers appear to be fake.  Therefore I discovered no traces of Professor Lorenz Haag or his organisation.
The "Professor" Haag replied through ITAR-TASS interview. Commenting messages from bloggers, he did not explain where his title came from, yet, stated his doubts that Dmitrii Khmelnitskii is a historian, he also advised "the gossip lovers to stop promoting enmity, and to encourage the affinity between Russia and the West instead".
Following: Iurii Veksler, Radio Liberty.