By Sarah Hurst (@XSovietNews), for StopFake
Russia's Foreign Ministry is supporting its accused spy in the United States Maria Butina with the hashtag #FreeMariaButina despite mountains of evidence against her that is freely available to the public, while at home dozens of people are being jailed for treason or espionage in cases that are most likely completely invented, and that are tried in secrecy. The cases are a warning to the Russian population about contacts with foreigners, and serve as a deterrent against unrest at a time when Russia's economy is on a fast downhill slide.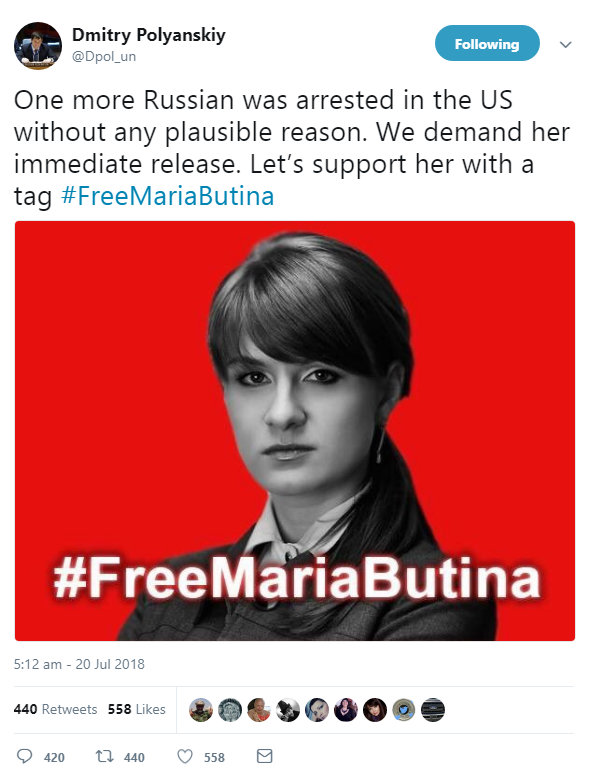 Recently the Moscow court system announced that it would no longer publish details of treason cases, which has made it even more difficult for the media and human rights activists to find out what's going on with them. Often only the name of the arrested person and then their ultimate sentence is known, without any information about why they were charged. The case of Ukrainian journalist Roman Sushchenko, who was jailed for 12 years for espionage last month after visiting Russia from France, got more attention than most, but still Russian authorities hardly bothered to provide proof of their accusations.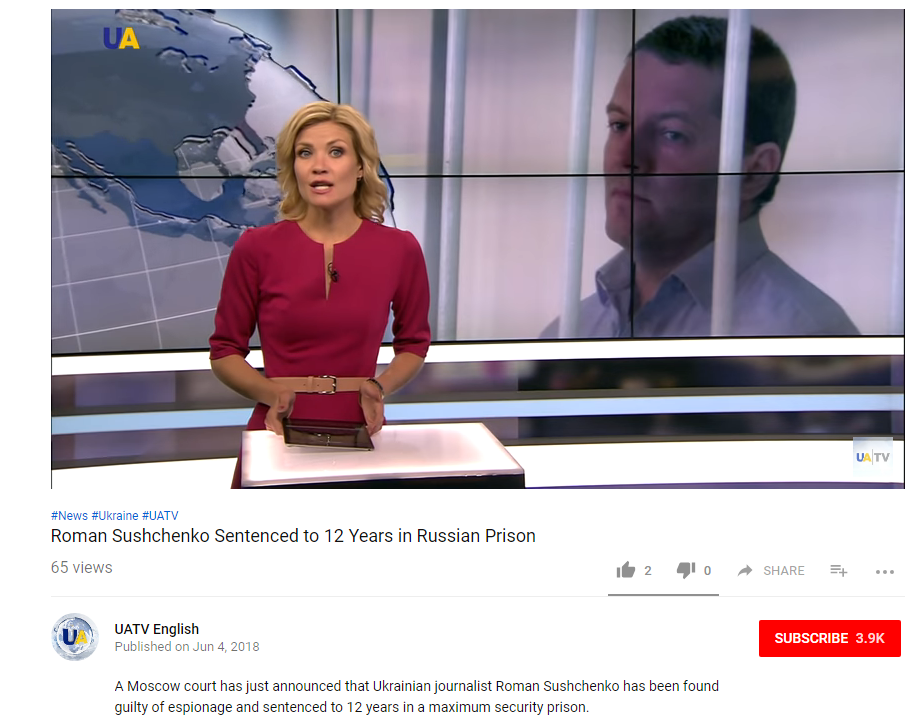 Space agency crackdown
Treason cases are the equivalent of espionage when the accused person is a Russian citizen. The latest victim is 74-year-old scientist Viktor Kudryatsev, who works on Roskosmos projects at the Central Research Institute of Machine Building. He was "found" by rights defenders in Moscow's Lefortovo prison yesterday, having been ordered into pre-trial detention in secret. Prosecutors claim there was a leak of secret information about hypersonic projects to Western intelligence agencies from Kudryatsev's institute. Meanwhile, the head of Roskosmos's analytical centre Dmitri Payson resigned after raids by authorities, and he is now considered a witness in the treason case.
Last March former top director at Roskosmos Vladimir Yevdokimov was found stabbed to death in his prison cell in Moscow, having been arrested for embezzlement – another charge that is often used against people who have become inconvenient to the authorities, such as theatre and film director Kirill Serebrennikov. Since Roskosmos is responsible for sending astronauts from the US and other countries into space, purges within the organisation should be a concern for those who entrust their lives to Russia's rocket-builders. The need to communicate with foreign government agencies raises the risk for Russian employees of facing treason charges. In September 2015 engineer Gennady Kravtsov, who formerly worked for the GRU was jailed for 14 years for applying for a job with a Swedish company. He was accused of including secret information in his CV.
Top managers and military historian
In February 2017 an executive at Russian cybersecurity company Kaspersky Labs, Ruslan Stoyanov, was sent into pre-trial custody on a treason charge along with FSB officers Sergei Mikhailov and Dmitri Dokuchayev, in a case that was thought to have some connection with Russia's interference in the 2016 US presidential election. It could be that the Kremlin wanted to silence the three because they knew too much. Alternatively Stoyanov might have tried to tell US officials about what was going on. We are in the dark.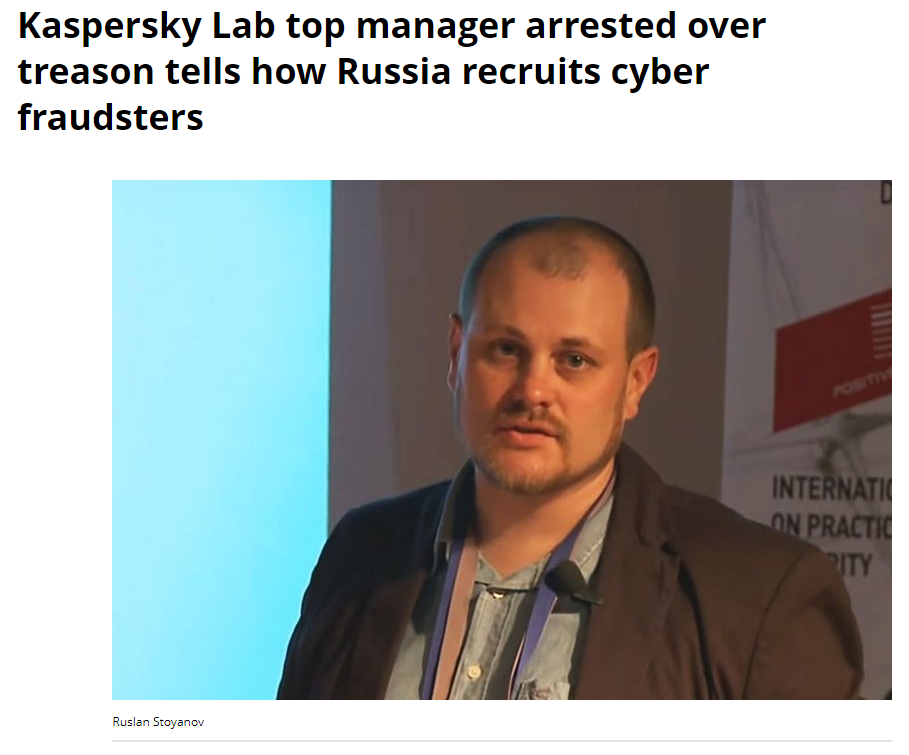 In June this year someone called Viktor Prozorov was ordered into pre-trial custody in Moscow on a treason charge, but no information was released about him because his case was deemed secret. In early July a reserve captain in the Russian army, Andrei Zhukov, was also ordered into pre-trial custody in Moscow on a treason charge. News outlet RBC discovered that Zhukov had participated in a military history forum in which he allegedly said too much about Russian troop movements.
In June Karina Tsurkan, a top manager at Russian utility company Inter RAO, who reportedly has Russian and Romanian citizenship, was charged with espionage and sent into pre-trial custody. Well-known human rights layer Ivan Pavlov, representing her, wrote on Facebook, "What we've seen in Karina's case is a new, previously unseen low in a case of searching for 'enemies of the people'." He said that according to the three-paragraph charge against Tsurkan, she became an agent of Moldovan security services on August 16, 2004, and in September 2015 gave them information about the Russian Energy Ministry's plans for utility companies.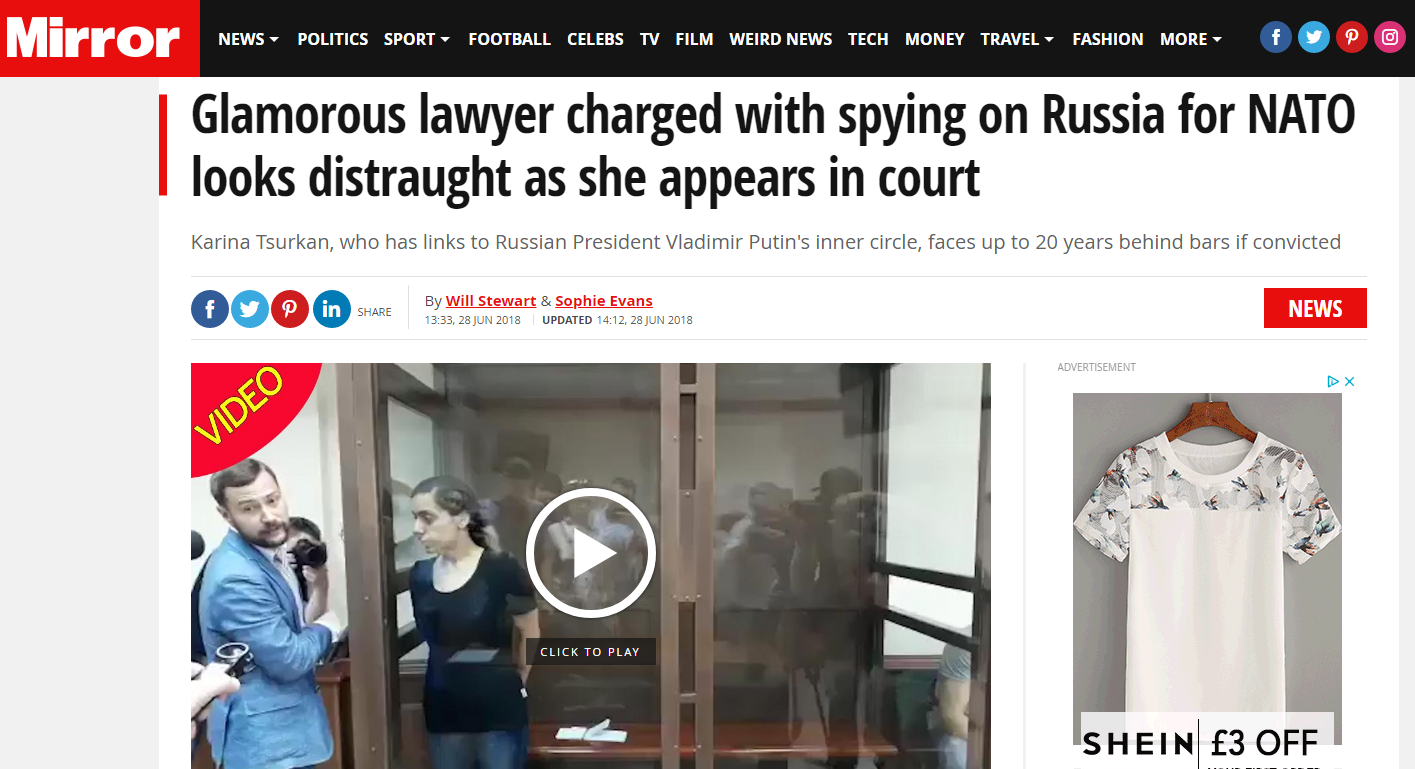 "The question arises: how could the Chekists allow a spy to work for so long in the highest echelons of a sector with strategic significance?" Pavlov asked. "Most likely the most important circumstance that the FSB wants to cover up by hiding this case from the eyes of the public is the scale of the spy mania that Russian special services are currently sick with," he continued. "All social categories of the population are subjected to charges of espionage, including not only the 'traditional' objects of such charges – people in the military and special services – but also housewives, mothers of multiple children, journalists, scientists, environmentalists, religious figures and market vendors. And now top managers of utilities."
Women targeted
Wikipedia lists 21 treason cases in Russia in 2014 and 2015, which included the cases of Svetlana Davydova, Yekaterina Kharebava and Oksana Sevastidi, who were accused for apparently genuine text messages (somehow obtained by the FSB) discussing Russian troop movements to Ukraine and Georgia that they had witnessed. Kharebava and Sevastidi were convicted years after the Russian invasion of Georgia in 2008. Davydova, represented by Ivan Pavlov, was held in Lefortovo prison ahead of a planned trial, but her case was dropped because it would have constituted an admission by Russia that it sent troops into Ukraine. RIA Novosti counts 14 people sentenced for treason in 2016 and three for espionage, plus another 25 for revealing state secrets – a very similar charge. It says that 28 people were convicted on one of these three charges in 2015.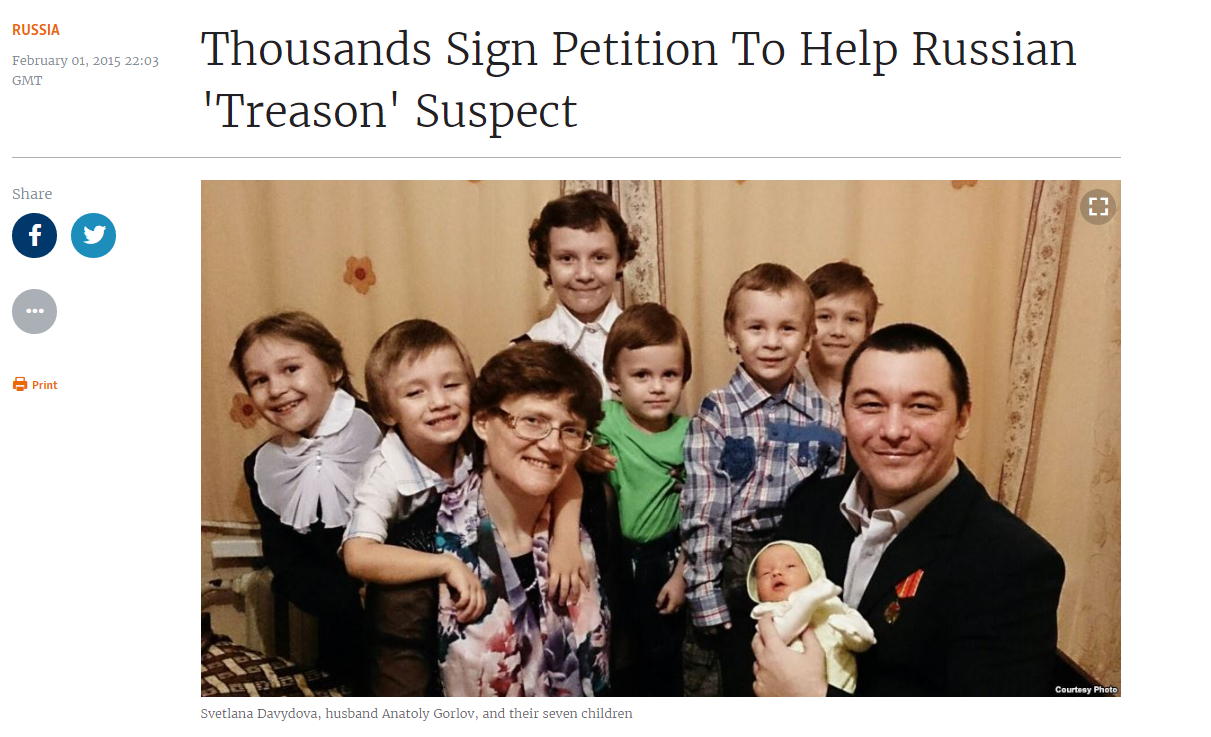 Russians have been losing patience with their government on a range of social issues, including the deadly shopping centre fire in Kemerovo, toxic landfills outside Moscow and a reform that would raise the pension age to 63 for women and 65 for men. The World Cup is over and Vladimir Putin, at the start of another six-year term in office, has nothing else positive to offer his people, four years after they celebrated the annexation of Crimea. From now on we can expect him to rule by intensifying repressions on all fronts. Treason and espionage cases are among the weapons he has to enforce his authority. But as we can now see in Iran, when an economic situation becomes dire enough, no amount of brutality will deter people from venting their anger with a government that doesn't care about them.
By Sarah Hurst (@XSovietNews), for StopFake