Russian Defense Ministry television channel Zvezda, along with other Russian propagandist sites disseminated a fake story last week claiming that Ukraine was delivering chemical ammunition to the Middle East. These deliveries, Zvezda wrote, are controlled by a 500 member strong Islamic battalion.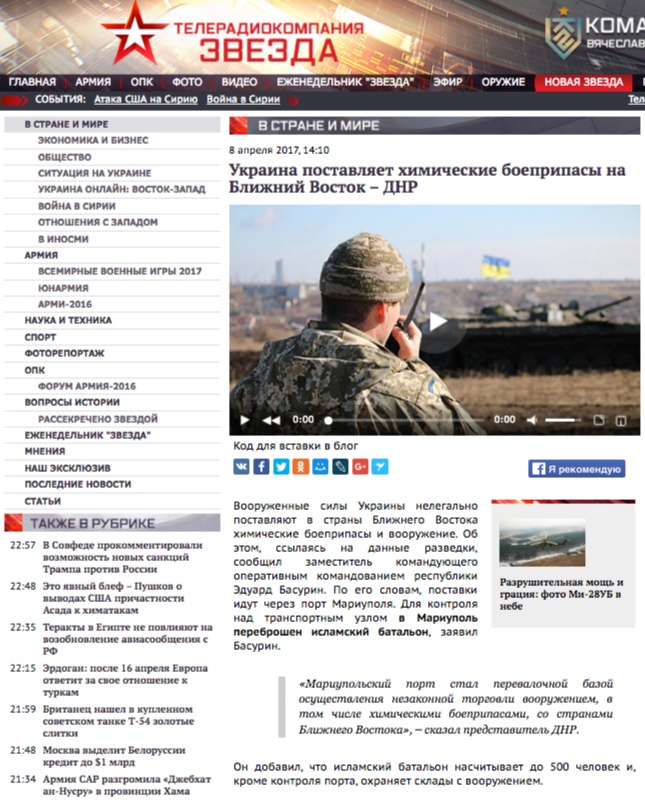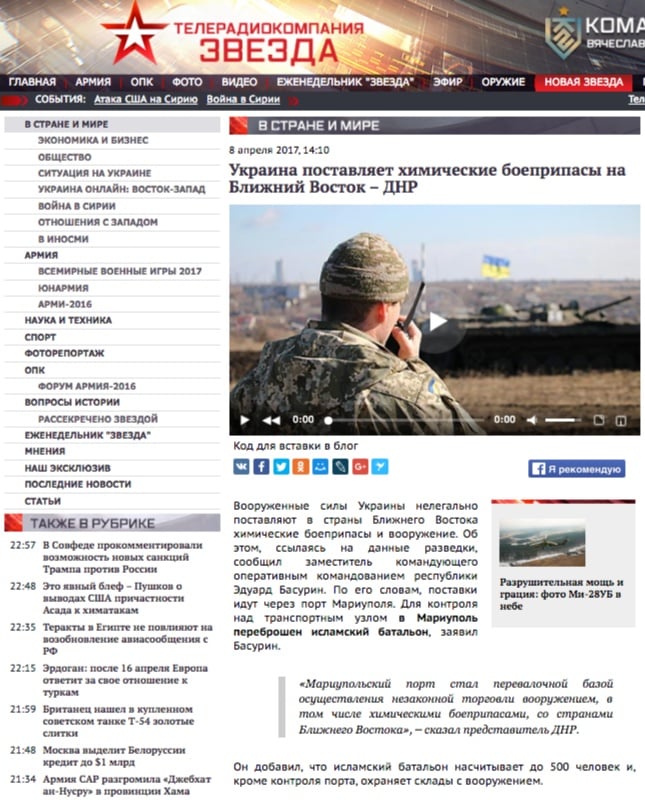 Zvezda's source is the deputy defense minister and spokesman for the self-proclaimed Donetsk People's Republic Eduard Basurin, who on April 8, announced that separatist intelligence had uncovered the arrival of an Islamic battalion in the southeastern Ukrainian port city of Mariupol. The battalion's job, Basurin claims is to guard an arms depot in the port, which has become a center for illegal arms trade, including chemical weapons.
NTV, RBK, Vzglyad, Novostnoy Front and other Russian media all disseminated this story.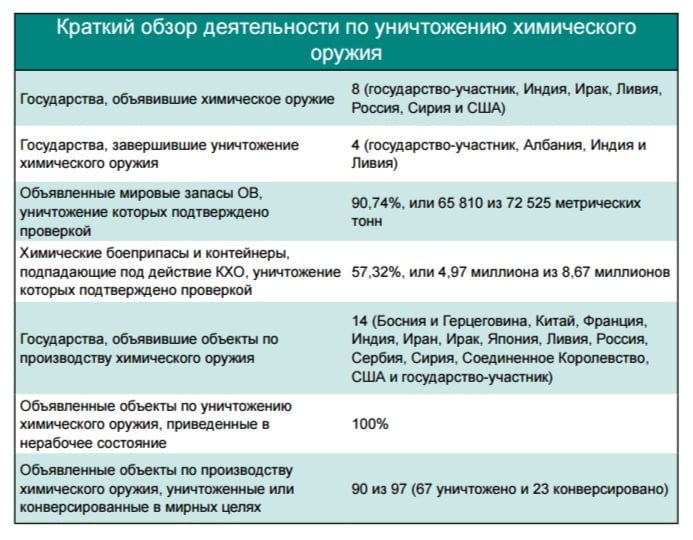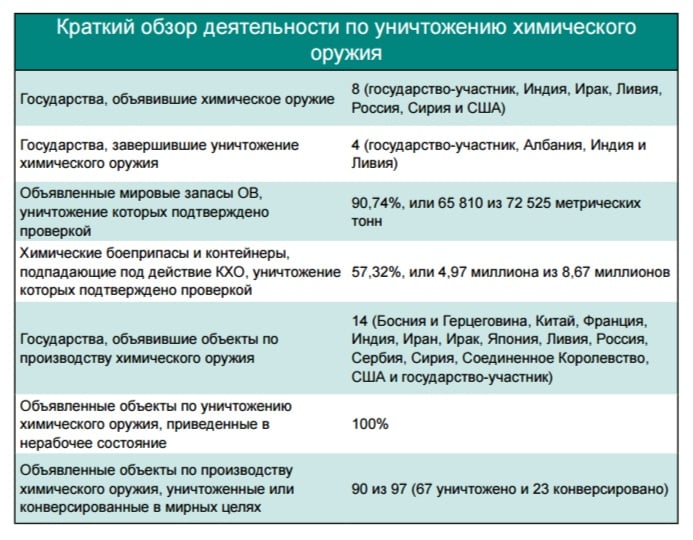 Ukraine signed the Chemical Weapons Convention in 1993; the agreement was ratified in 1998. The treaty outlaws the production, stockpiling and use of chemical weapons. The Organization for the prohibition of Chemical Weapons administers the treaty and publishes an Information Bulletin in which it tracks countries still possessing chemical weapons and means of production. Ukraine is not on this list.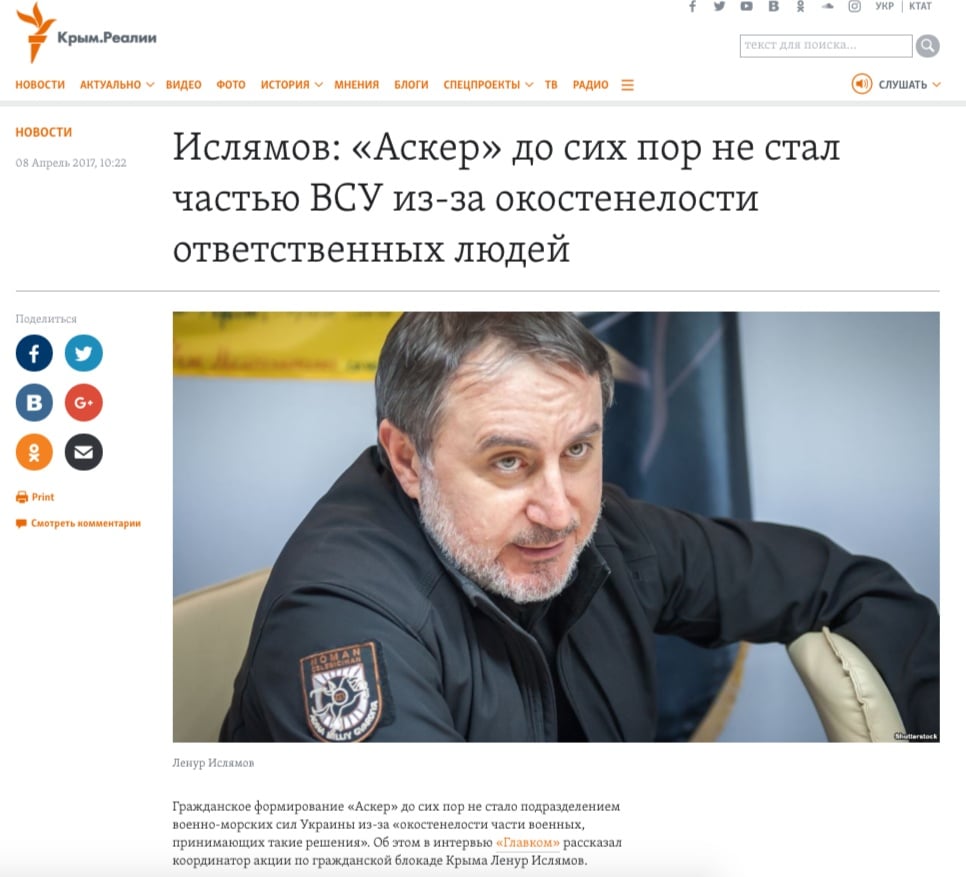 As for that Islamic battalion, Mr. Basurin most probably is talking about "Asker" a Crimean Tatar civilian formation. Ukraine's Defense Ministry is considering absorbing the Asker group into its military structures, but has not done so yet, according to Crimean Tatar activist Lenur Islyamov. Asker enforced a citizens' blockade of Crimea and operates checkpoints between the Russian annexed peninsula and the Ukrainian mainland.
Eduard Basurin is a fertile source of fake information and his pronouncements are always given pride of place in the Russian propaganda corporation. In the past he has announced a Ukrainian tank crushed a civilian car, that American snipers are working in Donbas, that the Ukrainian army has shelled OSCE monitor and more.