On June 1, many Russian media, including Zvezda, Russia 24, Radio Vesti, and RRNews.ru, falsely reported that all the privileges and compensations for retirees, veterans, Chernobyl victims, and "children of war" had been abolished in Ukraine, as of June 1.
They were referring to Law №1577, "On amendments being made to certain legislative acts and on the annulment of certain legislative acts," adopted by the Verkhovna Rada, the Ukrainian Parliament, on December 28, 2014.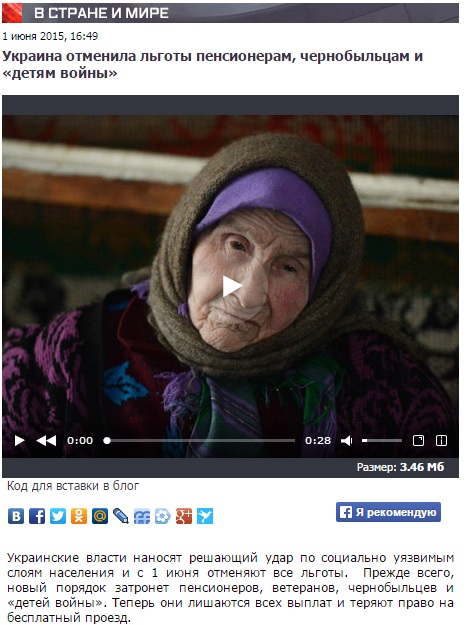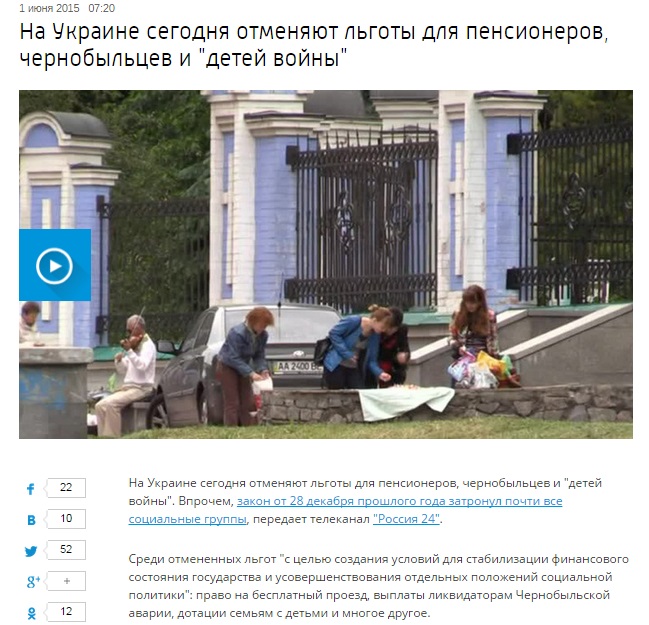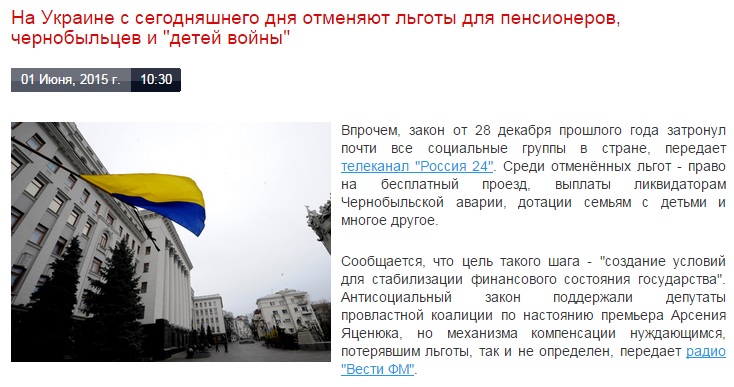 Indeed, the law abolishes certain privileges and compensations, though the majority are still in force. Some of them, however, will be granted only to low-income citizens. Most of the losses in benefits are regarding the right to free (unpaid) travel.
As a specific example, such privileges as free prescribed medications, dental prosthetics, discounts for housing services and utilities, and other benefits will be granted to only certain welfare beneficiaries, provided "the amount of the average monthly aggregate family income for the preceding six months per one person does not exceed the amount of the income that qualifies for the tax social privilege according to the procedure established by the Cabinet of Ministers of Ukraine." Particularly, this applies to Chernobyl victims, families with many children, veterans of war, victims of the Nazi terror, and several other categories, who will continue to receive such benefits.
Meanwhile, the right for free (non-paid) travel was preserved for all retirees, regardless of their status. This was announced by the Minister of Social Policy for Ukraine, Pavlo Rozenko, on May 25. It also applies for participants in military operations, disabled persons, orphans, students from needy families and their caregivers, and caregivers for the disabled in certain categories.
The right for free travel has been cut for other categories of the disabled, families with many children, Chernobyl victims, veterans of war, and other groups.
The decision on the right for free travel within Kyiv, Kharkiv and Dnipropetrovsk subways will be made by the local authorities.