TV channel Russia One in its Vesti program, Russian news agencies (ITAR-TASS) and news sites (Vzgliad, Komsomolskaya Pravda and others) have disseminated a story about American farmer who lives in Russia and who allegedly supported Russia's sanctions against European food manufacturers.
With the help of this news item and other similar stories Russian mass media try to demonstrate that such sanctions will not influence negatively state's economy, but even will contribute to its development.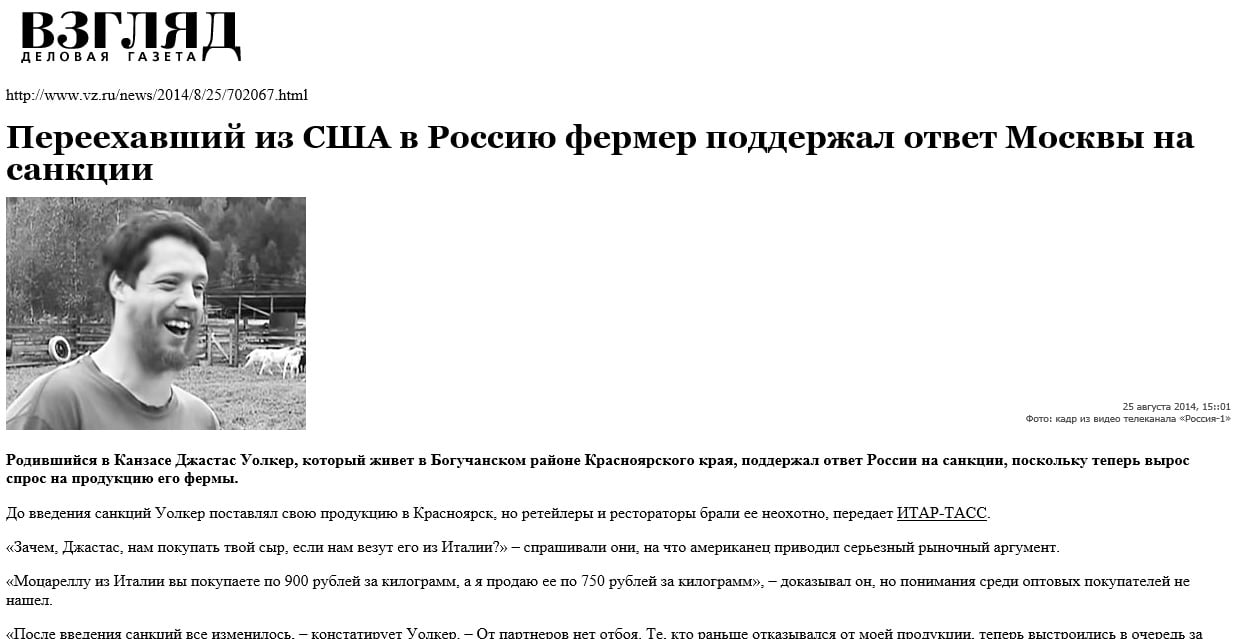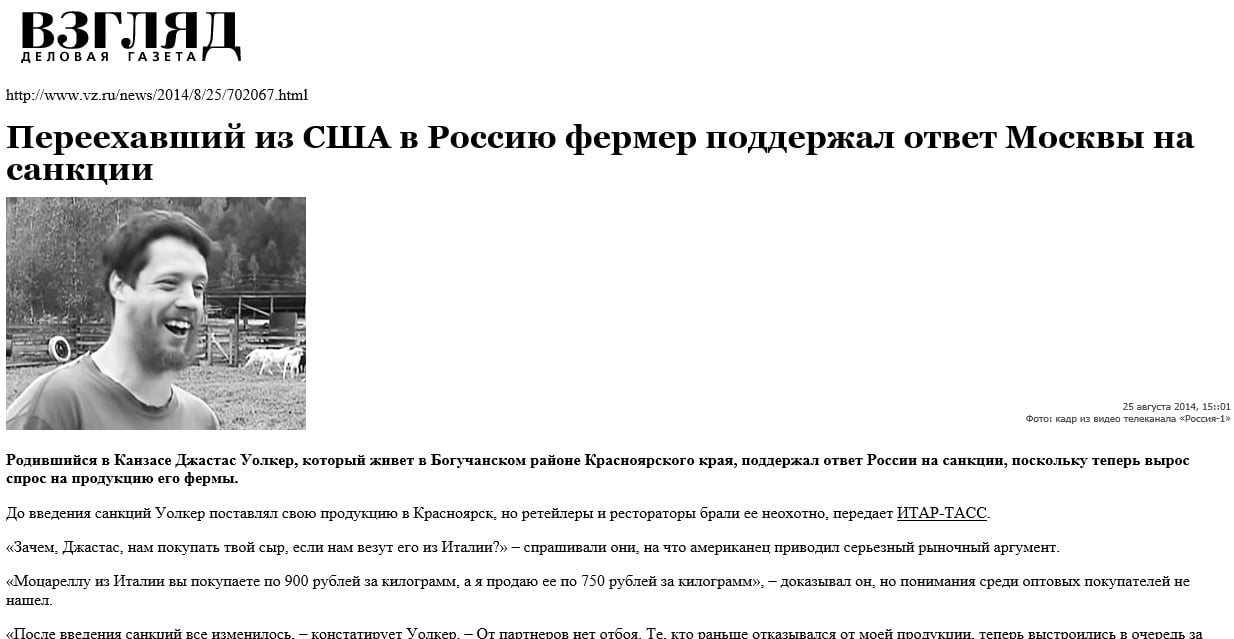 "Born in Kansas Justus Walker, who lives in Boguchansk district of Krasnoyarsk Territory, supported Russian response to the sanctions, as demand for his farm products has increased", informs the newspaper Vzgliad.
"Before sanctions imposition Walker supplied his products in Krasnoyarsk, retailers and restaurant-keepers, however, purchased them hesitantly", reports ITAR-TASS. "Why should we buy your cheese, Justus, if we have it delivered from Italy?" they were asking and American was adducing a weighty market argument. "Because you are buying mozzarella from Italy for 900 roubles per kilo and I am selling it for 750 roubles per kilo", he was trying to persuade bulk buyers but did not succeed.
"After the sanctions were imposed, everything changed", states Walker. "I am flooded with offers. Those, who refused to buy my products, now queue up for them".
However, the main idea of these messages does not correspond to reality. Justus Walker does not support the imposing of Russia's sanctions against European food manufacturers. He announced in his video that TV channel Russia One misinterpreted his words about new cheese purchasers.
Besides, Justus Walker is not a product manufacturer. He is an ordinary small farmer, who makes products mostly for his own use and even does not registered as a private entrepreneur.
"This 7-second episode, when I am laughing at Italian cheese, is taken from 30-minute talk, in which I was thoroughly explaining that I was against the sanctions, that the sanctions were not going to help Russian farmers. That for the development of farming we need free competition", says Justus.
We would remind you that Russia imposed limitations for products import from Europe after the EU had brought into action sanctions concerning Russian private persons and legal entities as a response for Russia's invasion of Crimea and support of terrorists on the East of Ukraine.