Ukraine owes Crimea a billion dollars for the damage caused to the peninsula by Kyiv's water blockade, announced Vladimir Konstantinov, the Kremlin controlled head of the Crimea State Council. Konstantinov is a prolific producer of fakes and his latest initiative is suing Ukraine in an international court for blocking the North Crimean water canal. Konstantinov is confident that international law will be on his side and that Ukraine will be forced to pay damages.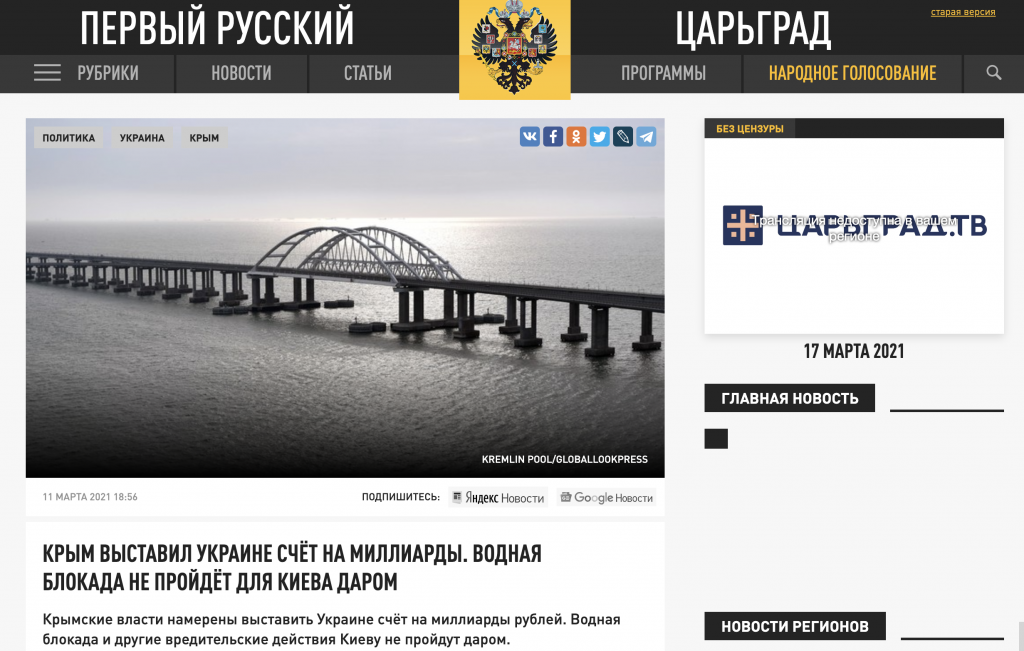 Fakes about Crimea's water woes were disseminated by such publications as NewsFront, Tsargrad, RIA Novosti, TASS, Lenta.ru, Izvestia, Vesti, Nation News and others.
Speaking to StopFake former Presidential Representative to Crimea, international lawyer Borys Babyn assured that Konstantinov's statements should not be taken seriously. Kremlin Crimea proxies have repeatedly threatened Kyiv with litigation, but their threats and pronouncements mean nothing and often contradict each other, Babyn pointed out. "They just generate random proposals. Whatever they do, Ukraine will neither recognize nor execute any Kremlin court decisions" Babyn said.
Babyn does not understand what formulas are used to arrive at these sums, adding that he vies these figures very critically. "Russia can do anything it wants on its own territory, but in occupied Crimea what they call courts are illegal structures that international law does not recognize and Ukraine or any other civilized country will not recognize any decisions of these courts" Babyn said.
No country has recognized the illegal annexation of Crimea. In a 2017 Crimean resolution the United Nations General Assembly officially named Russia the occupying power. The 2020 resolution also contains the same wording – Russia is an occupier and the text of the resolution once again confirms that the Russian occupation of Crimea is illegal and a violation of international law. The resolution lists at least seven UN documents that Russia violated by seizing Ukrainian territories.
According to international norms and standards, Ukraine does not bear any responsibility for the water supply to Crimea, but Russia as the occupying country does. According to Section III, Part III of the Geneva Convention of 12 August 1949 on the protection of civilians during the war, as the occupying country, Russia is obliged to provide Crimeans with the necessary services to support life and well-being. The UN Monitoring Mission in Ukraine has also confirmed that having annexed Crimea the Kremlin has the primary responsibility for ensuring civilian access to water on the peninsula. Nevertheless the Kremlin may try to create some international proceeding to blame Ukraine, in which case it will face a big and unpleasant surprise, Babyn said.
According to Babyn, if Russia tries to use the Crimea water situation in an international environmental law context, then the issue of trans-border impact will have to be considered and the international institution will have to determine whether there is any border between Crimea and mainland Ukraine: "I think that the decision on this issue will be very unpleasant for the Russian Federation and therefore, I repeat, they will not to file some international claims even if they had grounds to file them, even if, hypothetically, Ukraine had certain obligations for the supply of water to Crimea – which, I emphasize, it does not have – anyway Russia will never file such a claim, because it will end with a confirmation of the fact that Crimea is Ukraine, " Boris Babin concluded.