As the March presidential election grows ever nearer, Moscow's propaganda machine is actively pushing a new theme, that new Russian citizens from the recently annexed Ukrainian Crimea, all wholeheartedly support Putin. Crimean Tatars announce their support for Vladimir Putin announced TASS, Putin is our president, declared NTV, followed by RIA Novosti  and Moskovskyi Komsomolets.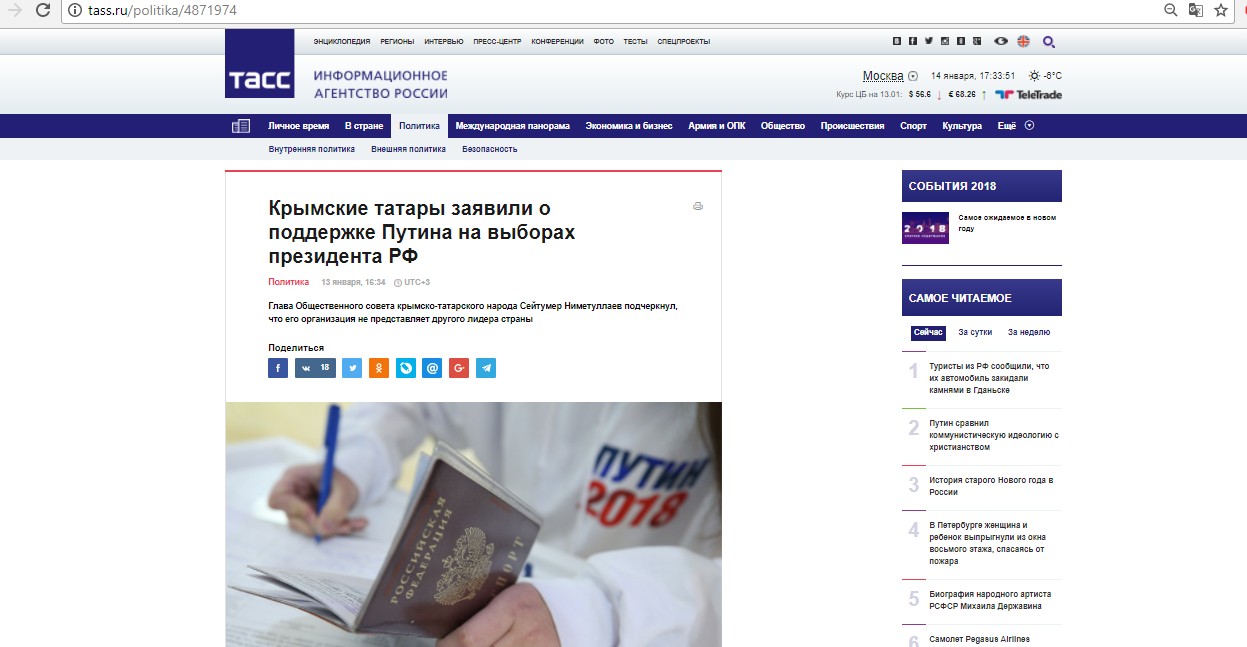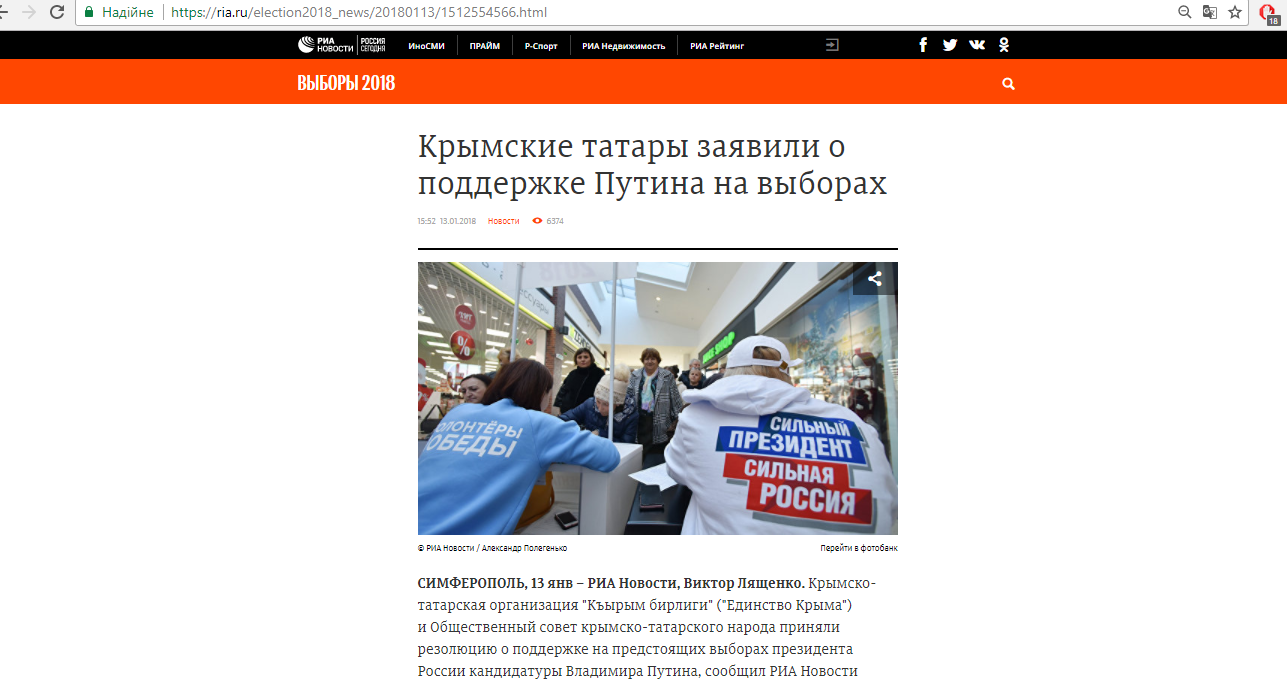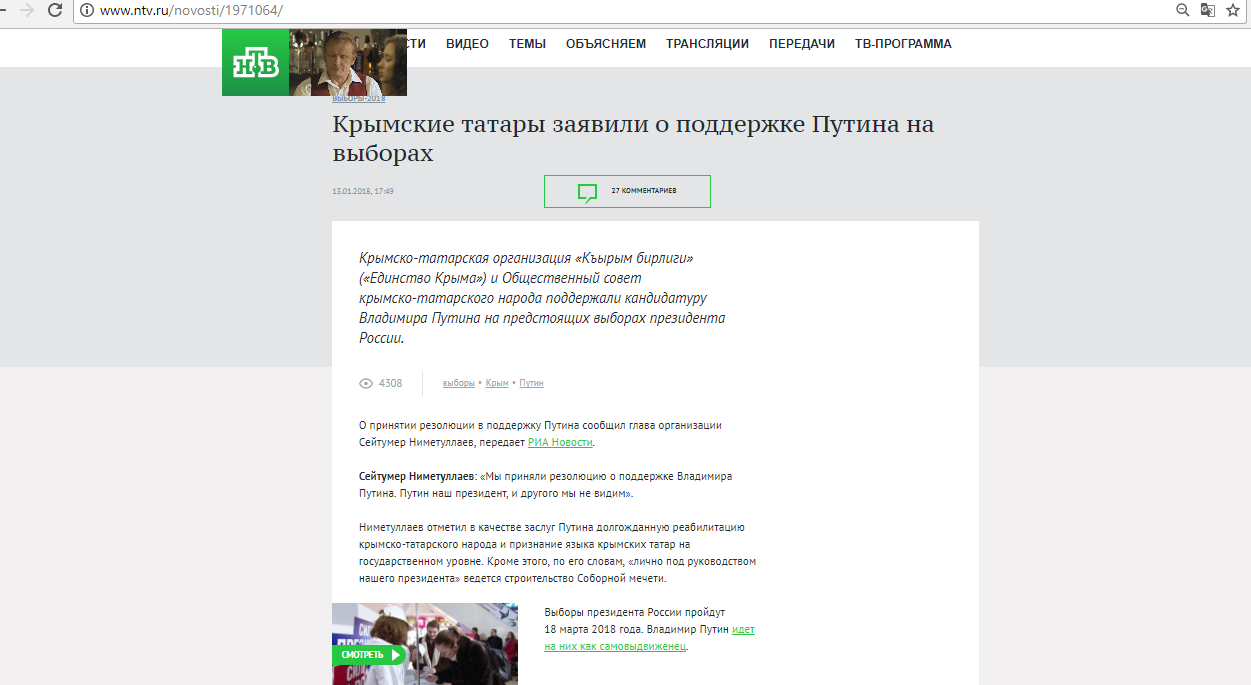 The source for this story is  Seitumer Numetullayev, the  head of the Public Council of the Crimean-Tatar People, a group that allegedly includes 20 Crimean Tatar organizations.
Numetullayev has never been a Crimean Tatar leader. Prior to the annexation of Crimea he was a member of ousted Ukrainian President Viktor Yanukovych's Regions Party heading a regional administration in the southern Kherson province. He singlehandedly controlled much of the businesses in the region according to Ukrainian Center for Journalistic Investigations, with vast land holdings, vacation resorts and automobile businesses. After the Russian annexation of Crimea, Numetullayev moved to the occupied peninsula and entrusted his Kherson businesses to his wife Nadia. He established the Public Council of the Crimean Tatar People in 2014, the organization is completely subservient to Crimea's occupying authorities.
Ukrainian authorities opened three criminal cases against Numetullayev in 2014 and issued an arrest warrant for him. Since then he has not left Crimea and has been particularly vocal in his declarations of support for Russia and its president.
According to the sole genuine representative body of the Crimean Tatars, the Medjlis, Numetullayev and his bogus organization have no influence or support among the Crimean Tatar people. The Medjlis is a national parliament with historic traditions in Arabic, Persian and Muslim societies. The Crimean Tatar Medjlis was organized in 1991. The new Russian masters of Crimea declared the organization extremist and banned it in 2016. Refat Chubarov, the current Medjlis chairman is banned from entering Crimea. Today the Medjlis is based in the Ukrainian capital Kyiv and is recognized by Ukraine's parliament as the representative organ of the Crimean Tatars.