Russian TV channel LifeNews reported that Donbas separatists had seized two rocket launchers "GRAD", which Ukrainian soldiers had allegedly tried to deliver to the village of Markivka in the Luhansk Oblast.
As a proof journalists adduced the statement made by a man dressed in Ukrainian military uniform who introduced himself as Major Roman Kotiy and who was allegedly responsible for launchers delivery.
https://www.youtube.com/watch?feature=player_detailpage&v=Gu3GSMSFsik
LifeNews also claims that rocket launchers should have arrived to the destination on May 9. However, Kotiy speaks against the background of absolutely bare trees.
Besides, the seizure of launchers was refuted even by those who was said to seize them. In particular, self-declared governor of the Donetsk Oblast Pavel Gubariev wrote on his Facebook page that this was a lie and accused "Ukrainian misinformators" in its spreading.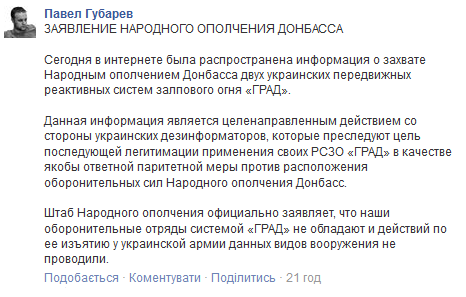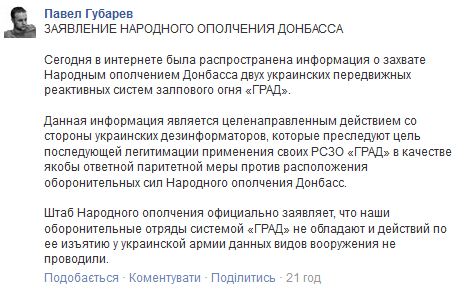 This information was also refuted by the correspondent of the newspaper "Komsomolskaya Pravda" Aleksandr Kots, who is quite supportive to the Donbass separatists as well. According to him, he learned directly from the leader of local militants Igor Girkin, better known as Strielkov, that nobody seized "GRADs".
По поводу якобы отжатых Градов сегодня спросил лично у Стрелкова: никаких Градов, как он сказал к сожалению, они не отжимали

— Александр Коц (@sashakots) May 9, 2014
Ukrainian Ministry of Defense also refuted the information about "GRADs" seizure in the interview with Russian news agency RIA Novosti. According to the ministry representative, these rocket launchers had not been sent to the area of operation.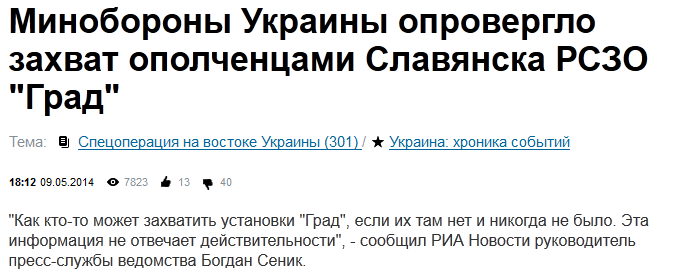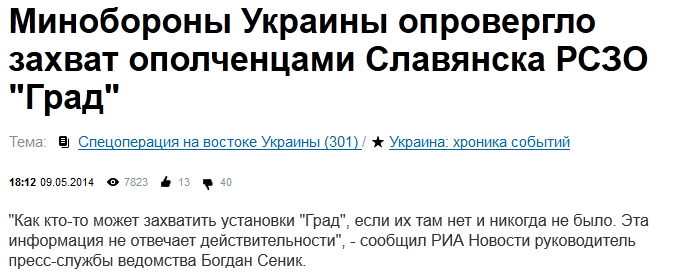 It should be pointed out that the information about the seizure of "GRADs" or about their presence in the western regions has been appearing from time to time. However, no photos or videos of rocket launchers have been published yet.