Several Russian media news sources, including Moskovskij Komsomolets and the Russian Defense Ministry's channel Zvezda, mistakenly reported that the President of Ukraine, Petro Poroshenko, allegedly "lost touch with reality," giving a soccer ball to a Ukrainian soldier "without legs" as a present. They also posted a video showing Poroshenko presenting the gift to the soldier in a wheelchair.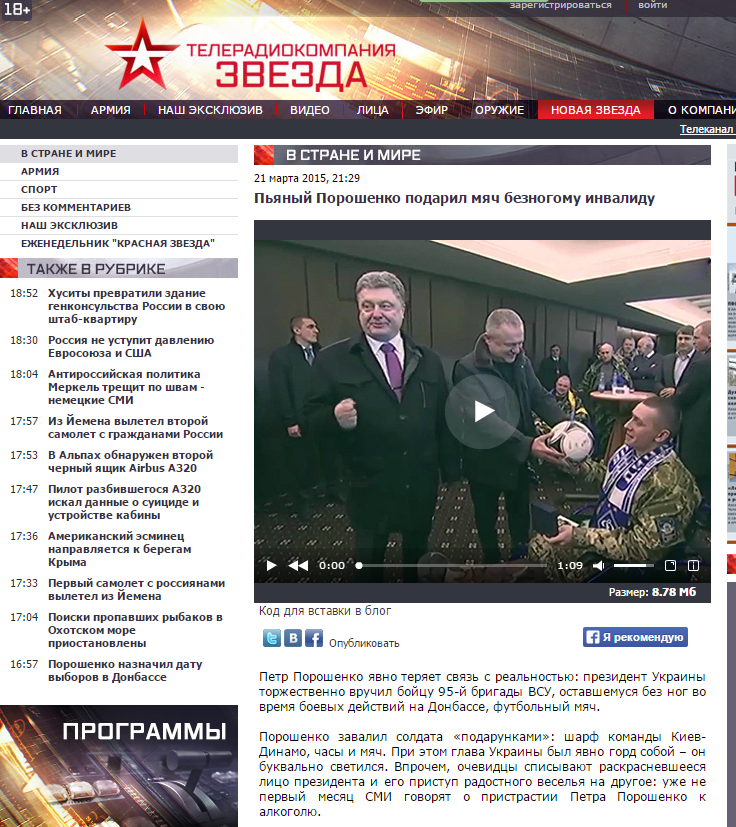 However, it should be clarified that thanks to the efforts of his doctors, the soldier from the 95th Airmobile Brigade, Denys Holodiuk, has both legs, though one of them was severely injured in battle. He himself talked about how his leg had been "put together" almost by miracle. Moreover, doctors say that he will be able to stand with both of his feet.
Poroshenko presented him, not with a ball, but with a watch engraved with the soldier's name. Holodiuk's birthday was the same day as the UEFA Europe League round 16 match. Poroshenko had invited soldiers from the ATO who were being treated at the Kyiv military hospital as guests of honor during the match.
The ball that was given to the wounded soldier was a present from the Dynamo Kyiv football team. Since doctors expect Holodiuk to recover, the gift seems appropriate. The Ukrainian President also added that the soldier had dreamed of such a gift. Poroshenko tells about this on the video.
https://youtu.be/0c3pQvVZRRY?t=55s
Moreover, we can clearly see the team's signatures on the ball. It means that the present is commemorative and was not meant for playing football.
Here is the screenshot from the video.