Scores of Russian media announced last week that a delegation of European Union politicians and experts had traveled to Russian occupied Crimea on a working visit. The nine person group included five European Parliament deputies from France.  Such delegations show up periodically in Crimea and Russian media gleefully call them official visits, but in reality they are private visits by pro-Russian individuals with close ties to the Kremlin. In a statement Ukraine's Foreign Ministry said the visit violated Ukrainian laws and did not have the status of an official visit.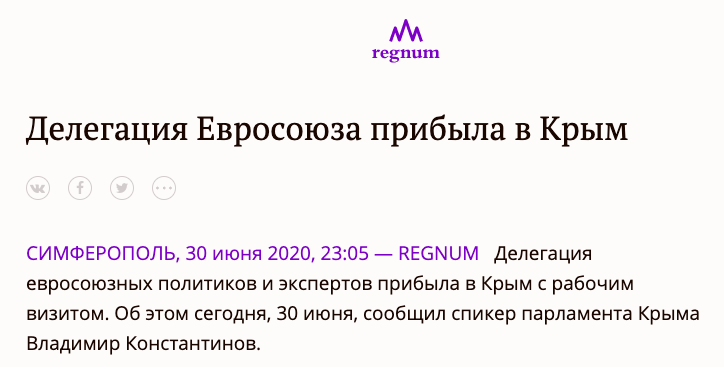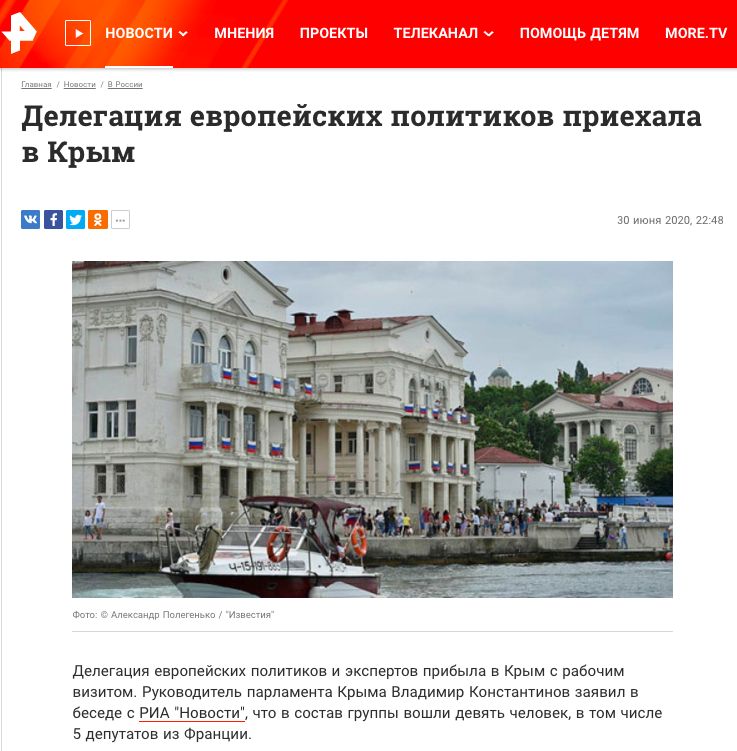 Izvestia, RIA Novosti, REN TV, Novosti Kryma, Krasnaya Vesna, Rytm Evrazii and many others featured this fake story.
The delegation was headed by pro-Kremlin MEP Thierry Mariani of the far-right Rassemblement National party who previously served as transport minister under Nicolas Sarkozy and has visited Crimea on numerous occasions in recent years.
Visiting annexed Crimea without prior authorization from Kyiv is illegal under Ukrainian law.
Ukraine's Foreign Ministry protested the visit and condemned the group's participation as observers in the vote to amend the Russian Federation's constitution. "The result of this vote in Crimea has no legal meaning and it will not be recognized by Ukraine and the international community" the Ministry said.
The French Embassy in Ukraine also pointed out in a tweet that the visit was "a strictly personal initiative of some members of the European Parliament" and France's position on Crimea is constant, Paris does not recognize the illegal annexation of the peninsula.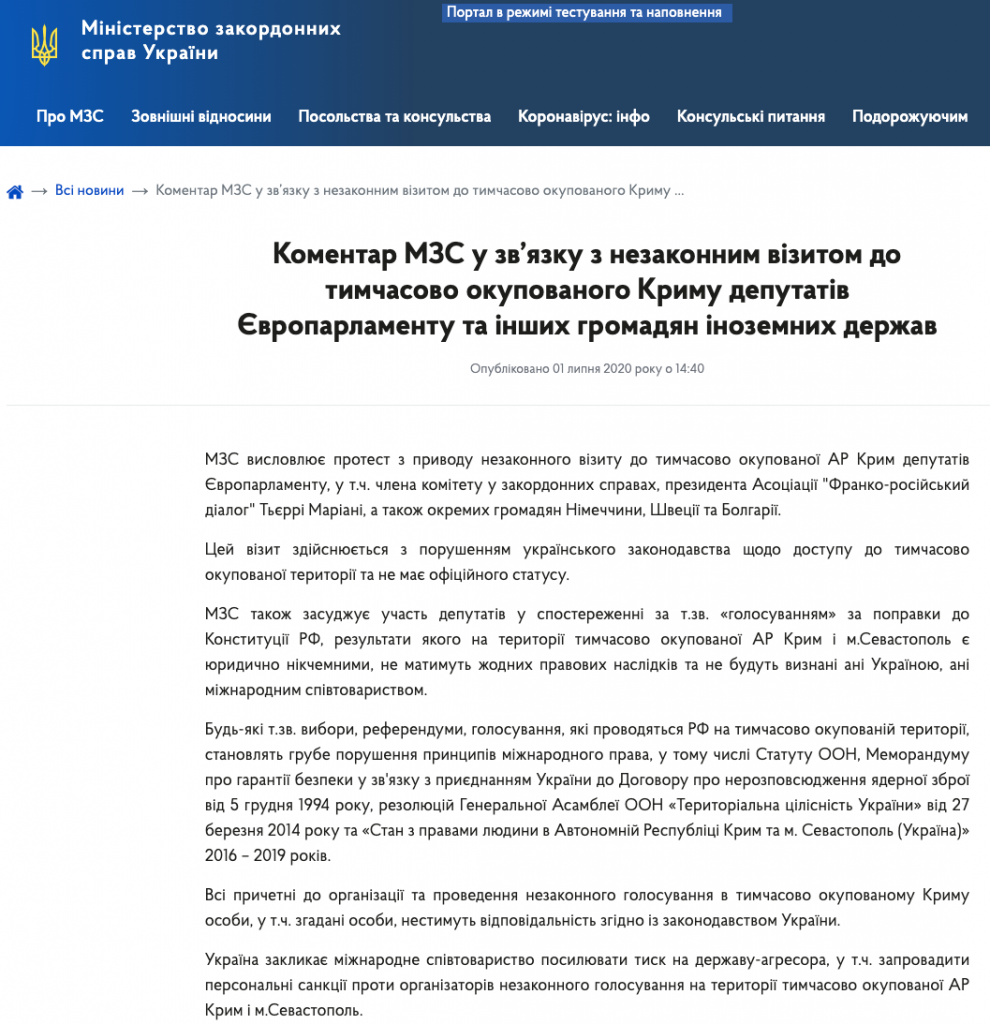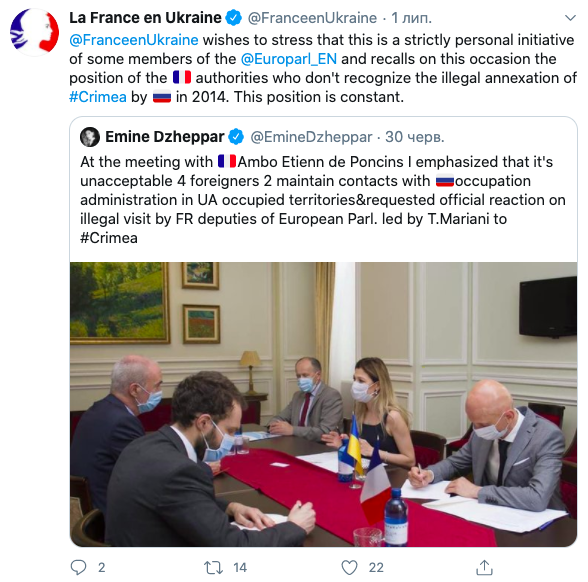 The visit by French MEPs was condemned by Lithuanian MEP and former Prime Minister Andrius Kubilius, from the center-right European People's Party (EPP). "Thierry Marianni….. Shame!" he wrote on Twitter.
The BBC's Russian service ran a special story focusing on the foreigners Russia invited to observe the vote on constitutional amendments. According to Grygoriy Melkoniants, the co-chairman of Russia's voting rights organization Golos, such observers do not have any legal status. "They have a green light to go into the polling stations, they are met by election officials, their statements are cited by media, but in reality this is fake observing, an imitation. In fact, they are just a tourist group, they are driven around, housed, fed, but it is unclear at whose cost. Financing of such trips is kept hidden" Melkoniants said.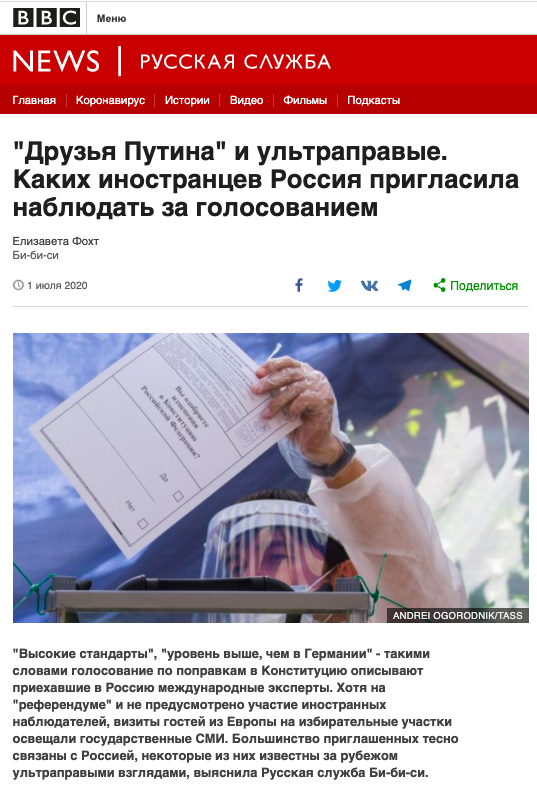 StopFake has written about several illegal visits of foreign delegations to Crimea, American delegation in Crimea wants easing of Russia sanctions, Turkish delegation arrives in Crimea, Norwegian diplomats recognize Crimea as Russian, etc.