After the Stockholm Arbitration Court ordered Russia's Gazprom gas company to pay more than $2.5 billion to Ukrainian energy firm Naftogaz  for having underused the Ukrainian transit system to  deliver gas to Europe, the pro-Kremlin internet newspaper Ukraina.ru featured a story claiming that Ukraine was buying natural gas from Europe at four times the price it would pay for Russian gas.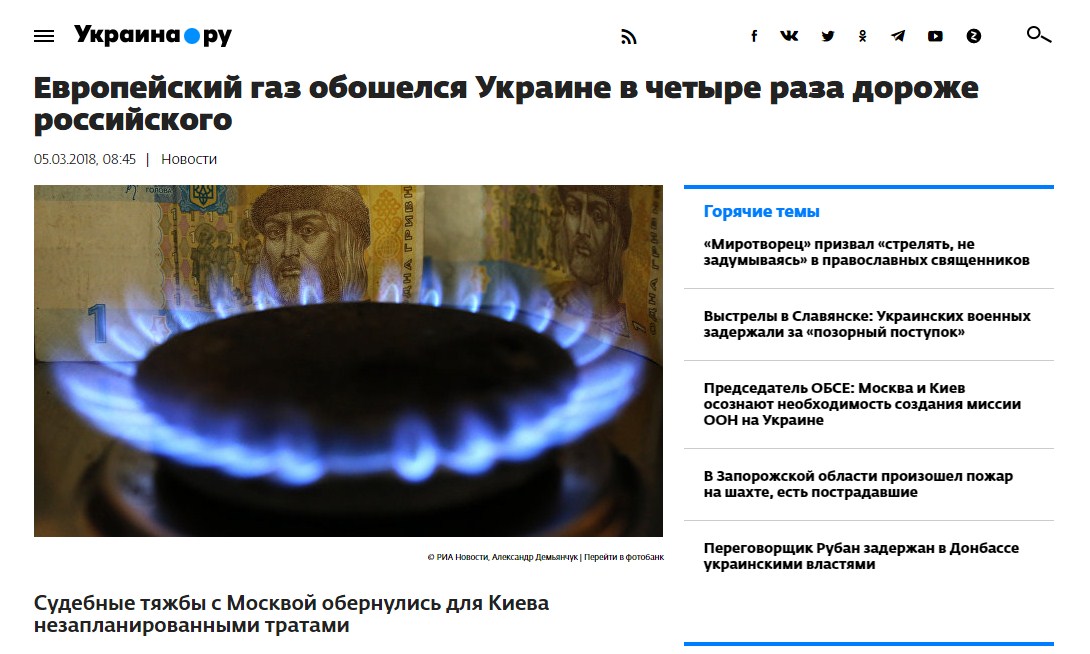 According to PEGAS, the central gas trading platform of the European Energy Exchange (EEX) group, natural gas reached a peak on the German natural gas hub NCG on March 2, when the price reached 54.4 euros or $66.95 per 100 cubic meters of gas. The price of gas which Gazprom was supposed to sell to Ukraine is $23.85 per 100 cubic meters. Therefore the European gas is 2.5 times more expensive and not  4.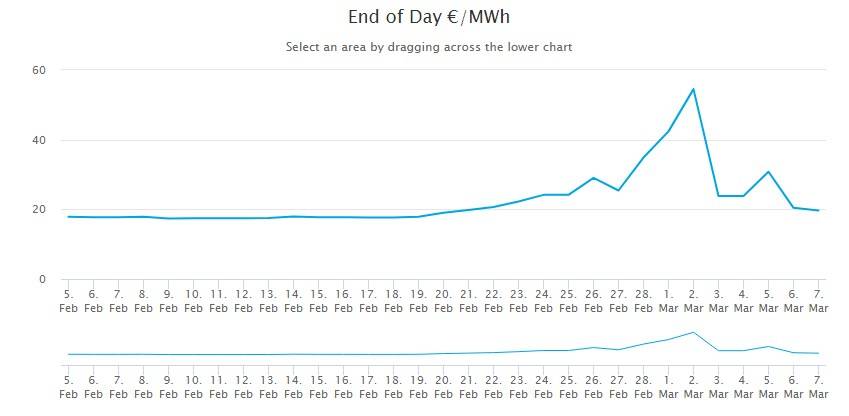 On average the spot price of gas, that is the current market price at which a gas is bought or sold for immediate payment and delivery is below 20 euros and accordingly within $25-28 per 100 cubic meters.
On March 2, Naftogaz signed an agreement for 60 million cubic meters of gas with the Polish company PGNiG, paying roughly 35% more than it would have to pay for Russian gas. According to Naftogaz business director Yuri Vitrenko, Gazprom violated its contract with Kyiv and during the coldest days of this winter did not deliver gas to Ukraine, despite submitting a bill for March which Ukraine paid in full. Ukraine compensated for this with gas from Europe and intends to cover the difference in price with compensation from Gazprom.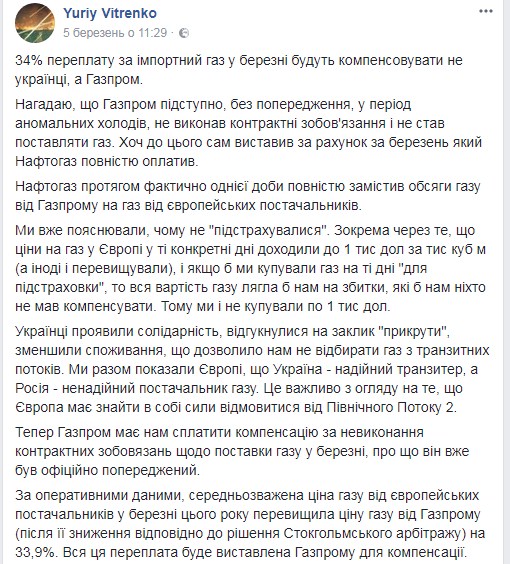 According to the Stockholm Arbitration court decision, Naftogaz has to purchase 4-5 billion cubic meters annually from Gazprom before the end of the contract in 2019. The Russian gas price is lower than the average European on the spot market price. In February Naftogaz paid Gazprom in advance for March deliveries, but after the Stockholm Arbitration Court decision on February 28, Gazprom returned the money and refused to comply with previous agreements on the resumption of supplies.