Ukrainian portal "Golos.UA" quoted Wolfgang Grasse, "the expert of the EU" in their publications on political topics. But, according to representatives of the EU in Ukraine, this man does not work in the institutions of the European Union.
This year the portal "Golos.UA" published Wolfgang Grasse's comments 61 times. The position of this person was referred as "the EU expert", "expert of the European Parliament", "representative of the EU."
In particular, in August Wolfgang Grasse informed "Golos.UA" that the EU had set up a special commission for corruption investigation in Ukraine.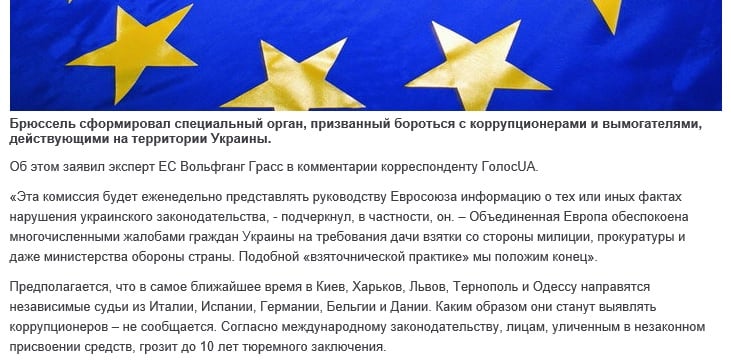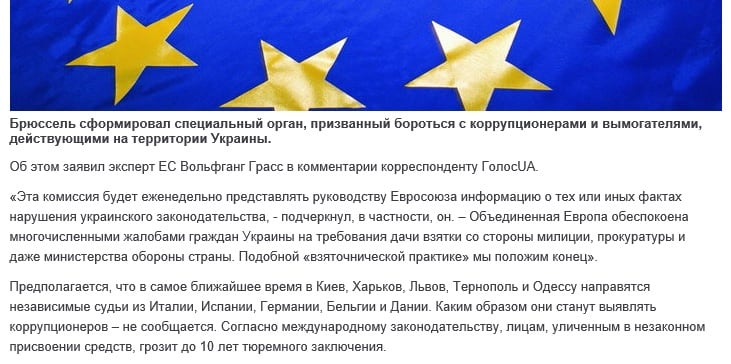 As an "expert" he comments on the political situation in Ukraine, the situation in the east of the country, as well as the EU's position as the Ukrainian events are concerned, in particular, relating to the protection of the rights of the Communist Party of Ukraine. We should remember, that the director of the media holding, which the "Golos.UA" portal belongs to, is Oksana Vashenko, Petro Symonenko's wife. And Symonenko is the leader of the Communist Party of Ukraine.
However, all Wolfgang Grasse's statements, used in "Golos.UA" materials, are incorrect.
Representatives of the European Union in Ukraine officially declare that such a person doesn't work in the EU institutions. Accordingly, he has no right to speak officially on behalf of the European Union.
"We are asking not to distribute the 'news' from the 'Golos.UA website, based on his [Grass] 'statements'. 'Facts' in these statements are not real, untrue and does not show the real situation ", the report of the EU Delegation in Ukraine declares.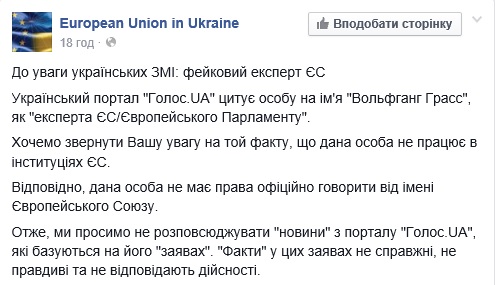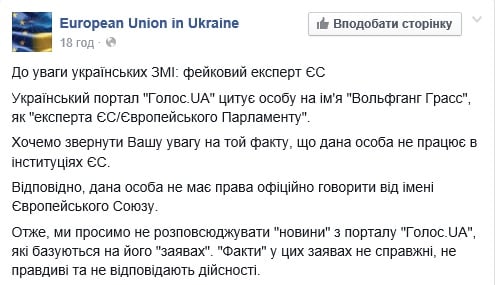 Stopfake.org already wrote about a Ukrainian news resource forUm that had published the "exclusive comment" of an expert, who at that time had already been dead for about a year.