NTV Channel in it's programme Emergency  showed a report about foreign mercenaries of Ukraine.  Special attention was paid for a fighter of Azov  battalion with nickname "Greek".  The narrator was sure the "Greek" is not Ukrainian judging only by his nickname.
The journalists provided a number of distorted or blatantly false facts about "the atrocities done not by Ukrainian soldiers, but by the foreign mercenaries, especially the bloodthirsty [legionaries]".  The video used in the report are attributed to "Greek" in "some hours before his death".  At the same time the host of the programme and the narrator give different information of where the flash stick with the video was found: extracted from the helmet camera or found in personal belongings.
Here is the report from Emergency:
https://www.youtube.com/watch?v=9R6USUnsc40
In fact, the video was stored on the notebook the fighters of Azov  had left when retreating.  The soldier with nickname "Greek" indeed exists.  Yet, he is safe and sound.  His name is Andrei, he is Ukrainian and a volunteer for Azov.  With his comrades in arms he shot the video in real time for his personal goals, not for "a report for the American military".
There are no mercenaries in Ukraine under the command of the American forces, that's a lie.  Moreover, NTV Channel added the text about the "bloodthirsty legionaries who make 'selfies' in front of burning houses", "slaughter civilians" and "teach to kill using this video" to the video.
And the main argument: there is no evidence backing the words of NTV journalists in the video.
TM Militarist, the employer of the fighter, has refuted the information of NTV Channel:
"ТМ Militarist confirms that these declarations are a lie.  Firstly, "Greek" in no Greek at all.  Secondly, he is alive, not dead.  Lastly, there is no way for him to be an American mercenary, since he has been working for TM Militarist for several years," reads the VK page of TM Militarist.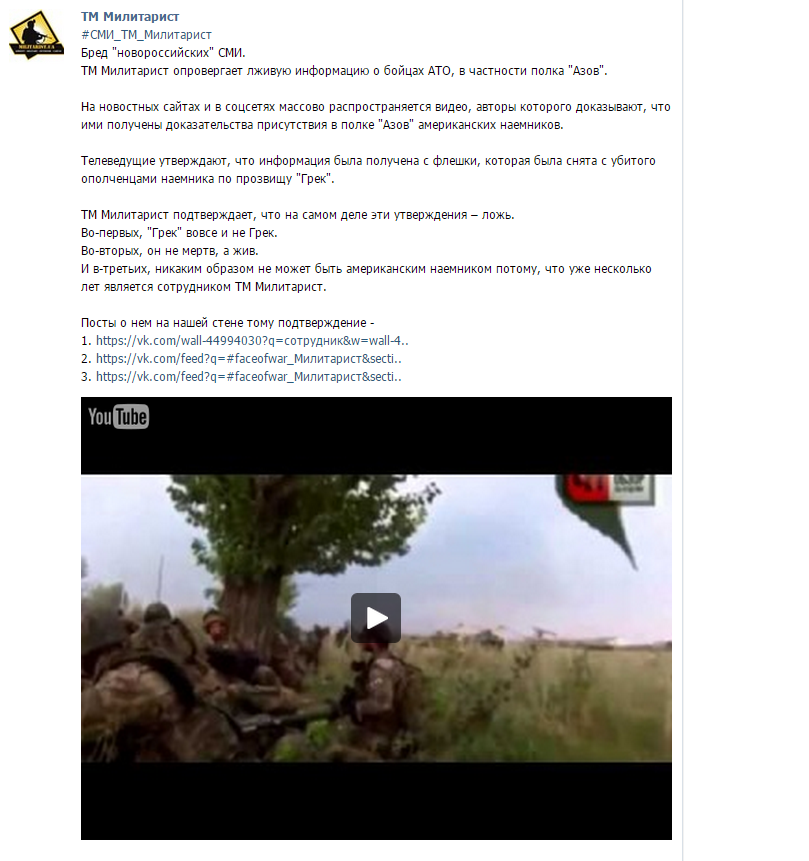 Besides, with the creative studio of Azov intelligence group Militarist  replied to this video report with its own video with the evidence of the Greek "who had risen from the dead".