Germany supports Russia's annexation of Crimea and is ready to take steps towards recognizing the Russian status of the peninsula. Members of the German parliament are poised to gradually recognize the Ukrainian peninsula as part of Russia. On November 3 scores of pro-Kremlin media featured these sensational headlines, starting with the Russian daily newspaper Izvestia, followed by the Russian Defense Ministry television station Zvezda, Rambler, Kriminform and others.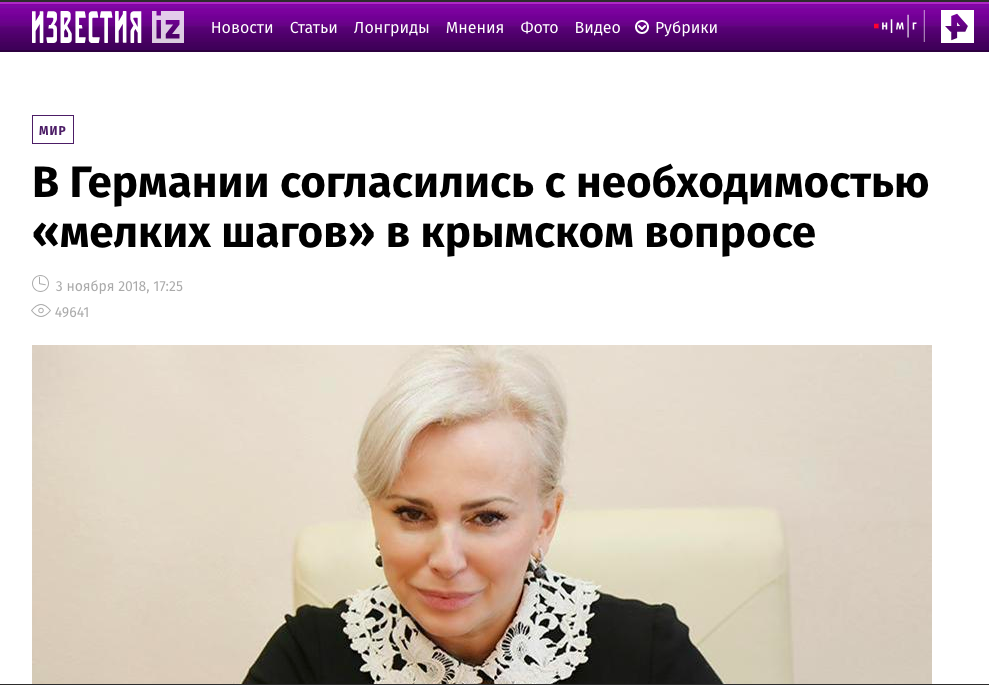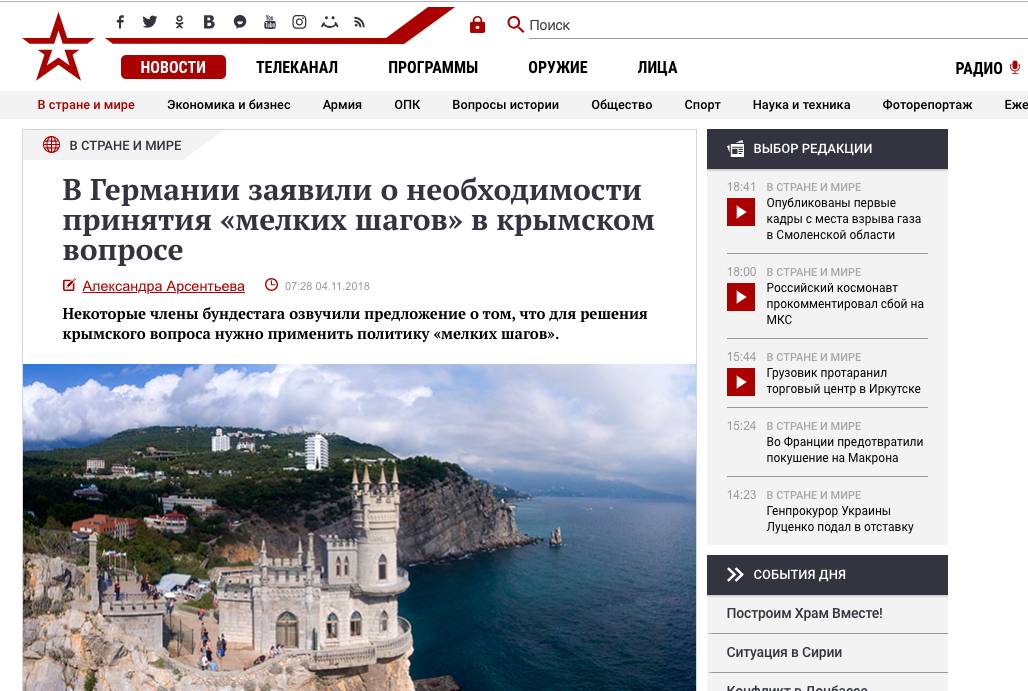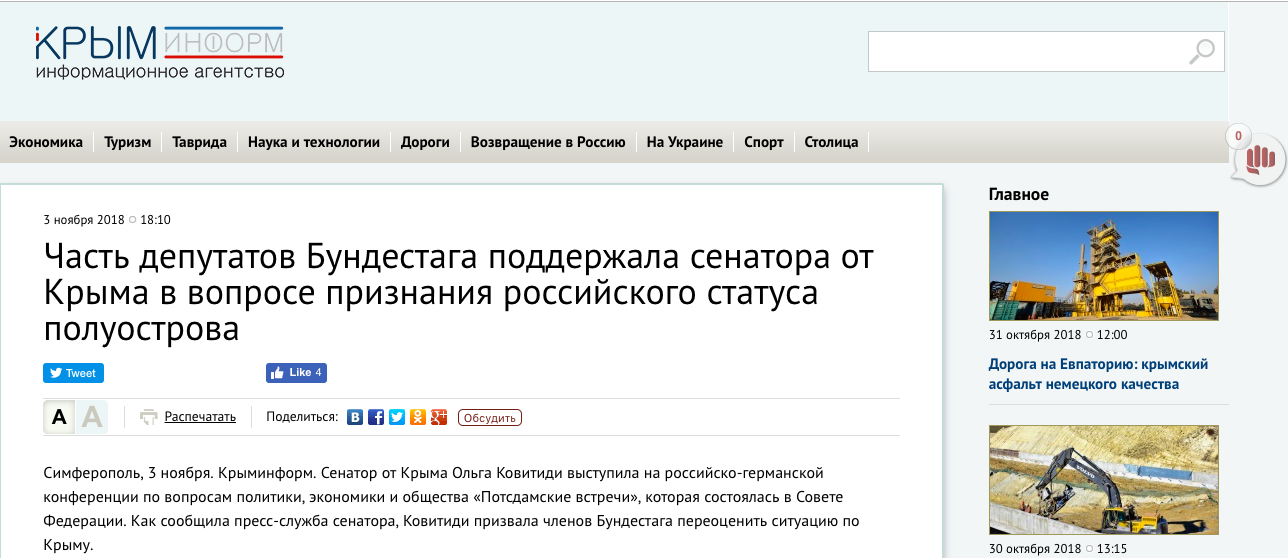 No matter how bombastic Russian media headlines are, German recognition of Russia's occupation of Crimea is a complete fake.
These stories are based on the opinion of Crimean politician Olga Kovitidi, a former Ukrainian Justice Ministry official who in 2014 supported Ukraine's territorial integrity, but after the annexation quickly reoriented her views to reflect the pro-Kremlin line. Kovitidi's claim that Germany supports Russian control over Crimea is not supported by any facts; she fails to name even one German member of parliament who allegedly supports the annexation, but that does not stop her from claiming that "a number of Bundestag members agree…. that it is necessary to resolve the Crimean question".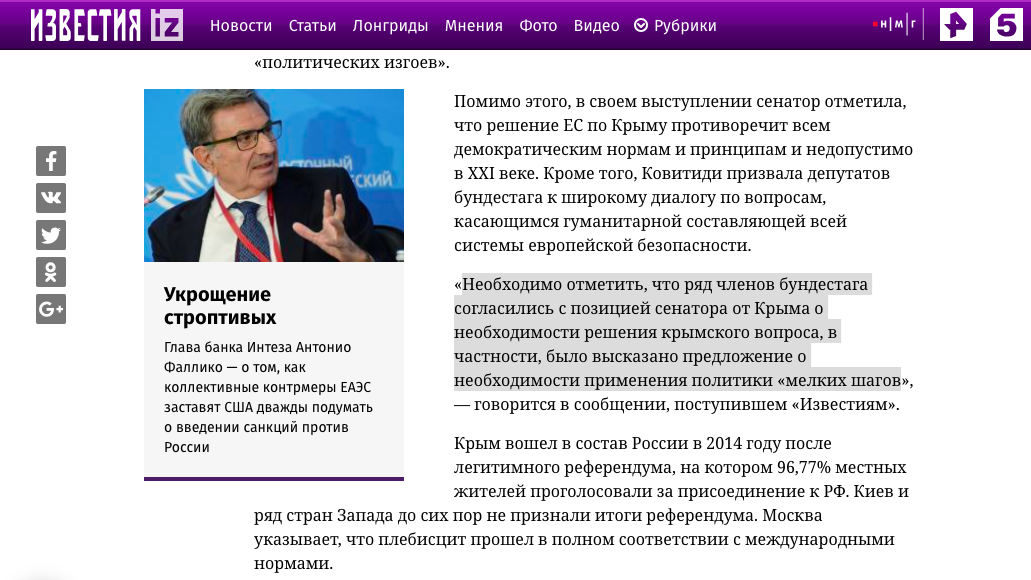 This fake story appeared against the background of German Chancellor Angela Merkel's official visit to Ukraine and her meeting with Ukrainian President Petro Poroshenko on November 1. After holding talks with Poroshenko Merkel told reporters that Germany would continue to fully support Russia sanctions in response to Moscow's aggression in Crimea and the Donbas. The Chancellor stressed that Germany steadfastly continues to support Ukraine's sovereignty and territorial integrity.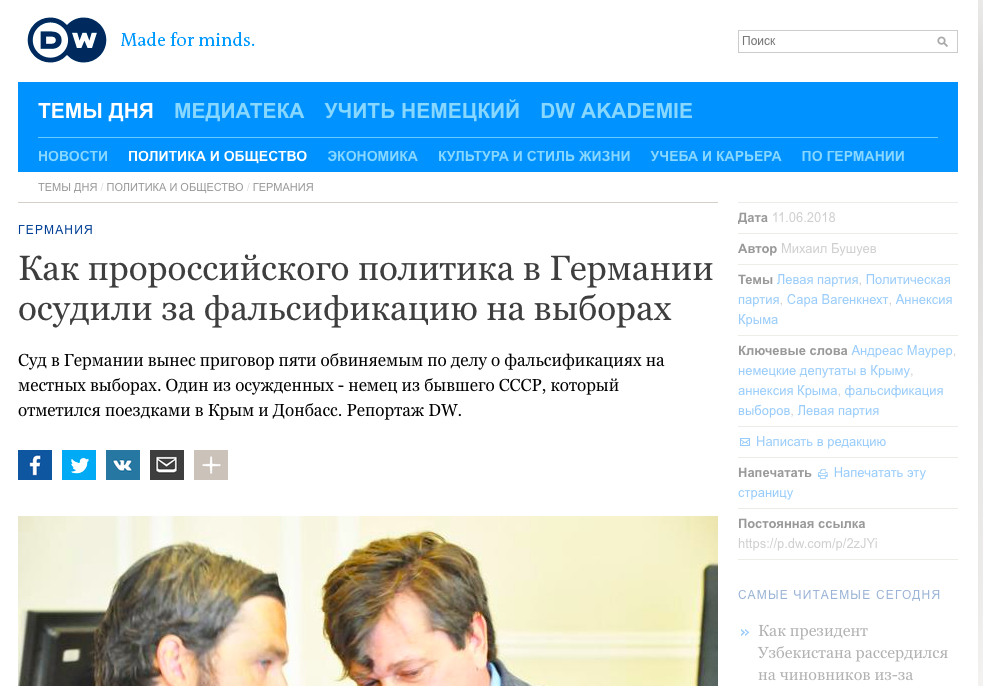 In February of this year several members of Germany's three regional parliaments visited Crimea. They were all members of the right wing populist Alternative für Deutschland (AfD) party from Berlin, Brandenburg and North Rhine Westphalia regions. Russian media touted the visit as an official parliamentary one, but the Berlin AfD faction declared that the deputies were on a purely private visit, neither the AfD faction nor the party sanctioned the trip. "All statements made by them reflect exclusively the individual views of the travelers" the AfD Berlin faction tweeted.
Russian media regularly publish fake stories about so-called official political visits to annexed Crimea by EU politicians, all of whom allegedly support Russia's takeover of the Ukrainian peninsula. One such recent fake concerned a private Norwegian group visiting Crimea.  Russian media falsely presented the group as "diplomats from Norway". The visit was harshly criticized by the Norwegian Foreign Ministry.