There is information, quickly spreading through the Internet, of a group of religious people who burned to death in Donetsk airport after they had come there to prevent bloodshed. In part, this was reported by Izvetiya (English: News).
"Attack of Ukrainian military on the building of [Sergey Prokofiev International Airport] in Donetsk, on May 28, has turned into a massacre, according to the leadership of People's Republic of Donetsk. Six innocent civilians died, 44 are wounded," writes the newspaper.
Izvestiya further states that, given a reference to Andrei Purgin (vice-premier of PRD), the airport territory contains bodies of religious people, who had come there to try to reconcile the combatants.
"Donetsk Christians, having conducted a routine procession around the regional administration's building, made their way to the airport; their goal was to stand between the combatants to stop the bloodshed. But the militants burned them alive; the bodies are now lying next to others, near the airport building. How many there were is not yet known," Purgin stated.
According to the head of PRD, Denis Pushilin, it is impossible to remove the bodies of the dead due to snipers; allegedly, they open fire on anyone who tries to come close.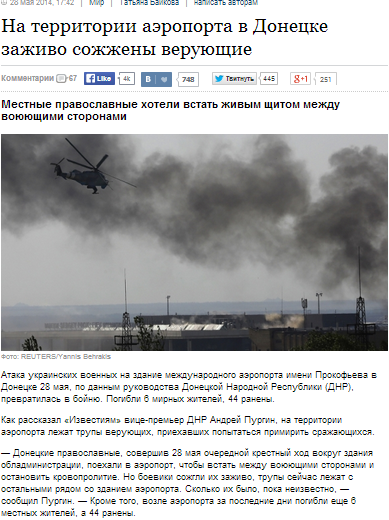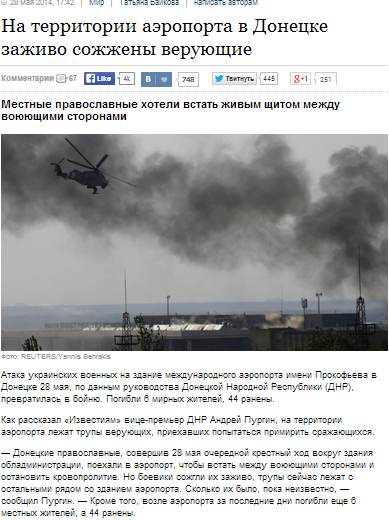 In turn, the Donetsk eparchy stated that there was no procession in the direction of the airport. Archpriest Georgiy Guliaev, the press secretary of the Donetsk eparchy, informed Pravmir that there are daily religious processions taking place in the city: laypeople circle the regional administration building; on May 28 this happened also.
However, Archpriest Georgiy denied the mass media claims that the religious people proceeded towards the airport.
"There was no organized procession towards the airport. It is possible there were some local residents who happened to be in the vicinity by accident. We do not have any news of casualties," noted the priest.
He also confirmed this on Facebook, in answer to a question on the group page "Pravoslaviye i Mir" (English: "Orthodoxy and Peace").