The International Criminal Court at The Hague completed a preliminary study of events in Ukraine related to occupied Crimea and eastern Donbas. The Court concluded that it has jurisdiction to open a criminal case and will consider the suit Ukraine has filed against Russia for war crimes committed in Ukraine's occupied territories. This decision has unleashed a wave of disinformation in Russian media with fake stories claiming the ICC is preparing a tribunal for Ukraine, turning the Tribunal's statement completely on its head and declaring that the Hague is not going to judge crimes Russia has committed in Ukraine, but rather Ukraine's war crimes in Donbas.
These fake stories were featured in NewsFront, Tsargrad, Federalnoye Agentstvo Novostey and others.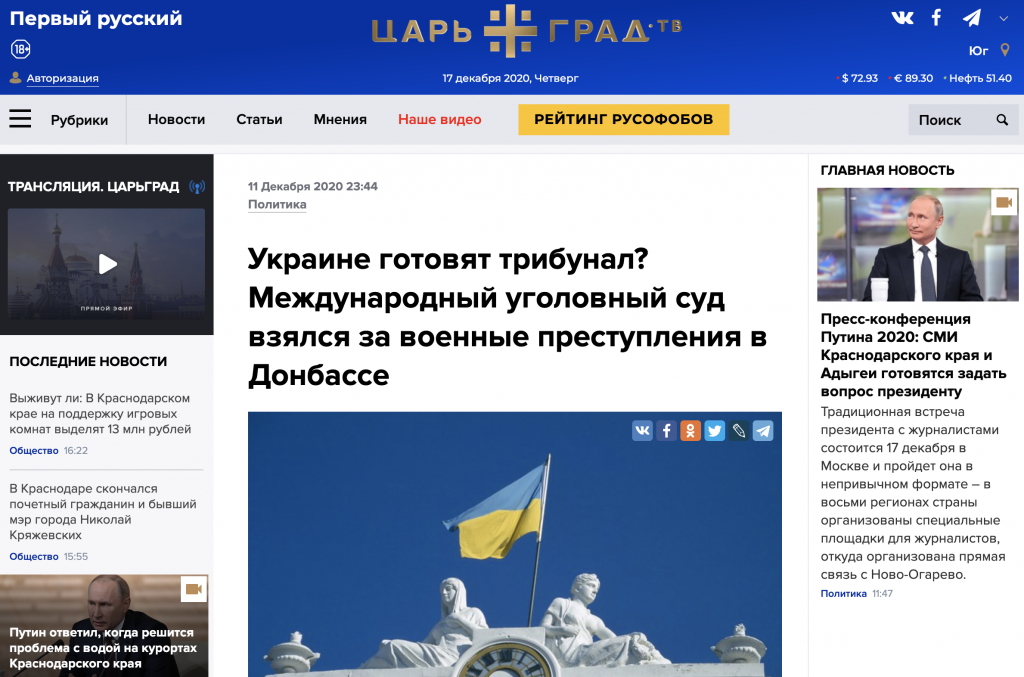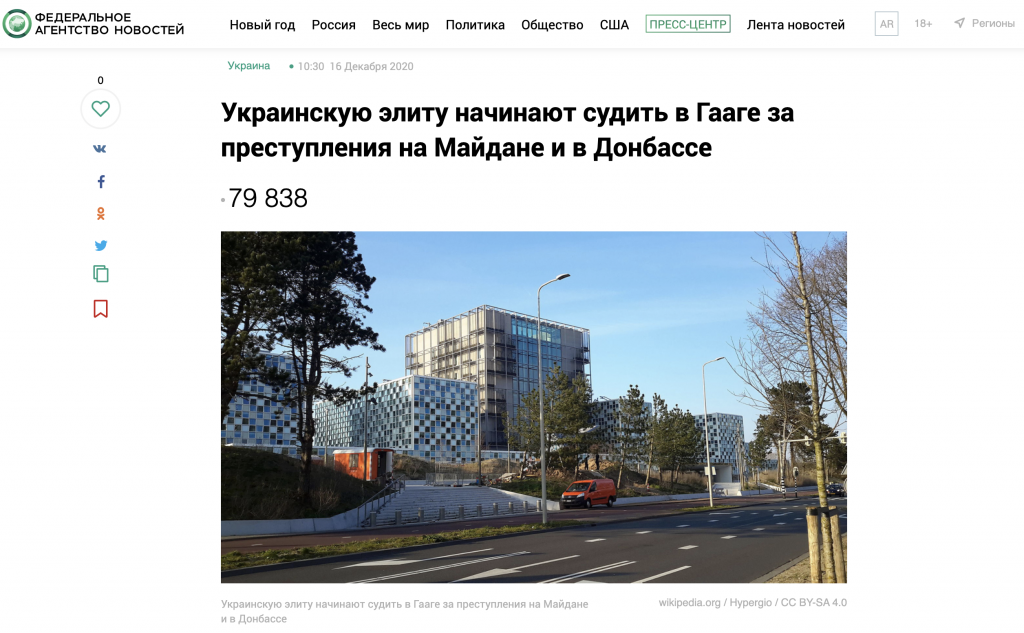 Ukraine applied to the International Criminal Court immediately after Russia occupied Ukrainian territories in 2014. The first application concerned crimes committed on Ukrainian territory during the period from November 21, 2014 through February 22, 2014. In September 2015 Ukraine filed a second application to the Court requesting an investigation into crimes committed on Ukrainian occupied territories from February 20, 2014 with no specified end date. Since then, Ukraine has carefully recorded all Russian crimes committed in Crimea and Donbas and relayed them to international authorities.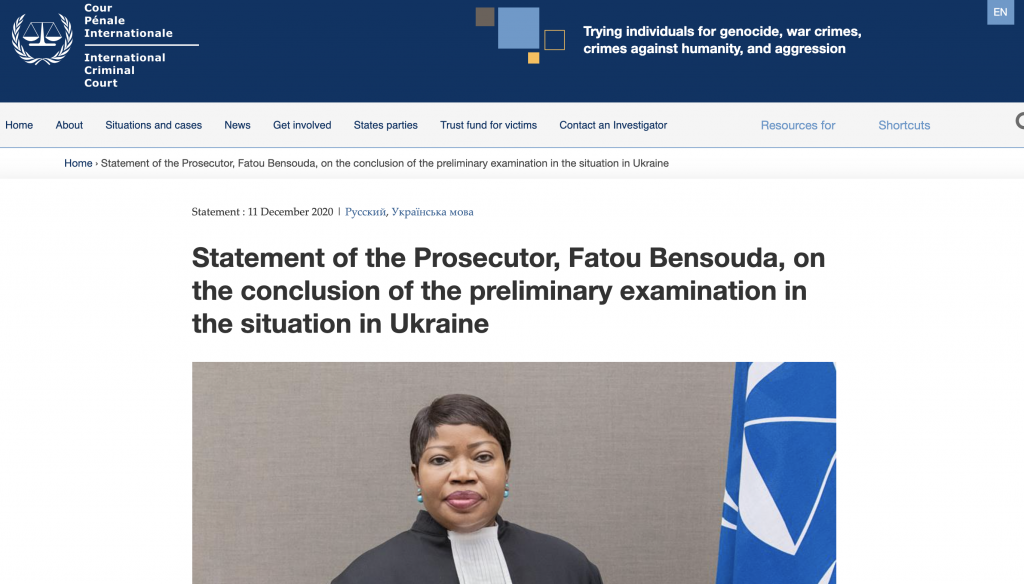 On December 11 the ICC announced its readiness to open an investigation into war crimes committed in occupied Crimea and Donbas. The Office of the Prosecutor announced that there is a "reasonable basis at this time to believe that a broad range of conduct constituting war crimes and crimes against humanity" were committed.
These findings…, include three broad clusters of victimisation: (i) crimes committed in the context of the conduct of hostilities; (ii) crimes committed during detentions; and (iii) crimes committed in Crimea, wrote ICC Prosecutor Fatou Bensouda in an official ICC statement.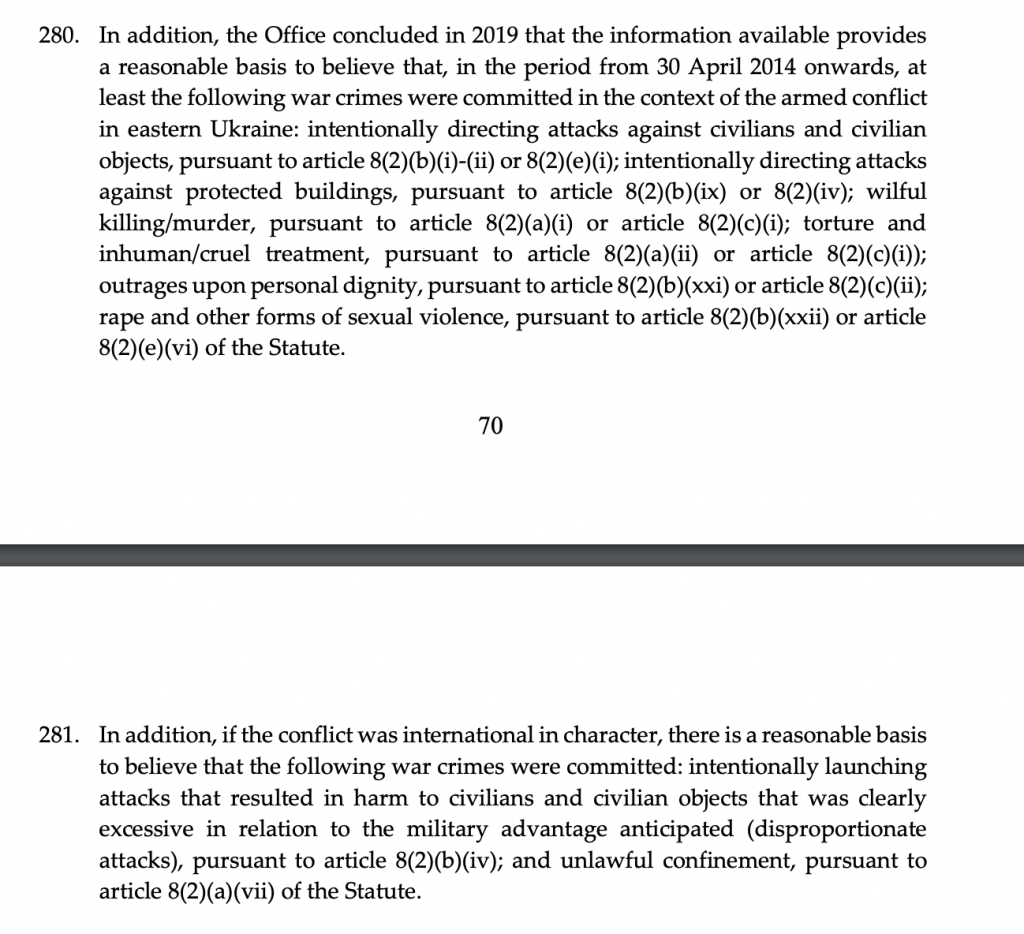 On December 15 the International Criminal Court Prosecutor's Office published a report on the Court's 2020 preliminary examination activities. The section devoted to Ukraine concludes that there is reasonable basis to believe that war crimes had been committed in Crimea and eastern Ukraine (paragraph 277). The report lists all the grave crimes recorded in Donbas. In addition to willful killings and torture, the report also mentions such war crimes as ill treatment, deportation, deliberate attacks on civilians and civilian objects and sexual violence (paragraphs 280, 281). The report also notes that the ICC Prosecutor's office looks forward to further constructive interaction with the Ukrainian government, while noting the lack of cooperation from the Kremlin (paragraph 25).
The 2020 ICC Prosecutor's Report also details the types of war crimes committed in Crimea which the court intends to investigate. Court investigators have qualified the situation in Crimea as a "state of occupation" and "International armed conflict" (paragraph 277). The report lists crimes Russia has committed against Crimeans, including torture, abductions, murders, arrests and other egregious human rights violations (paragraphs 278, 279).
Such ICC reports are annual, but they are constantly updated with new data detailing the latest Russian violations which the Ukrainian government submits to the ICC.