On October 7 Ukraine announced it would not be buying Russia's Covid-19 vaccine. Kyiv has not received any applications from US companies for testing coronavirus vaccines in Ukraine.
Ukrainian Health Minister Maxym Stepanov's October 16  meeting with US embassy's Charge d'Affaires Christina Kvien was interpreted by pro-Kremlin publications as a ban on Ukraine purchasing the Russian coronavirus vaccine, which if purchased, according to some Russian experts, would strengthen Ukraine's sovereignty.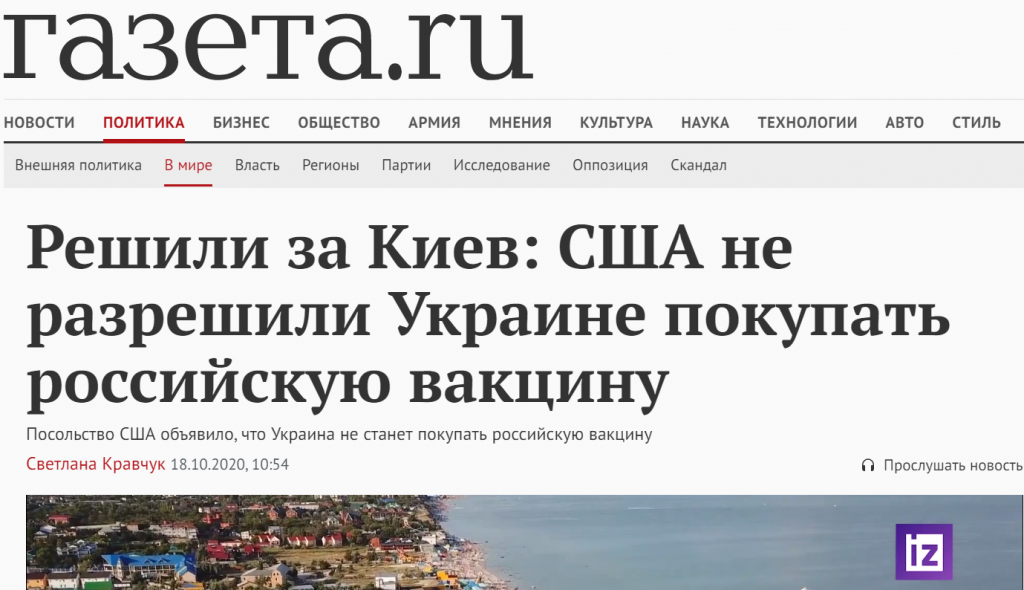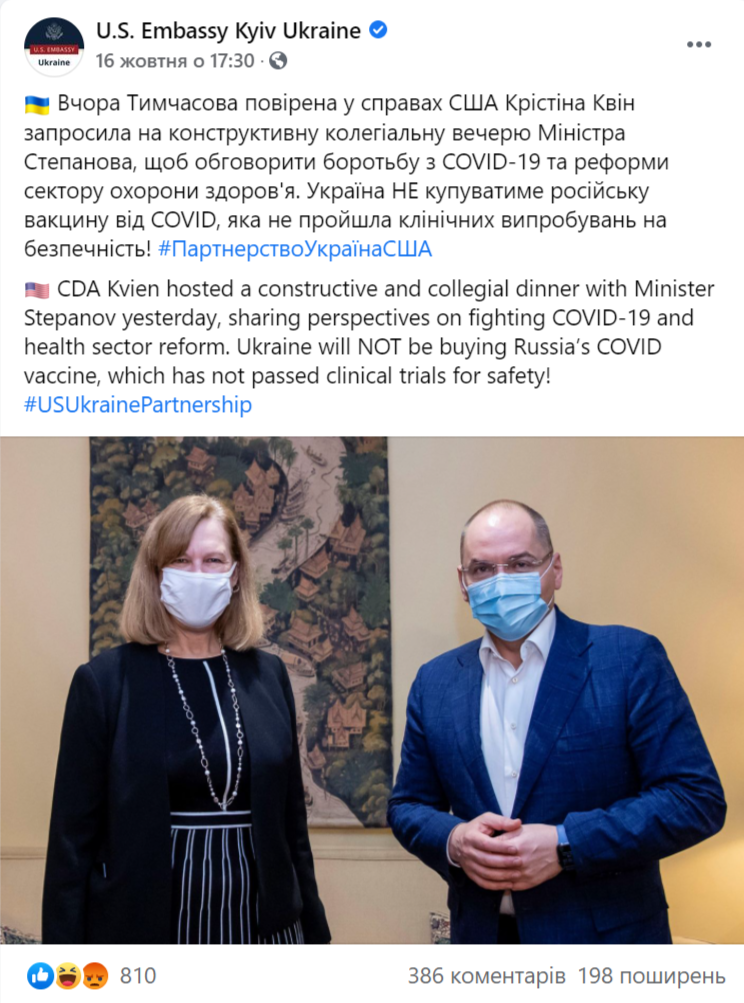 The inspiration for this latest spate of Russian covid-19 vaccine fakes was a post on the official Facebook account of the US Embassy in Ukraine about a dinner meeting between Kvien and Stepanov where the two discussed Covid-19 and health reform. "Ukraine will not be buying Russia's COVID vaccine, which has not passed clinical trials for safety" the post concludes. Minister Stepanov 's Facebook page had a similar post.
"The US Embassy has banned Ukraine from buying the Russian Covid-19 vaccine, these were not recommendations but affirmations" declared the Kremlin faithful Ukraina.ru. Other Russian publications cite experts who claim that the US is no longer afraid to openly show that it is ruling Ukraine. Russian journalist Maxim Yusin for example wrote "This is pure external management and no one is even trying to hide it". Another expert – Victor Skarshevsky – declared that the US is meddling in Ukraine's internal policies. Gazeta.ru, 112.UA, RBK, RIA Novosti, Strana.ua, Sharyi.net and other publications all featured versions of this fake narrative.
Skarshevsky is a frequent guest on Viktor Medvedchuk's television channels, propagating a pro-Kremlin policy for Ukraine. Medvedchuk, currently an MP from a pro-Russian party served as chief of staff to former Ukrainian President Leonid Kuchma. Medvedchuk, who is a close friend of Russian President Vladimir Putin, has built a vast Ukrainian media empire through purchases fronted by partners and proxies. He was put under sanctions by the United States in March 2014 for his role in undermining democracy in Ukraine.
Medvedchuk is actively lobbying for Ukraine to purchase the Russian vaccine. In early October he met with the Russian President at Putin's Novo-Ogaryovo residence and asked that the Russian vaccine be provided for Ukraine. Medvedchuk also reportedly traveled to Russian annexed Crimea where he and his family were vaccinated with the Russian Covid-19 vaccine.
Long before Minister Stepanov's meeting with Kvien , Ukrainian authorities announced they would not be purchasing the Russian coronavirus  vaccine. On October 7, summing up the previous day's EU-Ukraine summit, President Volodymyr Zelensky wrote on his official Telegram account that the European Union was committed to helping Ukraine get a real vaccine, one that would not be doubted by scientists, noting that the World Health Organization had stated that the safety and efficacy of the new Russian coronavirus vaccine must be carefully checked. "I do not advise very much to believe…. in the initiatives of individual cynics who have already been vaccinated with an untested vaccine" Zelensky wrote.
Even before the meeting with Kvien at the US Embassy, Health Minister Stepanov had already announced that Ukraine would not be purchasing a Russian coronavirus vaccine. During a television talk show Stepanov pointed out that there is no evidence that the much touted Russian vaccine had passed all required trial phases, particularly clinical trials. "World renowned pharmaceutical companies are currently in the final stages of various clinical trials, so this is not even a subject for discussion" Stepanov said.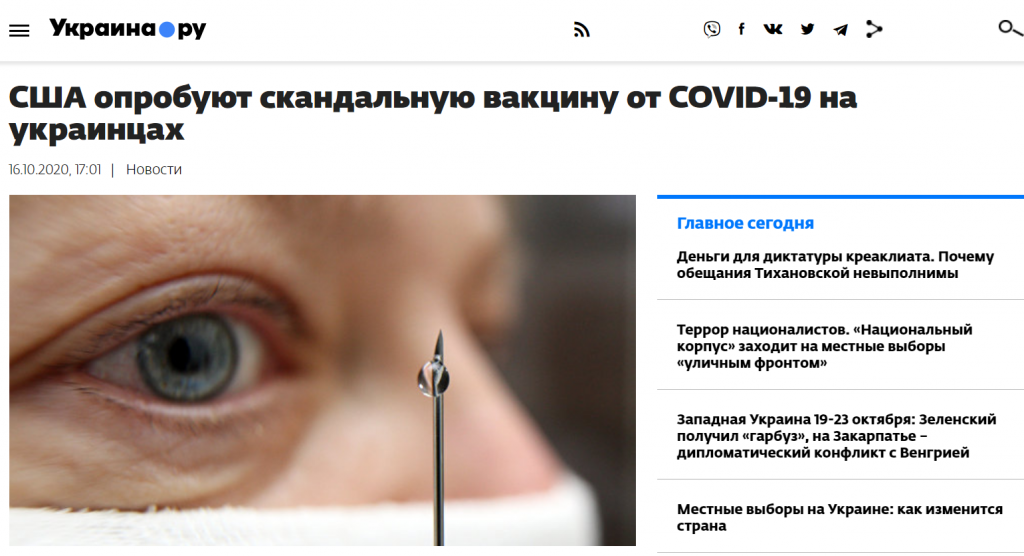 Aside from claiming that the United States had banned Ukraine from buying a Russian vaccine, some pro-Kremlin media also claimed that the US is planning to test its Johnson&Johnson vaccine on Ukrainians.
Ukraine has received a vaccine testing proposal, but not from an American company but a European one. According to Health Ministry Expert Center director Tatiana Domenko after confirming the quality of the vaccine materials, 4000 healthy volunteers will be able to participate in the clinical study. Information concerning the study will be accessible to the public.
Ukraine will be provided with Covid vaccines within the framework of the COVAX coronavirus vaccine alliance which includes more than 180 countries. Ukraine is one of 92 countries within the COVAX alliance expected to receive AstraZeneca (UK) and Novavax (US) vaccines free of charge or at prices below market rate.
StopFake has debunked earlier Russian fakes claiming Ukraine will purchase coronavirus vaccines from EU countries or from Russia through Israel.