The young girl pictured in the photograph taken at the Zaporizhzhia Children's Hospital is 13-year-old Milena, who was evacuated from Mariupol. This photograph was published in the French newspaper Liberation. After being wounded in the jaw, Milena was placed in an induced coma. As of March 26, some 65,000 people were able to escape the besieged port of Mariupol through Ukrainian organized humanitarian corridors.
Social media is buzzing with claims that the injured girl lying in a Zaporizhzhia hospital cannot be from Mariupol. According to the Russian Kladbyshche Feykov (cemetery of fakes) Telegram channel "Ukrainian media are disseminating this photo claiming this is a hospital in Zaporizhzhia where wounded from Mariupol are being brought. But injured people from Mariupol all the time are being taken to hospitals in the Russian Federation and the Donetsk People's Republics, as are all refugees from this city".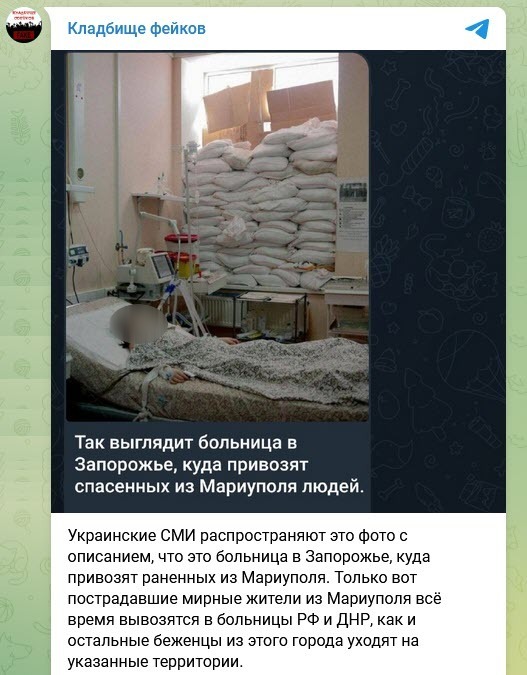 The young girl pictured in the photograph taken by William Keo, is lying next to a window barricaded with sandbags, was evacuated from Mariupol and taken to the Zaporizhzhia Children's Hospital. The photograph appeared in the French newspaper Liberation on March 20 in an article about children who were successfully transferred from the besieged port of Mariupol.
"Masha, Artem, Milena and a young girl with long black hair whose name we do not know share the same room and the same fate. All four were seriously injured on the southern front of Russia's offensive against Ukraine. They are being treated in the regional children's hospital in Zaporizhzhia, the town which receives survivors from Mariupol, 220 kilometers southeast of Zaporizhzhia" writes Liberation.
13-year-old Milena, pictured on the photographs, was wounded in the jaw. Despite heavy blood loss, the young girl survived and is currently in an induced coma. Trying to leave Mariupol , Milena and her family came under Russian fire, despite the fact that their family car had large signs on it reading "Deti", children in Russian, the German network RTL reports.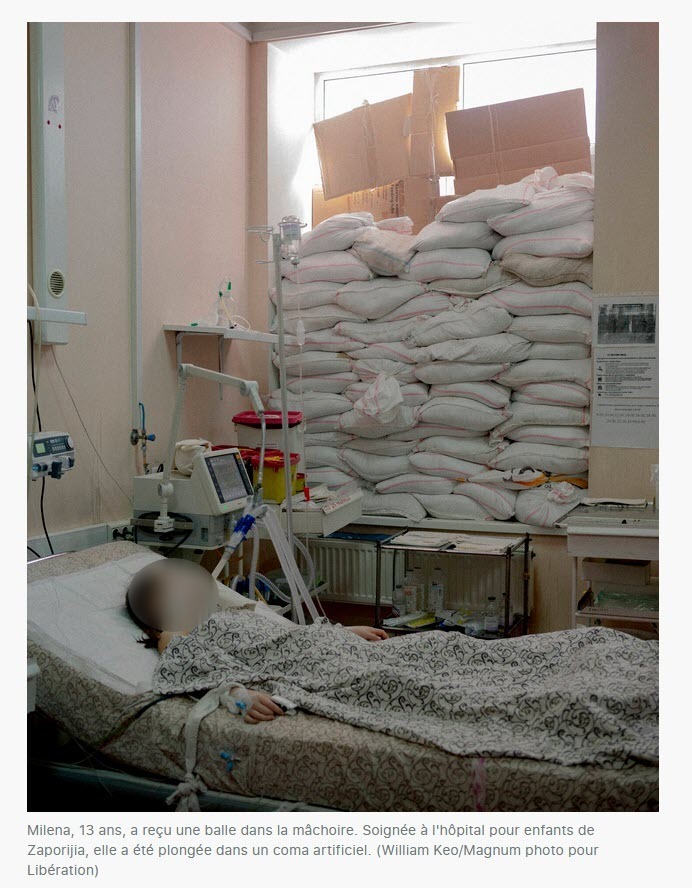 According to Pavlo Kyrylenko, the chairman of the Donetsk Regional Administration, Ukrainians have successfully evacuated some 65,000 Mariupol residents through humanitarian corridors organized by the Ukrainian side. Mariupol residents are arriving in Zaporizhzhia in their own cars, when possible, also in busses which wait for refugees in the town of Berdyansk, halfway between Mariupol and Zaporizhzhia. Many then travel further to Ukraine's far western regions.
Mariupol mayor Vadym Boychenko informs that Russian invaders are confiscating Mariupol residents' passports and forcing them to go to Russia. Many are then sent to far-away Russian cities, what happens to those that are not remains unclear. As of March 24, some 15,000 Mariupol residents were forcibly deported from the port cityl by Russian invading forces. Ukraine's Foreign Minister Dmytro Kuleba called these Russian actions a brazen violation of international law.