Covering the recent visit by Russian President Vladimir Putin to Italy, Russian media misleadingly reported that Italians in Milan enthusiastically supported his visit to a meeting near "EXPO-2015."
On June 10-11, the news was covered by RIA Novosti, Zvezda, CRNews, and REN-TV. They reported that local demonstrators held posters with such slogans in English as "Putin, Save the World," "Hurrah to Putin," and "Russia, Forward!"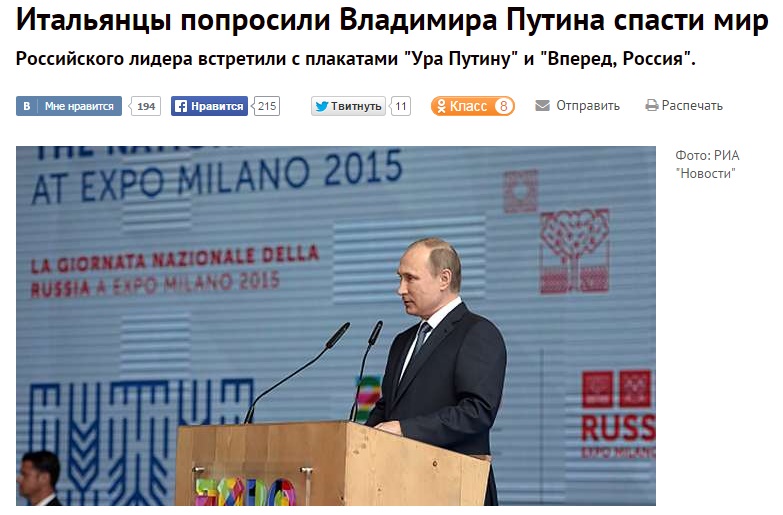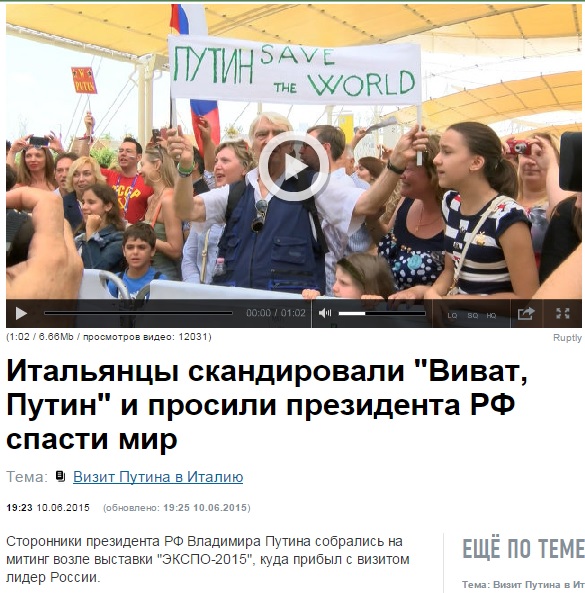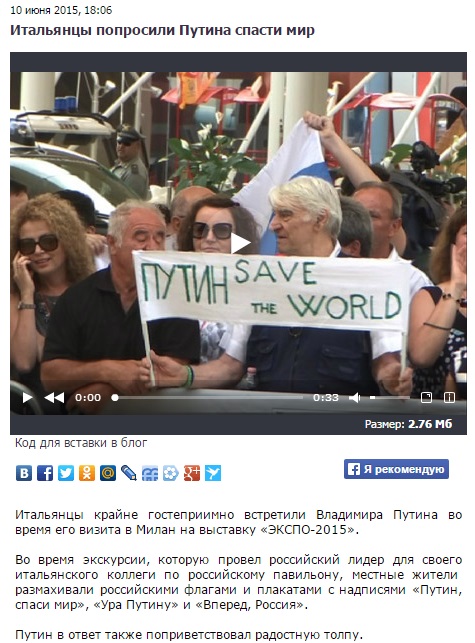 RIA Novosti ran an article under the headline "Italians Chanted 'Viva Putin' and Asked the President of the Russian Federation to Save the World." It also provided a video in which a certain Maria Korti said in Italian that Russia had nothing to do with the fighting on Donbas. Then two more girls with the Russian flag emotionally expressed in Italian their support for Vladimir Putin.
However, many factors indicate that the majority of Putin supporters near "EXPO-2015" were in fact Russians.
First, the site of Italian newspaper Il Giorno published the play-by-play video. Here we can distinctly hear Russian speech without an accent. Additionally, at the 30th second of the video, we can hear the woman, who in the RIA Novosti video holds the Russian flag, addressing Maria Korti and others, saying in Russian: "Let's go, girls [let's start chanting] – Viva Putin."
Second, there is a description of the video used by RIA Novosti on the RT web-site in the section where you can buy rights for the video. There, all three Italian-speaking women are specified as citizens of Russia.
StopFake cannot claim that there were no Italians among the demonstrators. But it seems that the majority of Putin supporters near "EXPO-2015" in Milan were Russians.