On March 14, the Russian channel Lifenews published false information about Ukrainian journalist Nataliya Gumenyuk. Lifenews incorrectly reported that she had written an email suggesting that Ukrainian voting rights be suspended. This email was allegedly discovered by someone who had hacked her email account.
According to the Lifenews journalist, the group "CyberBerkut" hacked Gumenyuk's email account and found that she had written Ukrainian officials and public figures. They claim that, in a letter to Irina Lutsenko, the Member of Parliament of Ukraine, she suggests that the Parliament be dismissed and the limits on electoral rights be set.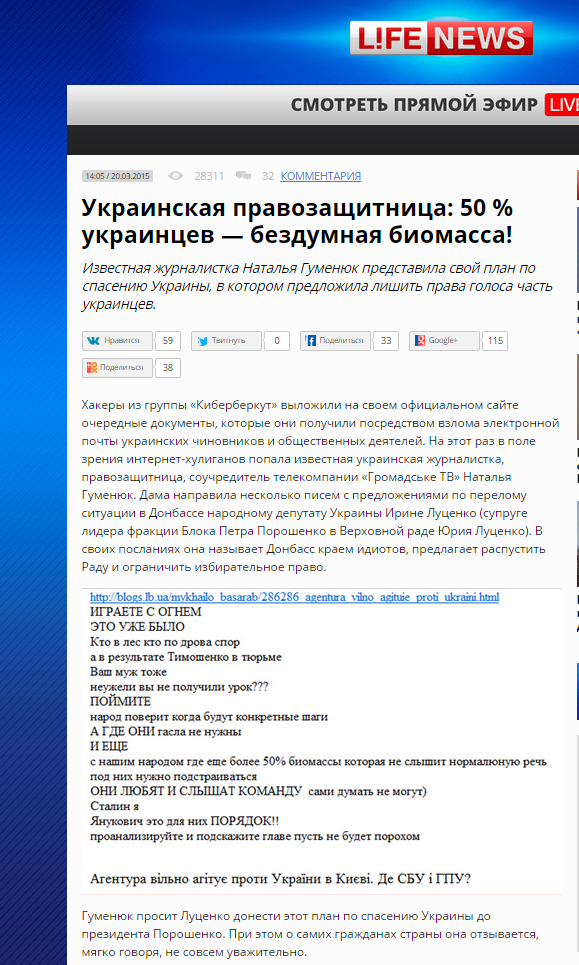 However, Gumenyuk debunked the false reports on her Facebook page. She wrote that her mail had been never hacked. She said that she doesn't know Irina Lutsenko and has never had contact with her. She wrote: "I do not have her email; I have not written a letter to her … This contradicts my public and non-public comments about the citizens of Ukraine since the beginning of the conflict and still now. The main task of the state is to protect the rights of its citizens, regardless of whether they were in the occupied territories or not."
The screenshots provided by Lifenews offer no proof whatsoever that they are from Gumenyuk, or in fact, that they are from an email at all (save for the third shot, which contains the feature line of Gmail). The first two shots apparently are in Word format.