Kherson city authorities have not surrendered to the invading Russian army. Currently street battles with the invaders are continuing in the city.
Facebook and other social media posts are claiming that the southern Ukrainian city Kherson, has capitulated to the invading Russian forces. As proof, the posts feature photographs of Russian military vehicles in front of the Kherson Regional Administration Building. One of the accounts disseminating this information is a Russian Novorossia separatist account.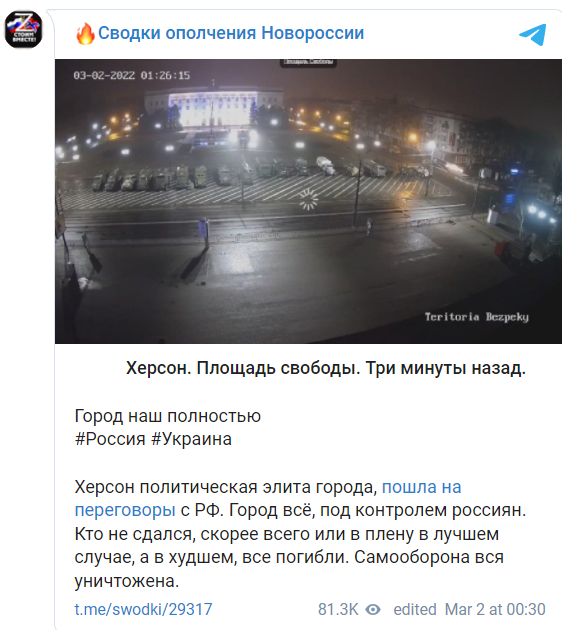 Kherson continues to battle the invading Russian forces in the streets of the city. On the morning of March 2 presidential adviser Oleksiy Arestovych confirmed this live on Radio Liberty. Ukraine's General Staff also confirmed this information.
Russian claims that Kherson authorities "gave" the city to Russian invading troops are not true.
Speaking to Radio Liberty Kherson Mayor Ihor Kolykhayev said that Russian forces had captured the city's train station and port. The city government continues to work in the city hall building, regardless of constant shelling, continuing to provide all possible services under the circumstances. Radio Liberty published this story March 1, at the time when the first fakes about the city's alleged surrender began to be circulated.
On March 2 Mayor Kolykhayev wrote on his Facebook page "We are still Ukraine. We are resisting. But there is lots of smoke".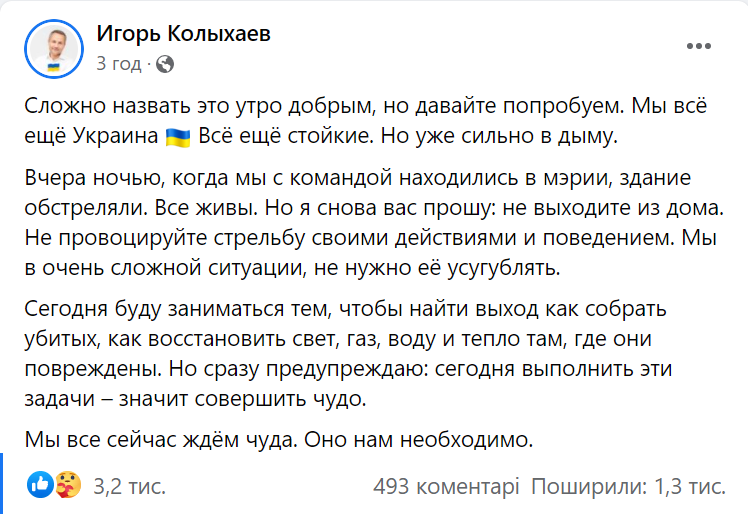 As for the photograph of Russian hardware outside the Kherson administration building, most likely it was staged, with the intent of using it to spread disinformation about the city's alleged surrender. Nowhere in a war situation are military vehicles parked with such precision. Soon thereafter a Telegram post reported that all the vehicles drove off from the central city square. The screenshot below shows that the photographs were taken within one hour of each other.
Earlier StopFake debunked a fake that the mayor of Kharkiv, a northeastern Ukrainian city that is being ruthlessly shelled for several days, was planning to surrender the city to invading Russian troops.