Pro-Kremlin site Ukraina.ru accused U.S. Special Representative for Ukraine Kurt Volker of interfering in Ukraine's internal affairs. The story cites Viktor Medvedchuk, the leader of the Opposition Platform for Life party, who during a television interview said that Volker had exceeded his authority and violated Ukrainian legislation.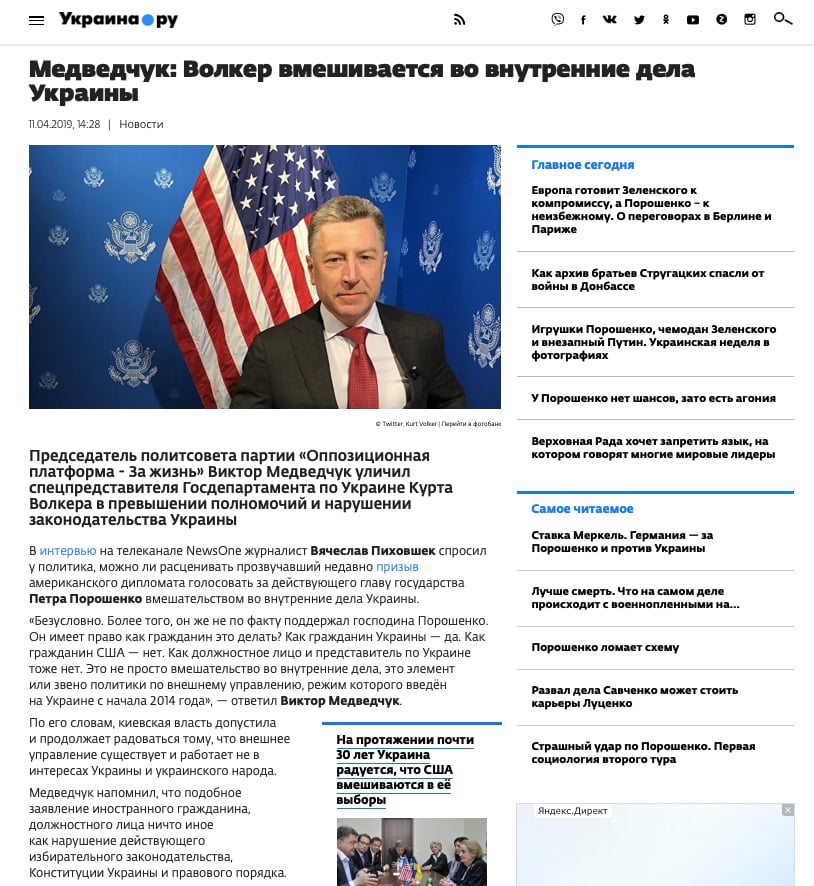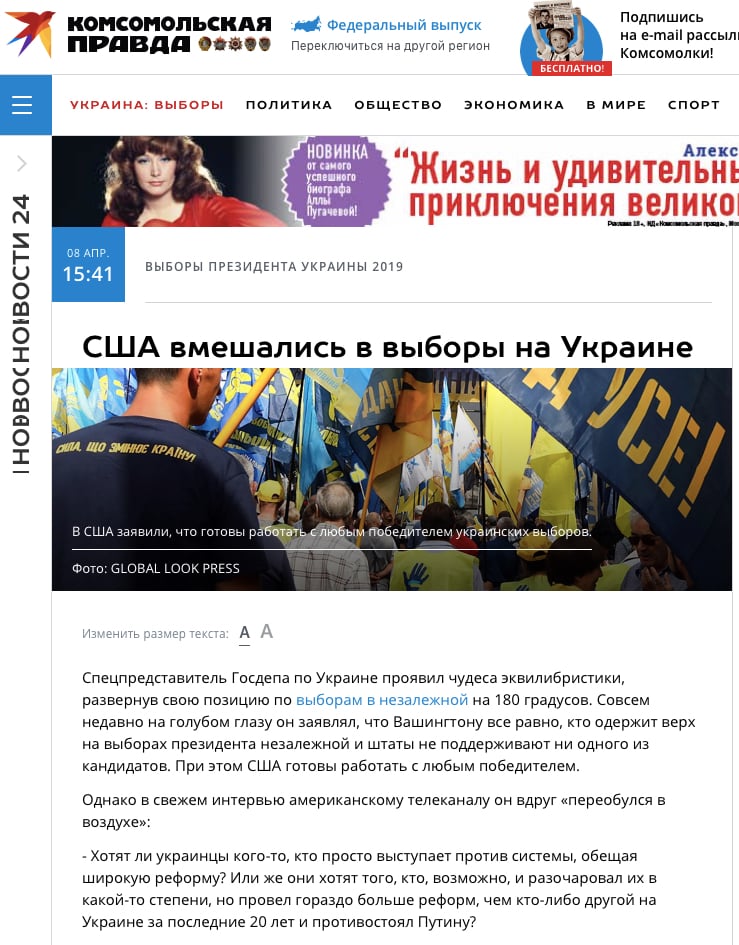 In an April 4 interview with American PBS public broadcaster Kurt Volker was asked if he thought presidential front-runner Volodymyr Zelensky was a person around whom Ukraine could coalesce.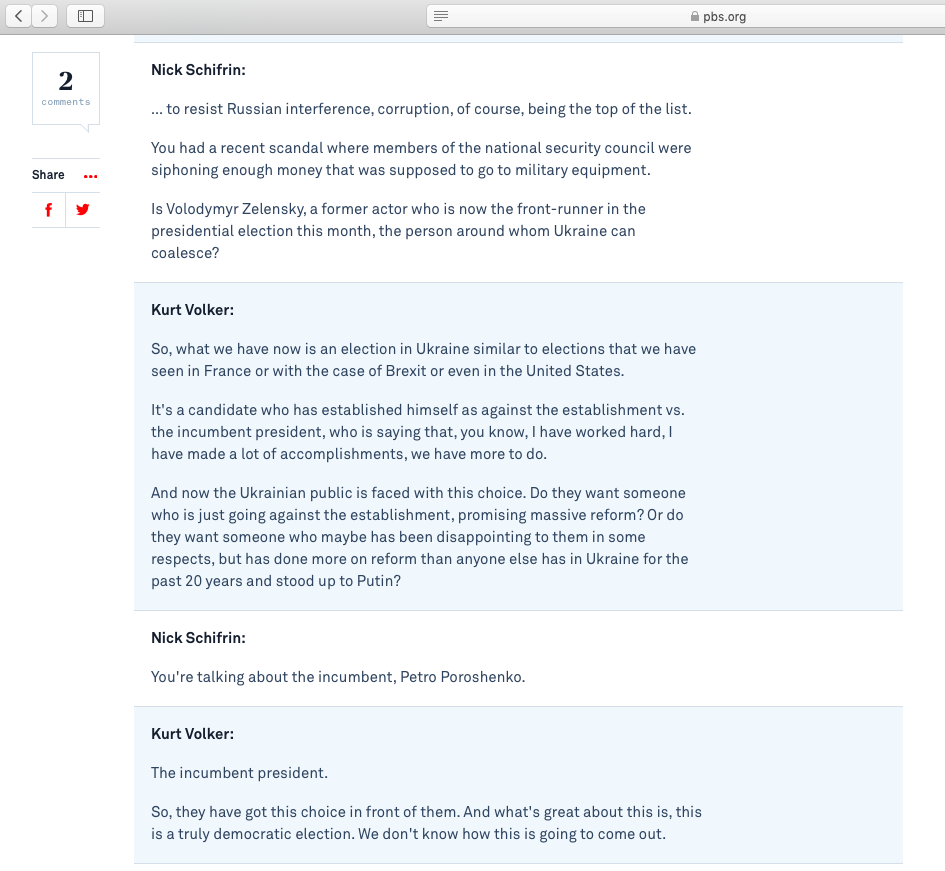 Volker answered that the election in Ukraine is similar to the last elections in France, the UK and even the US. Zelensky has positioned himself as being against the establishment and the Ukrainian public is faced with this choice.
"Do they want someone who is just going against the establishment, promising massive reform? Or do they want someone who maybe has been disappointing to them in some respects, but has done more on reform than anyone else has in Ukraine for the past 20 years and stood up to Putin?" Volker said.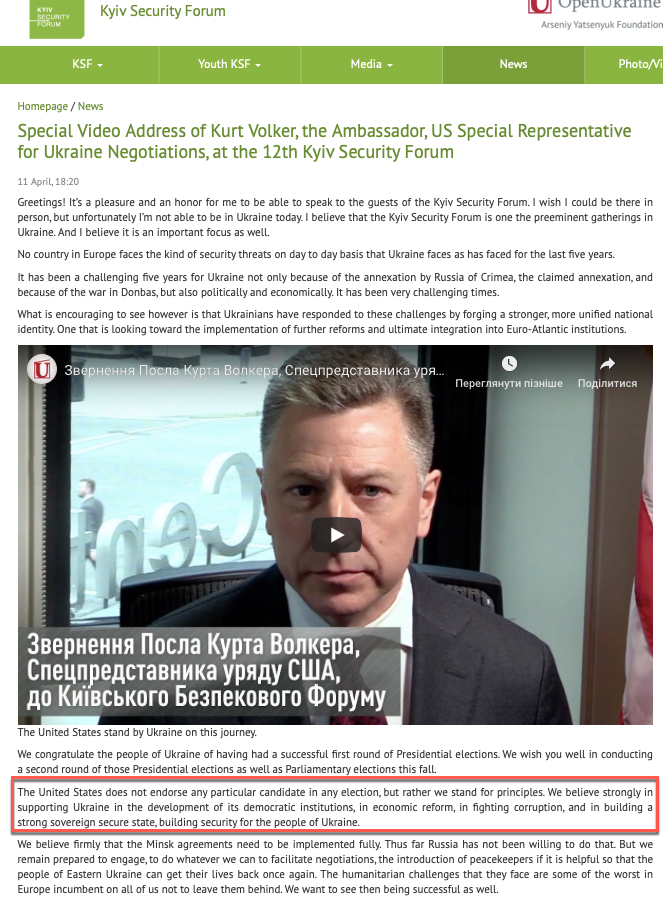 During an interview on the Newsone television channel , Medvedchuk was asked if he thought that Volker's statement that President Poroshenko had enacted more reforms than anyone else in Ukraine over the last 20 years amounted to interfering  in Ukraine's internal affairs. Medvedchuk responded that saying such a thing, Volker in fact supported President Poroshenko. "This is not just interference in Ukraine's internal affairs. This is an element of external government, whose regime was introduced in 2014"Medvedchuk answered.
In his April 11 video message to the participants of the Kyiv Security Forum Volker said the following:
"The United States does not endorse any particular candidate in any election, but rather we stand for principles. We believe strongly in supporting Ukraine in the development of its democratic institutions, in economic reform, in fighting corruption, and in building a strong sovereign secure state, building security for the people of Ukraine."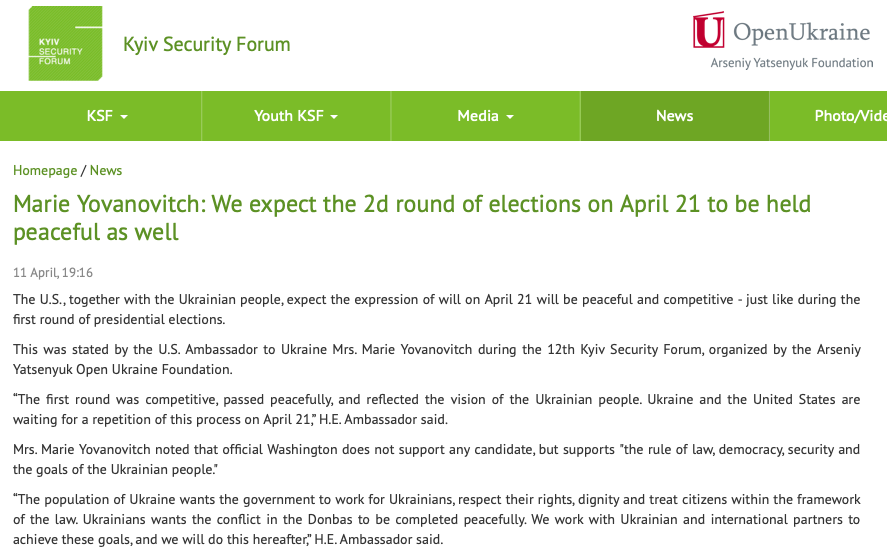 US Ambassador to Ukraine Marie Yovanovitch also noted that Washington does not support any particular candidate, but rather supports "the rule of law, democracy, security and the goals of the Ukrainian people".
"The population of Ukraine wants a government that works for Ukrainians, respects their rights, dignity, and deals with its citizens according to law. Ukrainians want the conflict in the Donbas to be completed peacefully. We work with Ukrainian and international partners to achieve these goals, and we will continue to do so in the future," Ambassador Yovanovitch during the Kyiv Security Forum.