On March 15, several Russian news sources, including the site of the Federal News Agency, wrongly reported that the Kyiv Administration is planning to demolish a monument to World War II Soviet military commander Nikolai Vatutin. According to journalists, a representative of the National Security and Defense Council of Ukraine (NSDC) has already informed Vatutin's granddaughter about it. Furthermore, it was reported, again incorrectly, that the Ukrainian government's press service confirmed that the demolishing of the monument was planned on the eve of the 70th anniversary of the Victory Day.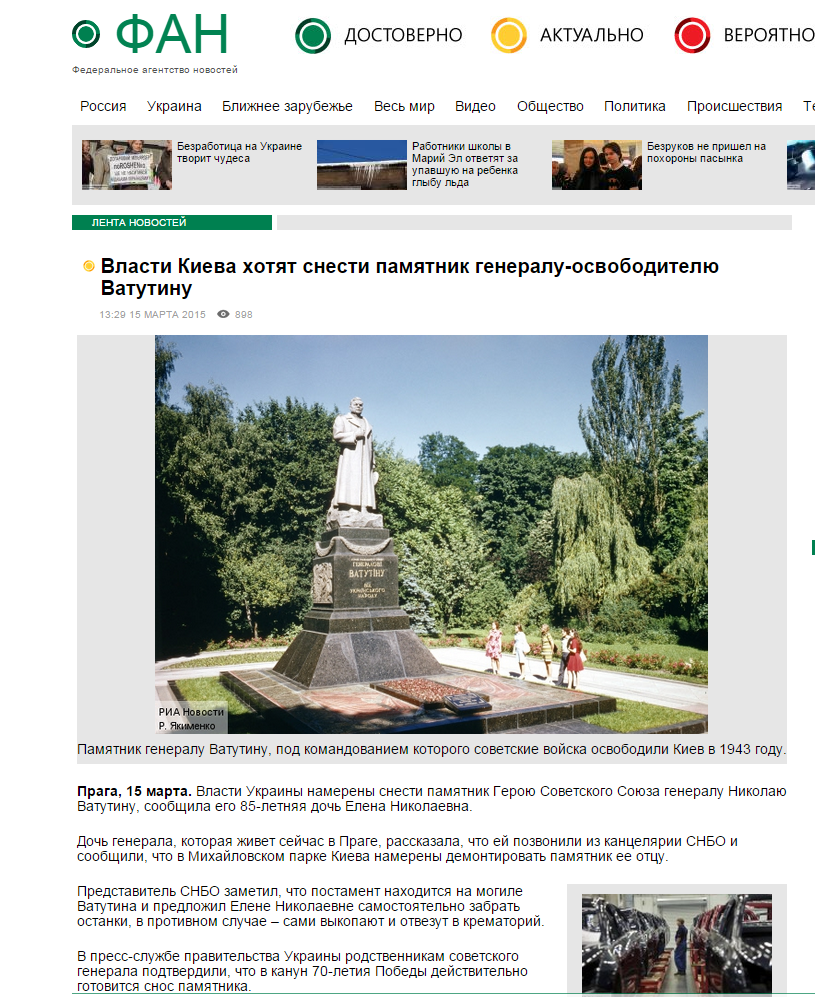 However, according to the former representative of the information and analytical center of the NSDC, Volodymyr Poliovyi, the NSDC has no right to make any such decisions concerning monuments. These stories were also refuted by the press service of the Ukrainian Ministry of Culture, which says it is unaware of any such plans.
We also received a refutation from the Kyiv Administration Office of the Cultural Heritage Preservation, which also says it has no information about the alleged plans for demolition. Any such plans would have to be known to the city administration.
In truth, on September 3, 2009, the Vatutin's grave and monument were entered by the Ukrainian government into the National Register of the Immovable Monuments of Ukraine. It was listed as an historical monument of national importance. According to the Ukrainian law "On Cultural Heritage Preservation," items on the register cannot be demolished, removed, replaced, or otherwise changed.