On January 30, the Russian television channel LifeNews incorrectly reported that Kyiv was responsible for breaking down the next round of the Minsk talks regarding Donbas. LifeNews stated, "The parties agreed to meet on January 30, but the meeting did not take place. Kyiv officially announced that it would not take part in today's round of the talks."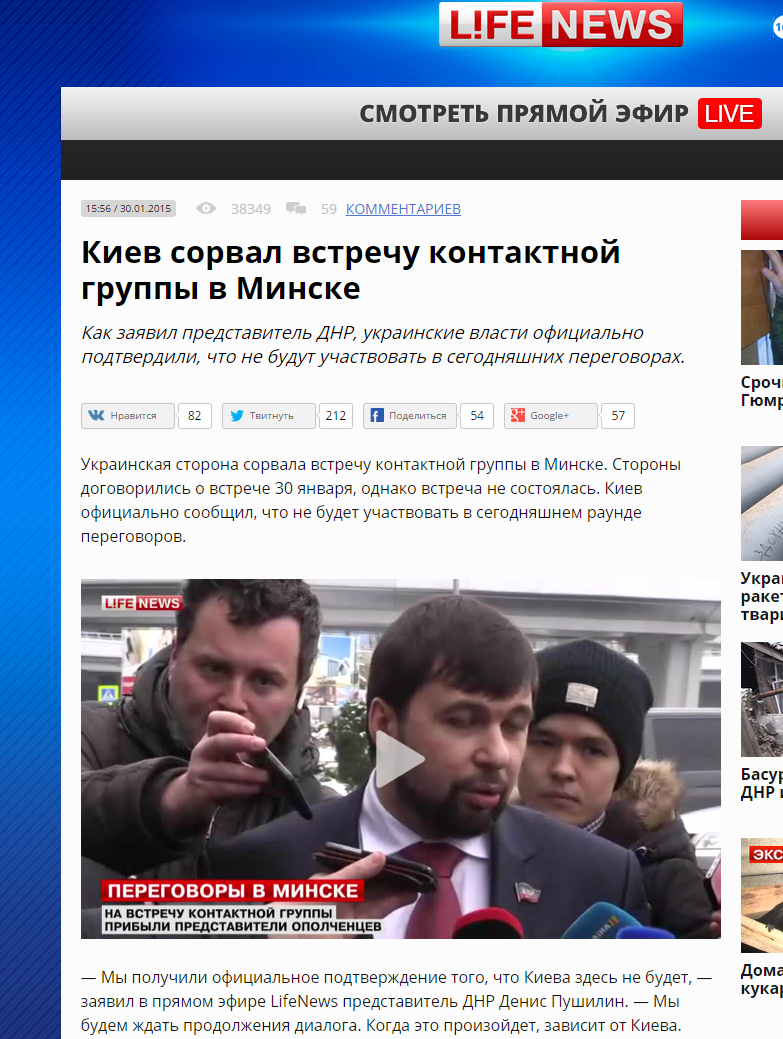 However, the OSCE site offers a completely different account. Experts from the monitoring mission reported that representatives of the so-called Donentsk and Luhansk People's Republics were responsible for the breakdown in negotiations in Minsk.
According to the OSCE report: "The participants in the Trilateral Contact Group came to Minsk for consultations with the representatives of certain areas of the Donetsk and Luhansk regions.  The TCG had prepared a detailed plan for the concrete implementation of the Minsk Protocol and Memorandum, which continue to be the indispensable basis for any peaceful settlement.
Unfortunately, the signatories of these documents from Donetsk and Luhansk did not participate, although they had been personally invited by the Trilateral Contract Group.  Their representatives who were present were not in a position to discuss the proposal put forward by the TCG.  In fact, they were not even prepared to discuss implementation of a ceasefire and withdrawal of heavy weapons.  Instead, they called for revision of the  Protocol and Memorandum. The meeting was adjourned.
The TCG remains open to continuing consultations at any time. In view of the seriously deteriorating situation and growing numbers of casualties, the TCG calls on all actors involved to engage responsibly in the comprehensive implementation of the Minsk documents with no further delays."