Several Russian mass media bizarrely reported that Kyiv has become deserted as its residents are leaving the city. This was announced at a press conference by the political expert Yanina Sokolovska. "You can notice that there are a lot fewer people in subways, a lot fewer cars on the roads of Kyiv," she said. "Many Ukrainians left our blessed Motherland."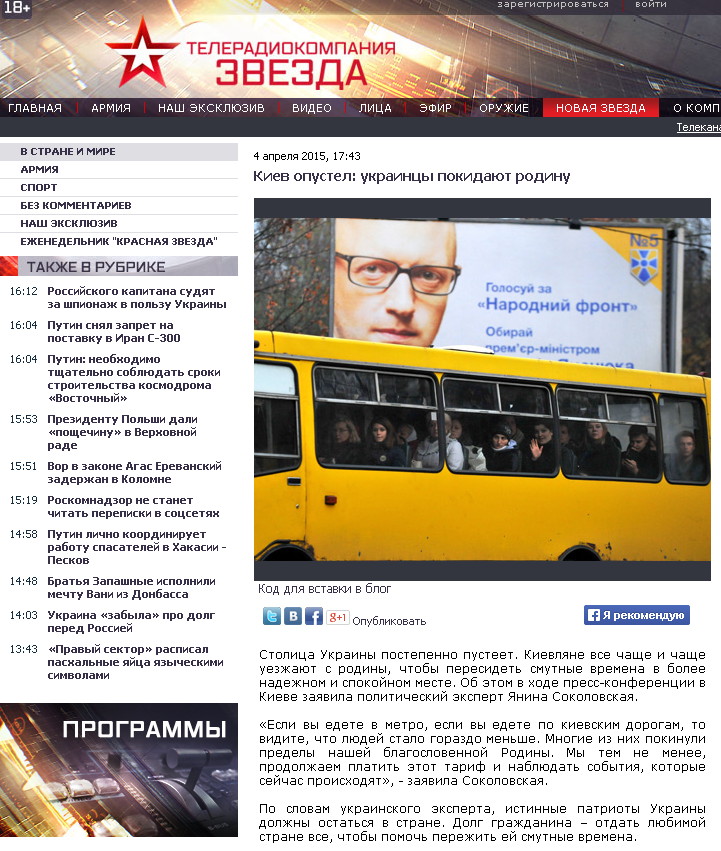 This press conference was held in the press center of RIA Novosti Ukraine, a Ukrainian branch of the Russian state news agency. Sokolovska is often invited to participate in RIA Novosti press conferences as a political expert.
Her comments about deserted Kyiv and people leaving the country are not correct. According to the State Statistics Service of Ukraine, in 2014, 520,000 people emigrated from the country and 542,000 have immigrated to it – a positive migration balance. In Kyiv the situation is similar (a growth of 14,500 people in 2014). There was positive migration balance in the beginning of 2015 as well.
Sokolovska is correct that traffic on Kyiv streets has decreased. According to the research of the service Yandex.Traffic, the amount of traffic jams during morning rush hours decreased by 5 percent and during evening rush hours by 7 percent in 2014. But the research is also clear that the cause has nothing to do with people leaving the city: "The fact that there are fewer cars on the roads of Kyiv most certainly is connected with the increase in petrol prices and difficult economic situation in the country."