Ukrainian soldiers are in Germany for training. All of them were tested negative for coronavirus before departure.
Donbass Today, the official publication of the self-proclaimed Donetsk and Luhansk People's Republics (DPR, LPR) and the Russian internet company Yandex featured stories this week claiming a group of Ukrainian soldiers were sent to participate in international exercises in Germany without being tested for Covid-19 prior to their departure. The source cited is the LPR People's Militia.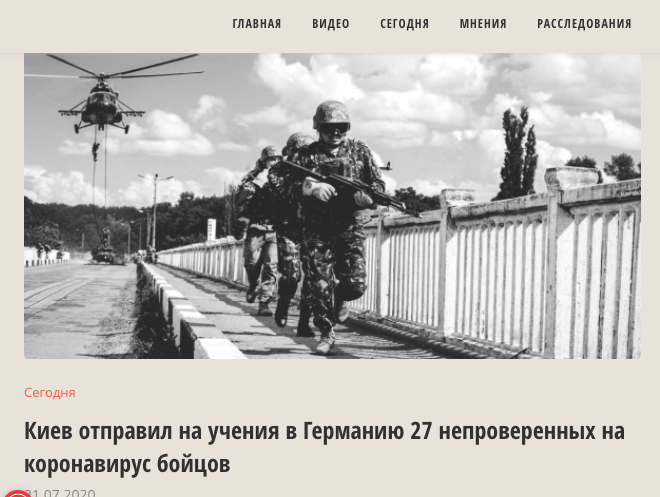 Donbass today and Yandex both claim that due to urgency, the Ukrainian soldiers sent off to Germany were not tested for coronavirus and were not isolated for a two week quarantine period. The publications note that two Ukrainian military personnel were confirmed to be infected with Covid-19.
Valentyn Shevchenko, the press officer of Ukraine's airborne forces told StopFake that soldiers from the 80th brigade currently in Germany for military exercises passed all required medical examinations and they all tested negative for the coronavirus.
"The servicemen are taking part in the Saber Junction international exercise taking place in Gosenfeld Germany. These training exercises take place very year. Our soldiers were tested several times for the coronavirus, both in Ukraine and in Germany" Shevchenko pointed out.
Donbass today also claims that the commander of another brigade is not accepting negative coronavirus test results from soldiers who are returning from furloughs and holidays, and is forcing them to undergo additional testing in the brigade medical unit and charging them 1,000 hryvnia (some $40.00) per test.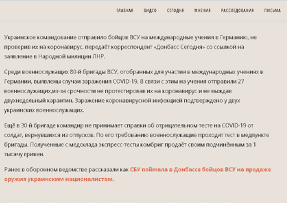 StopFake reached out to the brigade in question regarding these allegations. We were told that all soldiers who are returning from holiday, business strips or military exercises abroad are kept under strict medical supervision for 14 days. If there is suspicion of coronavirus, the soldiers are tested at available city medical facilities. The soldiers are not charged for the tests.