Russia occupied Ukraine's Crimea peninsula at the end of February 2014 after moving scores of Russian troops without identifying chevrons onto the peninsula. After the annexation Ukraine cut off water supplies from the mainland via the North Crimean Canal. Ukraine has unequivocally stated many times that water supplies to Crimea can be resumed only after the complete de-occupation of the peninsula.
A number of pro-Kremlin publications featured stories at the end of January quoting government officials from Russian annexed Crimea who claim that Ukraine is pursuing a barbaric policy towards Crimea, wants to "harm and destroy the Crimean people for their democratic choice", and disrupt the construction of desalination plants on the peninsula.
Among the publications who disseminated stories about Ukraine's alleged barbaric policies were RIA Novosti, Vzglyad, Lenta.ru,  Ekonomika segodnya, NewsFront, News 24 and others.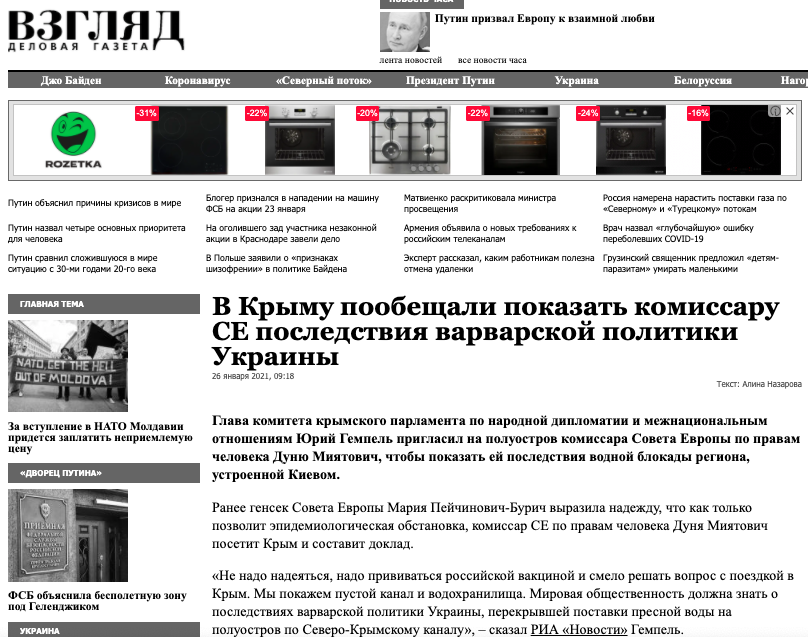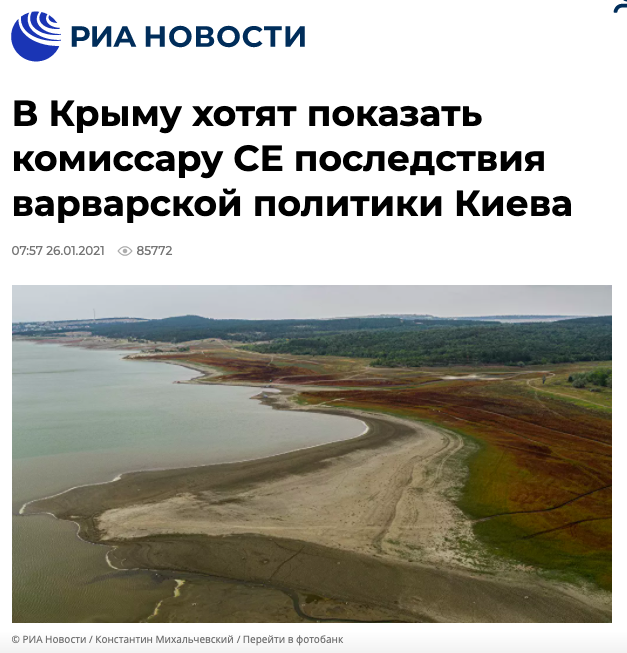 The world community should know the results of Kyiv's barbaric policies in completely cutting off water supplies to the peninsula" declared Yuriy Gempel, the head of the Crimean parliament's foreign relations committee.
"Ukrainian authorities want to harm and even destroy Crimeans because of their democratic choice, when they decided that their road lay not with Ukraine, but with Russia," Gempel said.
The publications also accuse Ukraine of attempting to stop the construction of desalination plants on the peninsula.
The international community does not recognize the occupation and annexation of Crimea by Russia and has imposed a number of sanctions against Russia and persons involved in the establishment of the occupation regime that have been in place since 2014.
Ukraine provided 85% of Crimea's water through the North Crimean canal which connects the main channel of the river Dnipro, Ukraine's main river, with the peninsula.
The Russians are creating information noise, they are trying to blame everyone else when in reality they only have themselves to blame. It is Russia that has brought Crimea to this state and created its water problems" said Ukraine's Foreign Minister Dmytro Kuleba.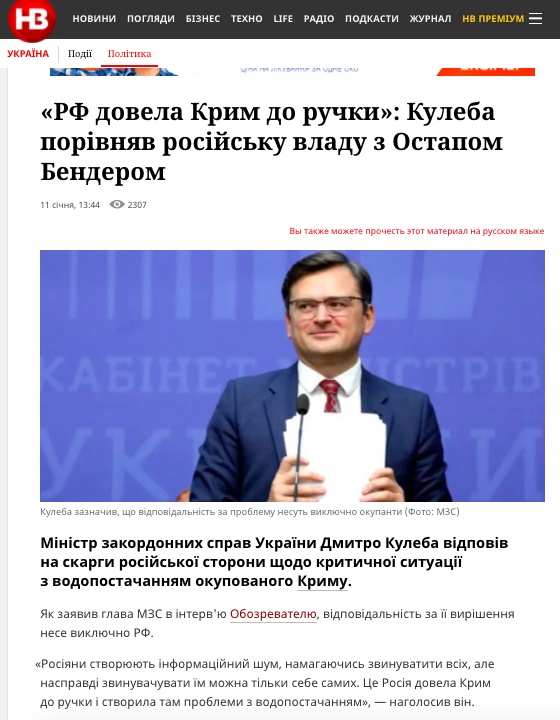 Russia's complaints to international organizations about this will lead to nothing, Kuleba added. "Ukraine is not responsible for Crimea's water problems. Russian attempts to turn this into a Ukrainian problem, accusing us of 'genocide', complaining to the UN, are absolutely useless," he said.
Ukraine's Deputy Prime Minister Oleksiy Reznikov seconds what the Foreign Minister said.
Speaking to Radio Liberty Reznikov reiterated that Crimea would get water only after it is no longer occupied by Russia. "Crimea has enough water supplies for its civilian population, we conducted many studies and checks on this issue. Besides, international humanitarian law specifies that al humanitarian problems o occupied territories are the responsibility of the occupant" Reznikov said.