Russian media featured several stories this month claiming that representatives of the self-proclaimed Donetsk and Luhansk People's Republics, the Russian supported separatist enclaves in eastern Ukraine allegedly spoke at a meeting of the UN Security Council. Half the world heard their "independent voice", the fake story goes, whereas Ukraine continues not wanting to hear the real voices of Donbas and completely neglected the Security Council meeting.
RIA Novosti, Ukraina.ru, NewsFront, Politnavigator, Baltnews, Vzglyad, Izvestia, TVC , as well as media sites run by the separatist entities all featured versions of this fake narrative.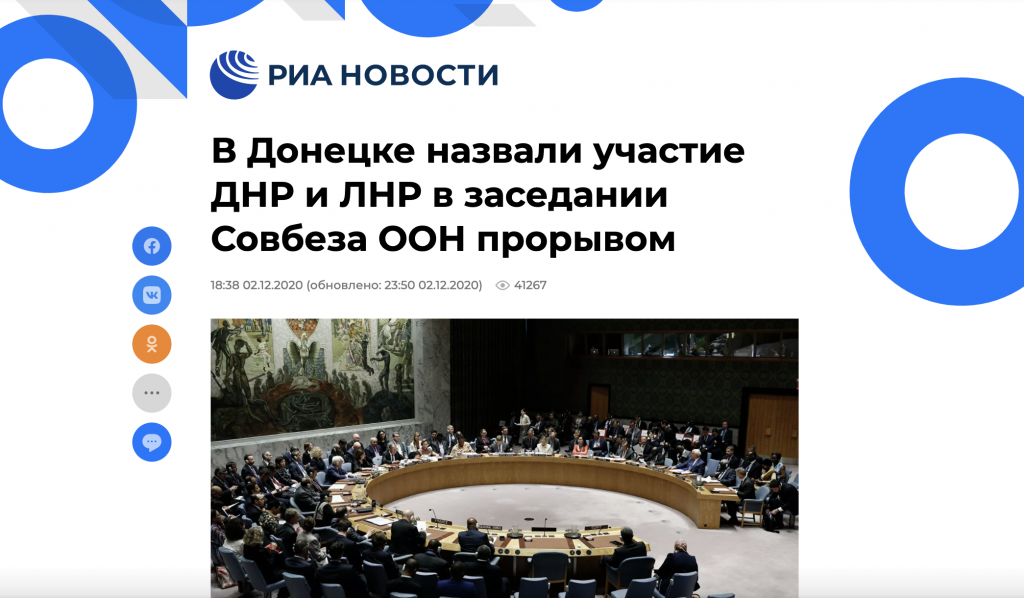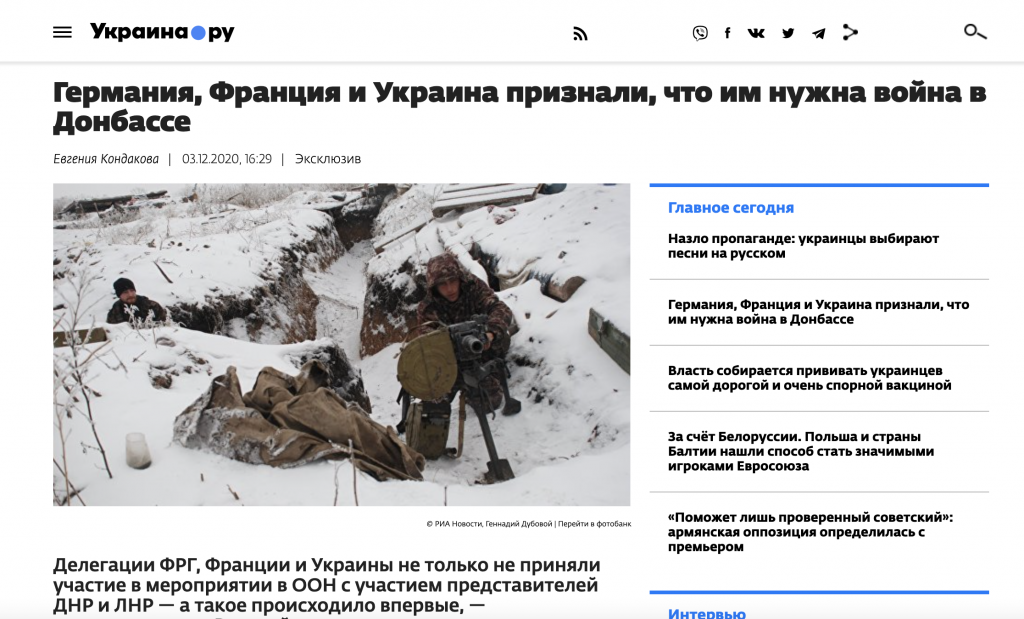 On December 2 Russia did initiate a meeting about the Ukrainian occupied Donetsk and Luhansk territories.  However, the meeting was a virtual event and had no political significance or weight. The video conference was held within the framework of the Arria formula of informal consultations that are non-binding and have no legal status. Arria formula meetings are held in a conference room and not in the Security Council chambers and those invited are not obliged to attend. Minutes are not kept at these meetings, no reports are drawn up, and most importantly, no decisions are made. Also, video and photo recordings are not published on the official UN website, as well as on other official platforms or in documents.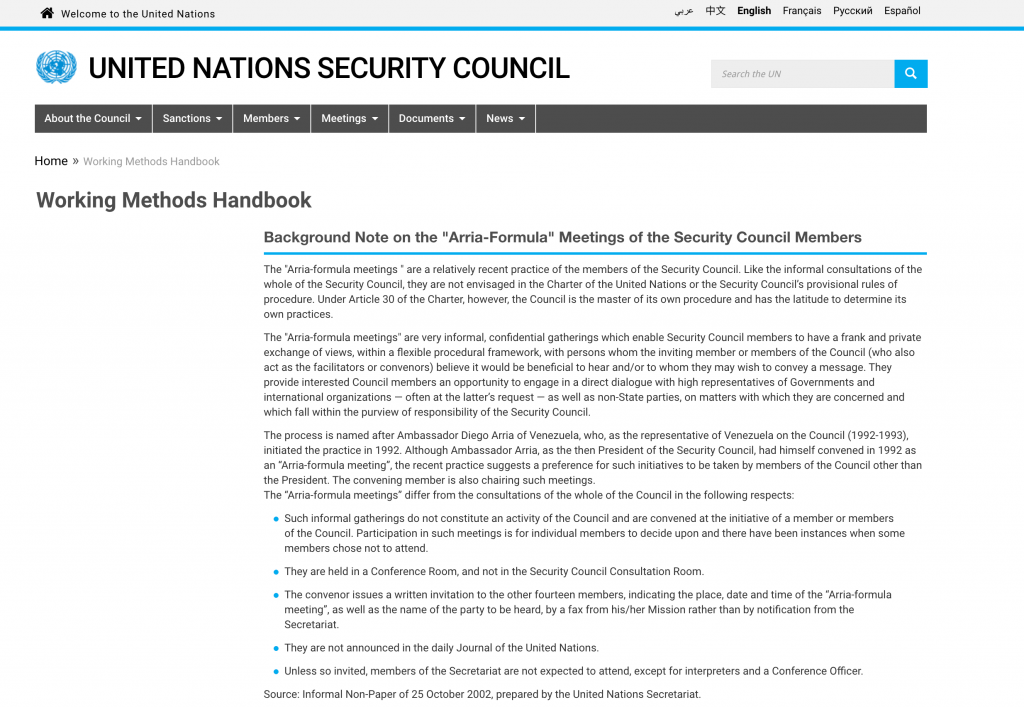 Representatives of the separatist republics, who are under EU and US sanctions, were able to appear during the Russian sponsored meeting because the event was online. Ukraine refused to participate in the meeting, stressing that it was yet another Russian attempt to legitimize the militants by taking advantage of the online format dictated by the COVID pandemic. Ukraine's Ministry of Foreign Affairs called the event a Kremlin PR-action designed to manipulate international platforms to disseminate propaganda.
The US, Great Britain, Estonia, France, Germany and Belgium also refused to take part in the Russian meeting, the main OSCE participating states that are members of the UN Security Council. A joint statement issued by the United States, the UK and Estonia emphasized that they do not support the Kremlin's attempts to legalize the occupation of Ukrainian territories.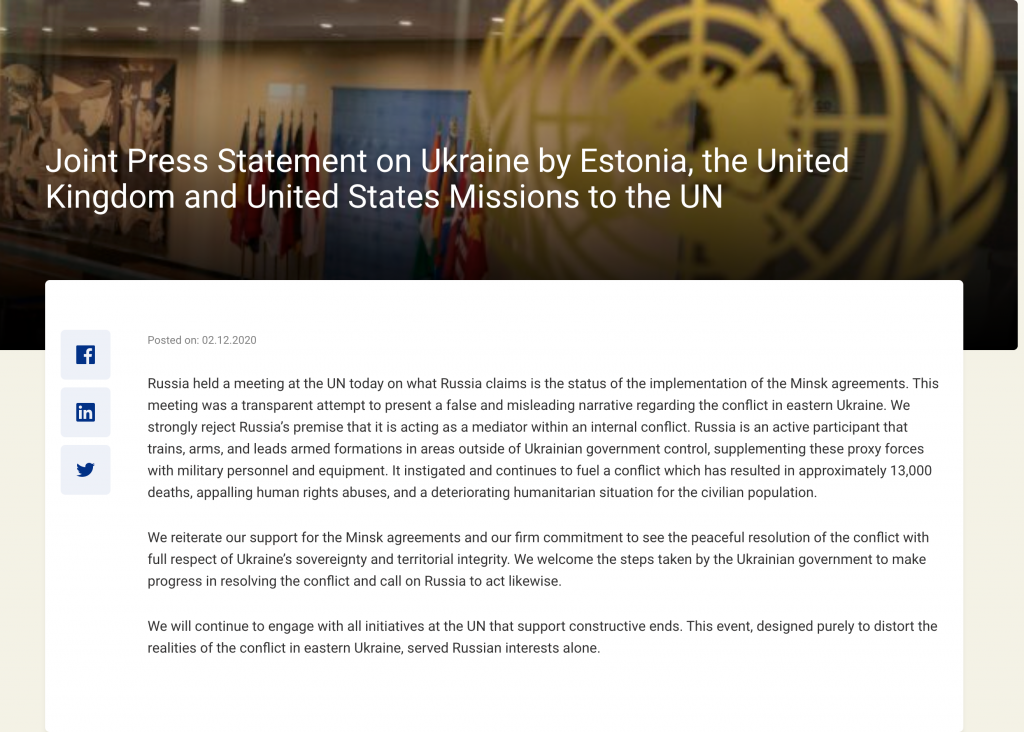 "This meeting was a transparent attempt to present a false and misleading narrative regarding the conflict in eastern Ukraine. We strongly reject Russia's premise that it is acting as a mediator within an internal conflict. Russia is an active participant that trains, arms, and leads armed formations in areas outside of Ukrainian government control, supplementing these proxy forces with military personnel and equipment. It instigated and continues to fuel a conflict which has resulted in approximately 13,000 deaths, appalling human rights abuses, and a deteriorating humanitarian situation for the civilian population" the joint statement reads.
Contrary to Russian media claims, the event was not attended by dozens of states. Representatives of only three countries – Belarus, Indonesia and China – spoke during the virtual meeting. The Belarusian representative reiterated his country's commitment to a peaceful settlement of the conflict in Ukraine. Indonesia and China refused to accept the Kremlin's version of events in eastern Ukraine and once again expressed support for Ukraine's sovereignty and territorial integrity (see video 01:29:22-01:32:31).