The primary source of the claim that Lithuania dismantled the Kaliningrad railway is the Panorama satirical, fictional news site. The publication does alert its readers that all texts on the site are satire and not real news.
Ukrainian and Russian media, as well as social media users are disseminating claims that the railway running through Lithuania that connects Russia and Belarus with Kaliningrad, was dismantled in Lithuania. This gesture demonstrates that Lithuania has decided to continue the blockade of the Kaliningrad enclave, and is not giving in to Europe's attempts to change its mind, the say.
The stories also claim that refugees from Ukraine will supposedly help with the dismantling of the railroad, because, in the words of Lithuanian Transport Minister Mindaugas Mandzeiko, "the dismantling has to be done cheaply, Ukrainian refugees need work and are very motivated in this matter."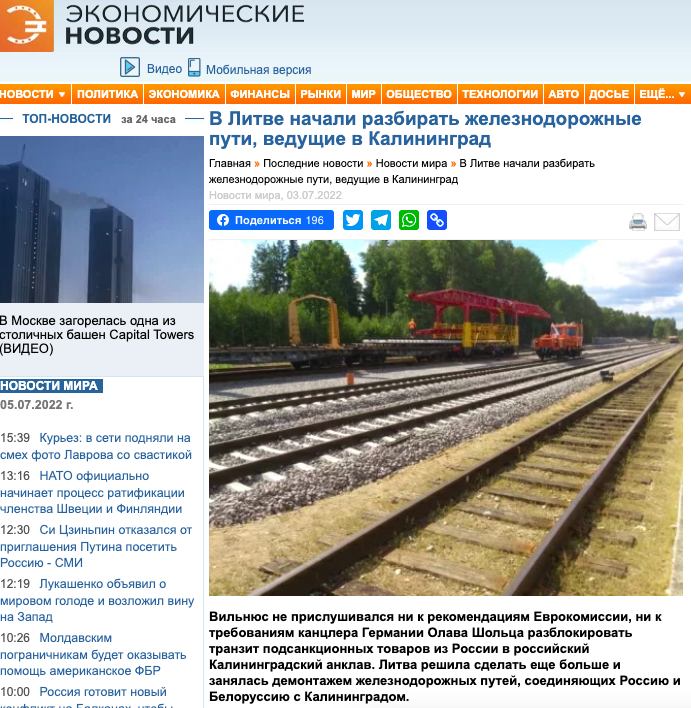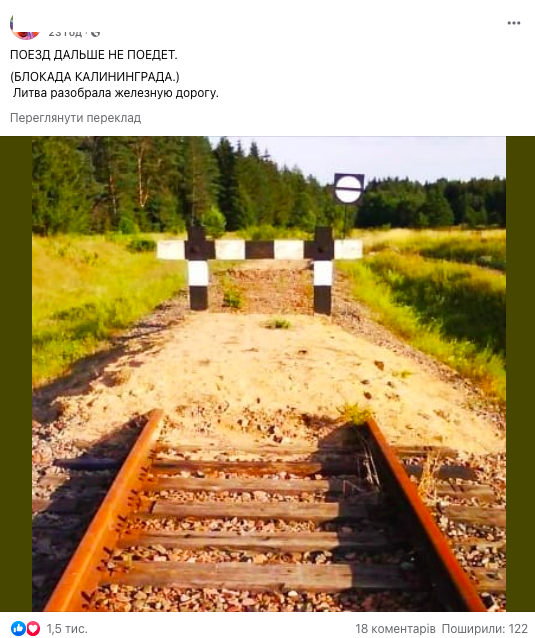 The satirical website Panorama helped to unleash this fake story, having published, what it does best, a satirical story, claiming Lithuanians began dismantling the railway connection to Kaliningrad. 
Panorama features a disclaimer in its section describing the publication: "All texts on this site are grotesque parodies of reality and are not real news." Despite the fact that Panorama's banner bears the explainer "satirical publication," some Russian media and social media users choose to take these publications literally and disseminate them further.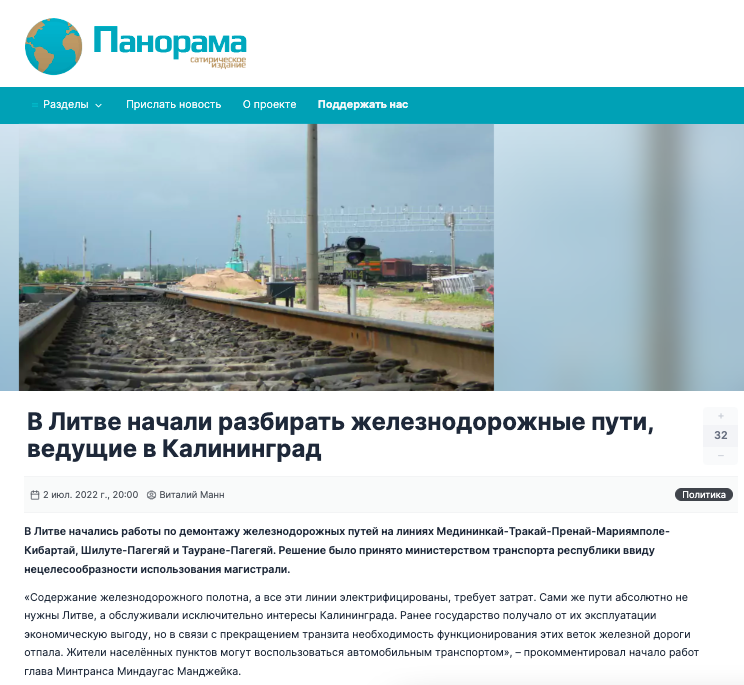 Transit for most goods to the Kaliningrad enclave, which borders EU members Lithuania and Poland, largely depends on railways and roads passing through Lithuania. Due to sanctions imposed by Brussels, Lithuania restricted transit of sanctioned Russian goods to Kaliningrad as of June 17.
According to Lithuania's Customs Department, the ban on transporting cement, alcohol and other products comes into force on July 10, on coal and other fossil fuels on August 10 and on Russian oil on December 5. The bans however have nothing to do with any railroad tracks or railways. 
Land transit between Kaliningrad and other regions has not been stopped or blocked. Passengers and cargo that is not under EU sanctions is continuing and Lithuania has not imposed any unilateral or additional restrictions on transit to the Russian enclave.
Located between Lithuania and Poland, the Baltic Sea enclave of Kaliningrad, formerly the German territory of Konigsberg, became part of the Soviet Union after World War II. The region hosts Russia's Baltic Sea Fleet and has a population of some 430,000 people.