In a comment to StopFake, the lyceum denied the information circulating online. Besides, the cited announcement has not been posted on the school's official website.
Social media users are sharing a screenshot allegedly taken from the website of Lyceum No. 4 in Ivano-Frankivsk. It seems to announce that the school is launching their clubs, and has created a new one, a club of LGBT education for children aged 8 and older.
"Classes are held for a fee, in small groups. Grades are entered in a special diary of tolerance, which after graduation will leave warm memories and help in getting a job in European companies," the website says.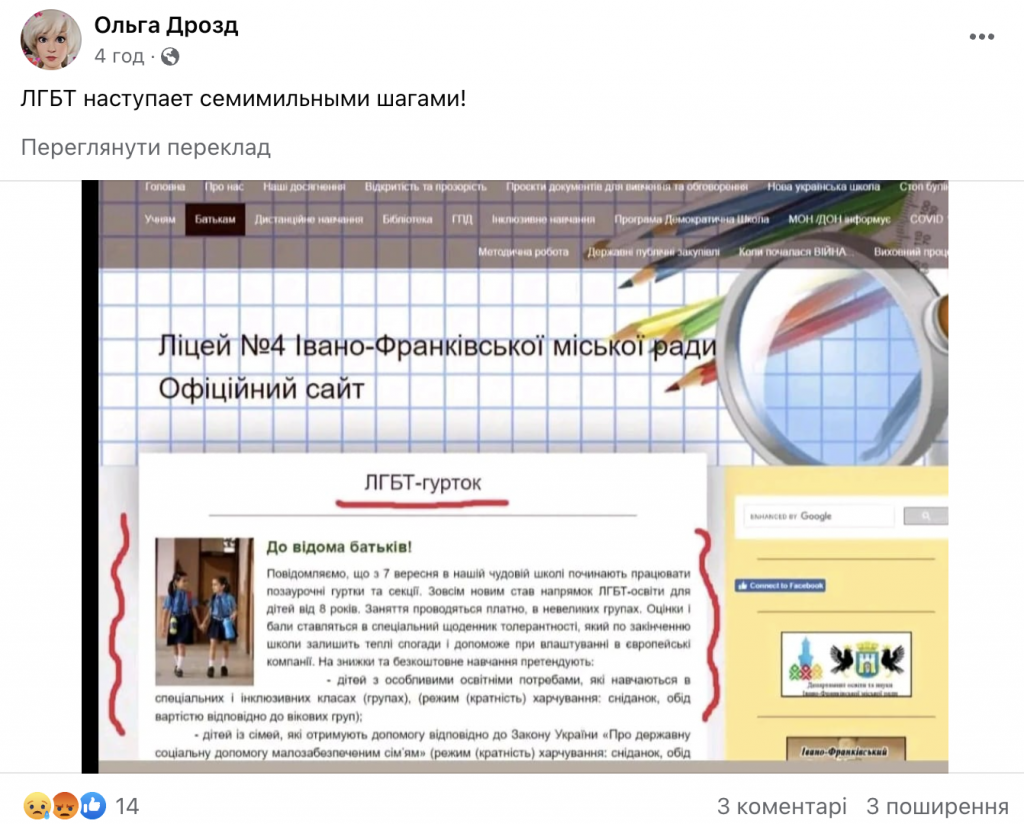 StopFake has reached out to the lyceum on whose behalf the ad was allegedly distributed for comment. They confirmed this information to be fake. The cited announcement has also not been posted on the school's official website.
The latest announcements in the For parents section on the school's website relate to catering. Information about clubs is in the Educational process section, and there is no info about a new LGBT club there.
Earlier, the news spread in the media that the Ukrainian Education and Science Minister Oksen Lisovyi allegedly signed a memorandum with the international fund The Arcus Foundation, which is engaged in the struggle for social justice and LGBT rights. The alleged memorandum is about the introduction of gender-sensitive learning methods into the educational process with the aim of creating a "gender-sensitive learning space without gender stereotypes and discrimination." Later, the ministry denied both the aforementioned information and the very existence of such a memorandum.
Currently, there is no sex education in Ukrainian schools. But some subjects, such as biology and fundamentals of health, include topics related to reproductive health, sex, and relationships. In March 2023, Ukrainians supported a petition on the president's website about the need to introduce mandatory sex education into the Ukrainian education system.