Russian media gleefully announced that thousands of fans were returning Champions League football tickets because of Kyiv accommodation price hikes. Champions League finals to take place in Kyiv without European fans declared Ukraina.ru, SportExpress announced that high prices scared off 2,200 Madrid fans while NTV claimed that Liverpool and Madrid fans were not coming to Kyiv because of the outrageous prices in the Ukrainian capital. The stadium will not be filled to capacity for the Champions League final, others predicted.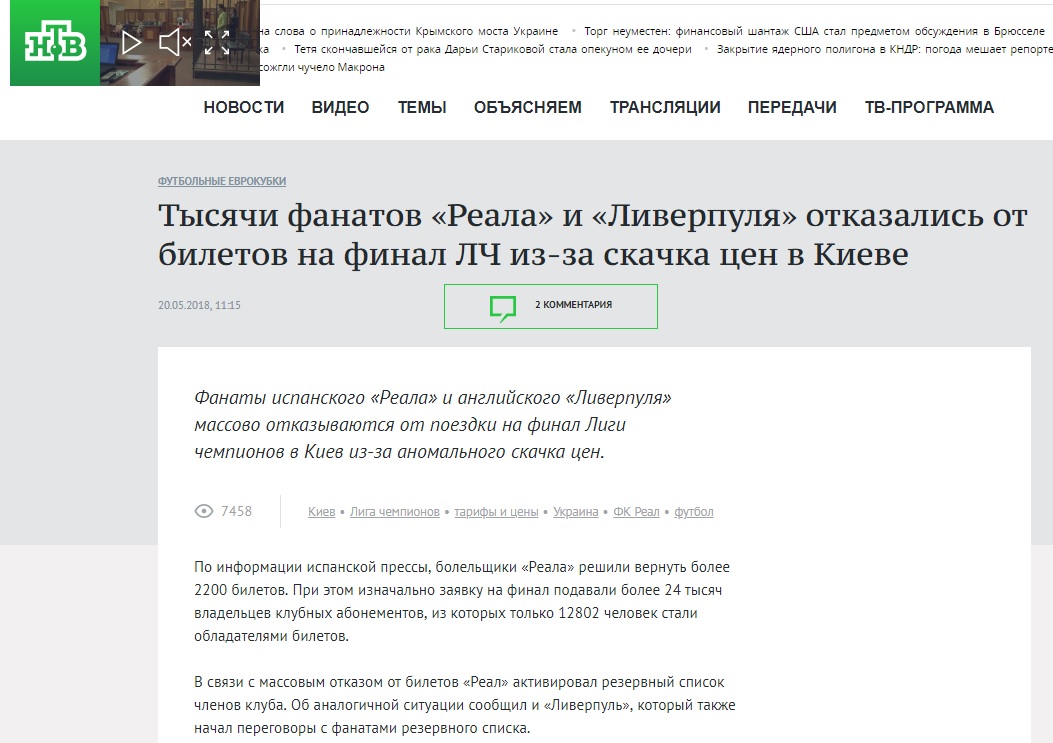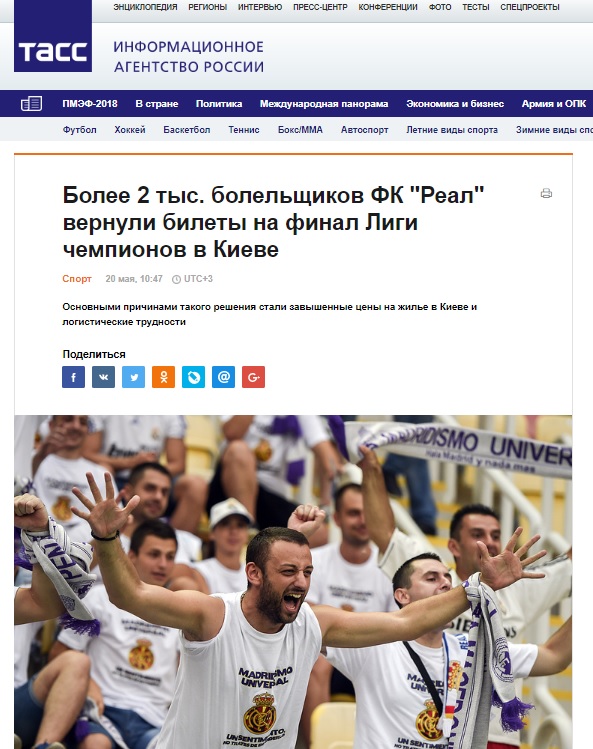 Sadly, scores of Ukrainian media followed suit, with sites such as Obozrevatel, Sport.ua, Strana, Hromadske, Channel 24, NewsOne, Fakty and TSN blindly cutting and pasting the fake without bothering to check the facts.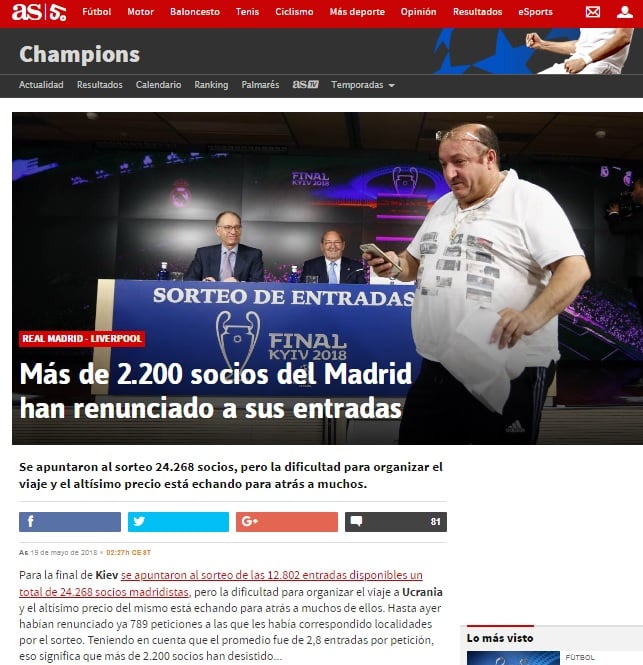 The fake began on the Spanish sports site As.com with a story about ticket availability for Madrid Real fans. 24,268 fans had signed up for 12,802 available tickets for the Real – Liverpool match to be played in Kyiv on May 26. 789 fans had cancelled their ticket applications for various logistical reasons. As.com then resorts to arithmetic, as on average there were 2.8 entries per available ticket, 789 cancellations means that 2,200 fans gave up their chances of getting a ticket….
The 2,200 fans who gave up their tickets ostensibly because of high Kyiv hotel prices actually never had those tickets to begin with.
During a recent Kyiv Champions League preparation briefing Andriy Miroshnychenko, a Kyiv City Administration official responsible for the Kyiv final, dismissed the claims that fans were returning their tickets as ridiculous. Both Liverpool and Real Madrid view these claims as laughable, he said. While Miroshnychenko admitted that Kyiv is not near Madrid and Liverpool, but dedicated football fans always overcome distances to see their beloved teams in finals, he pointed out.
Ukraine's Border Service announced that it expects some 30,000 fans from England and Spain to arrive in Kyiv for the Champions League final.
In an interview with Ukraine's Interfax news agency Ukraine's National Police director Andriy Kryshchenko said that the Olimpyiskyi football stadium where the final will take place was sold out. That's more than 60,000 seats. Kryshchenko predicts that some 10-15,000 additional fans would travel to Kyiv without tickets just to participate in the festive football atmosphere.
Hotel prices have not risen any more than for other large scale events held in the Ukrainian capital, says Champions League accommodations manager Andriy Stavenko, the problem is that only 2% of hotel rooms of all categories remain vacant during the weekend of the game.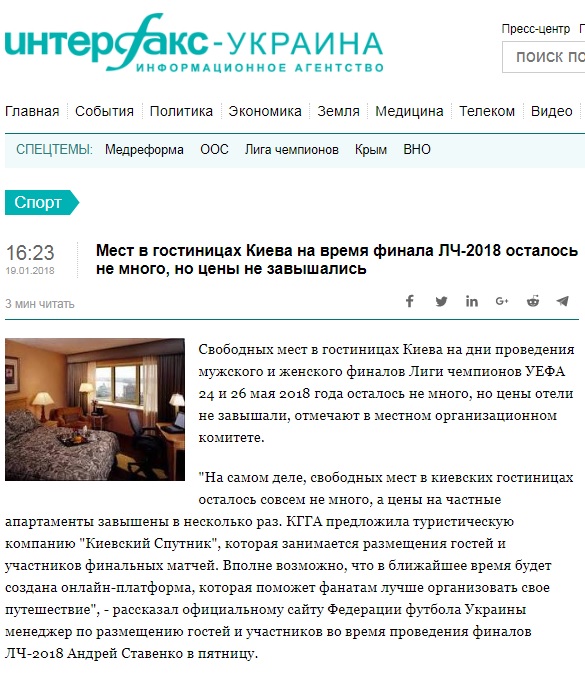 As a gesture of hospitality intended to promote a welcoming image of Ukraine and in response to supply and demand economics, Kyiv residents have launched a free couch for football fans campaign through social media, with ministers and members of parliament offering to put up football fans.