Since March 27, some Russian and Ukrainian media have falsely reported that Maidan activist Olga Znachkova is now looking for work in Russia. As proof, they post an online questionnaire by which she allegedly states her readiness to move. Znachkova herself has told StopFake that the information and the profile are all bogus.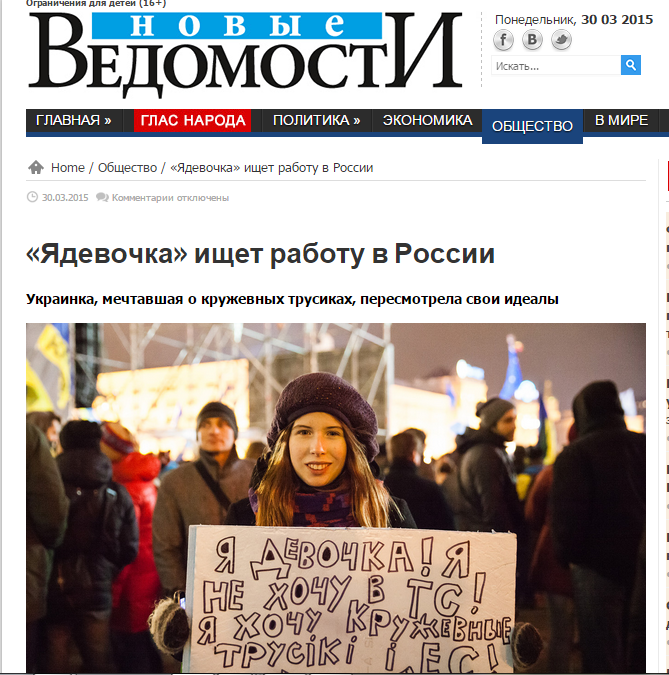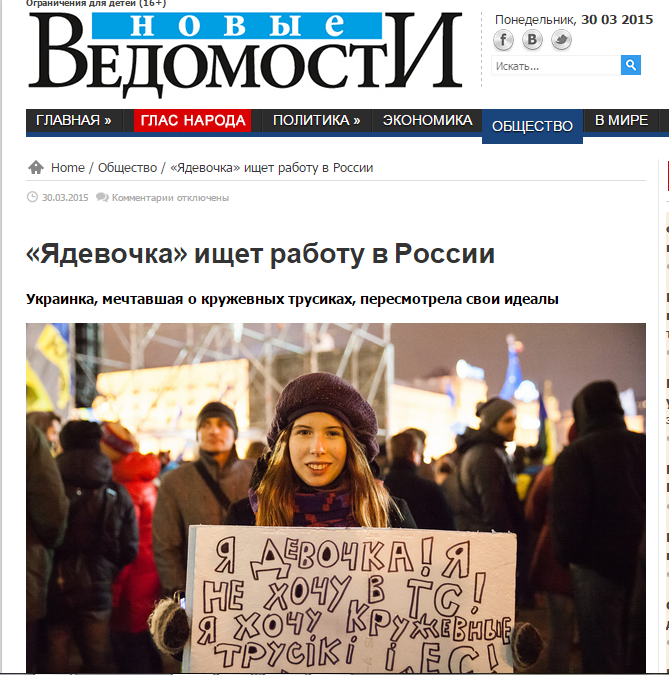 Znachkova became known for a humorous poster she carried during a rally in support of the EU-Ukraine Association in late November 2013.
It was the state-controlled Russia 24 that first broadcast the so-called "aspiration" of the Ukrainian to work in Russia.
The false report was also carried by the Ukrainian sites Korrespondent.net and Obozrevatel.com. Some took things even further. MK ran an editorial column with a photograph of Znachkova that it claimed was taken in 2015. It wrote: "The same girl within a year – without makeup, a scarf over coat, her face in a half-turn, haunted look."
"Novorossia" posted another photo, allegedly of Znachkova, with the following text: "And today I saw her picture a year on. The same girl wanders in a column of 'Pravyi Sektor' [a far-right Ukrainian nationalist political party]. There is again a rally about new "zrada" (treason). She isn't marching. She wanders sadly, drearily, with hung shoulders. And her eyes are above all. It is an incredibly scared, haunted look."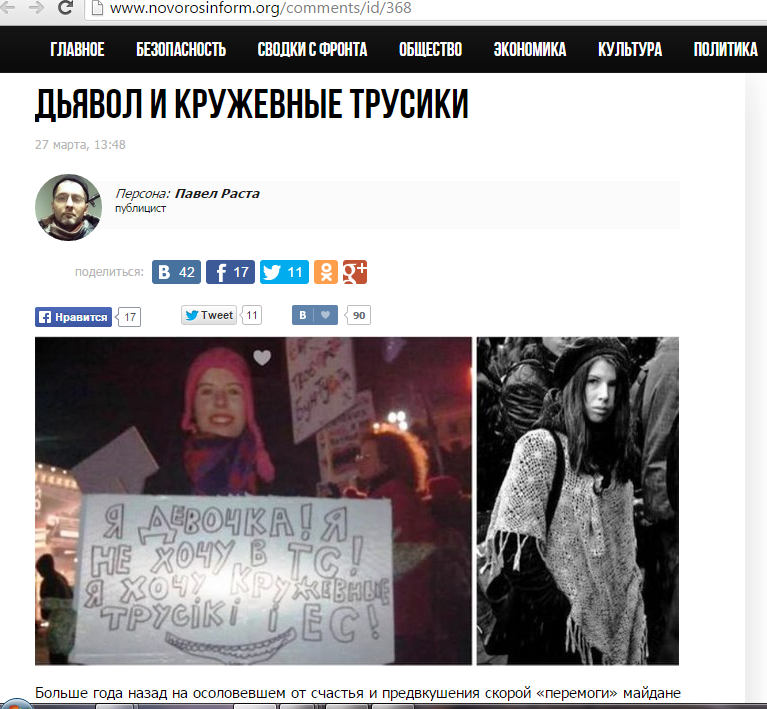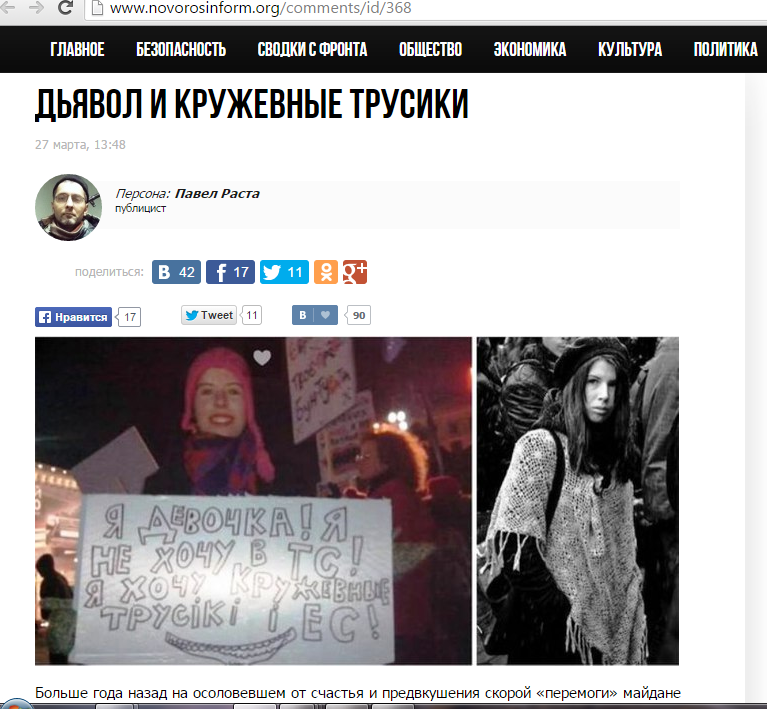 Znachkova herself claims that this is manufactured nonsense. "The profile on the Actoronline.ru website was created by an outsider, a man unknown to me, and private information was stolen," she told StopFake. She claims that all the data was cut and pasted on a Russian site from an application she placed on a Ukrainian website for actors in 2011. She also noted that photos presented by the Russian media as new were actually taken and published in 2013.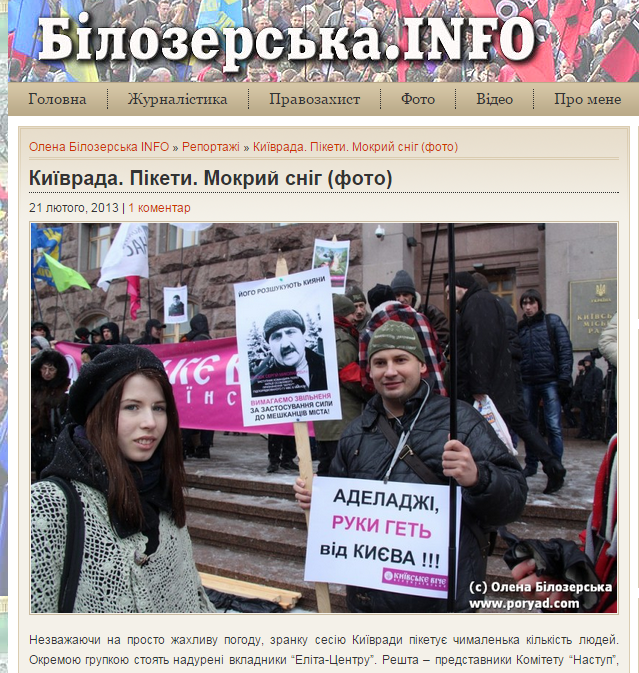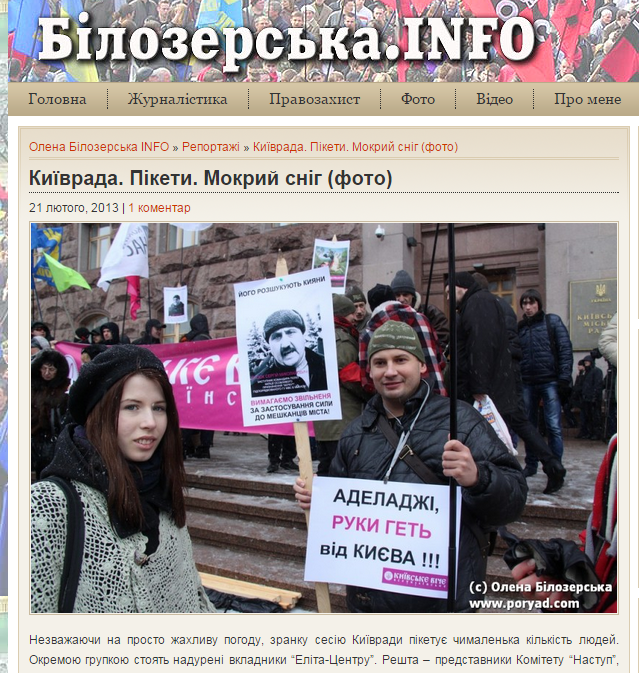 Znachkova says that she's not surprised by any of this or that it is being carried by Russian and pro-Russian media: "To some extent it follows one-and-a-half years, starting from de-motivators to messages and comments. It was posted by people without avatars – trolls and bots. Now it has happened very sharply – there were many comments on my page, in blogs, and the Russian press became interested."